Evergreen head honored
Evergreen Group (長榮集團) chairman Chang Yung-fa (張榮發) was awarded a royal medal by the Netherlands on Sunday for his contribution to the world economy, becoming the first Taiwanese to receive the honor from the country.
Chang, who runs one of the world's biggest shipping companies, was presented with the Commander of the Order of -Orange-Nassau by Rotterdam Mayor Ahmed Aboutaleb, on behalf of Queen Beatrix.
"I am determined," Chang said at the award ceremony.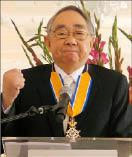 Evergreen Group chairman Chang Yung-fa gives an acceptance speech after receiving a royal medal in the Netherlands on Sunday.
Photo: CNA
Chang, who is now in his 80s, founded the conglomerate in 1968 to offer shipping, transportation and related services. He now chairs a multinational corporation that owns more than 180 container ships and 60 passenger planes.
He said that more than 30 years ago, it was nearly an impossible task for Evergreen Marine Corp (長榮海運) to break into the European market, which was monopolized by the members of the Far Eastern Freight Conference.
However, Chang said, he did not back down in the face of competition, but instead overcame the obstacles and launched European operations in 1979 at the Port of Rotterdam — one of the world's busiest container seaports.
At the presentation ceremony, Aboutaleb said the Evergreen conglomerate has played an integral role in boosting the economic development of Rotterdam and the rest of the world.
Chang presented Aboutaleb with a delicate piece of Taiwanese handicraft that featured a painting by Dutch artist Vincent van Gogh.
The Netherlands award follows similar honors granted to Chang by Belgium, France, Italy, Malaysia, Panama and the UK in recognition of his achievements in the field of marine transportation.
Comments will be moderated. Keep comments relevant to the article. Remarks containing abusive and obscene language, personal attacks of any kind or promotion will be removed and the user banned. Final decision will be at the discretion of the Taipei Times.