President confident of an economic rebound
President Ma Ying-jeou (馬英九) yesterday expressed confidence in his administration, which he said would revitalize Taiwan's economy in the next couple of years, reassuring foreign investors that "now is the right time for [you] to invest in Taiwan."
In his opening speech at the 2008 Business Alliance Conference in Taipei, Ma described his administration's efforts in pursuing external peace by negotiating with the Chinese government on the deregulation of cross-strait policies, the free exchange between the New Taiwan dollar and the yuan, and the launch of weekend cross-strait charter flights.
"This is unprecedented … the first time in 60 years," Ma said.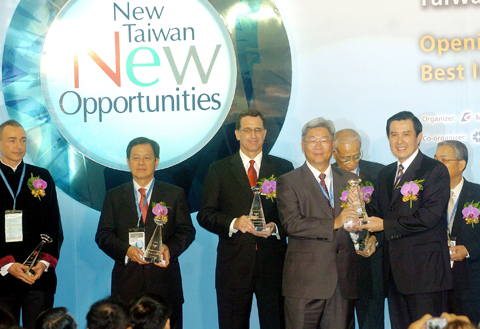 馬President Ma Ying-jeou, second right, presents the Best Investment Partner Awards to nine foreign companies operating in Taiwan in recognition of their contributions to the economy at the 2008 Business Alliance Conference in Taipei yesterday.
PHOTO: CHANG CHIA-MING, TAIPEI TIMES
Ma added that the government's raising of a cap for China-bound investments from 40 percent of a company's net value to 60 percent would encourage Taiwanese companies to invest in China while improving the local investment environment and attracting foreign investment.
Ma also said that the nation's highly educated workforce and its important geographical location were good reasons why foreign companies should consider investing here.
Following his speech, Ma presented Best Investment Partner Awards to nine foreign companies operating in Taiwan.
The awards recognize contributions to the domestic economy, and this year's recipients were Asahi Glass Co (旭硝子), American International Group Inc, Citi Taiwan (台灣花旗), Corning Display Technologies Taiwan, Dai Nippon Printing Co, Elpida Memory Inc, Kingston Technology Company, Nissan Motor Co and Texas Instruments Taiwan Ltd.
Richard McCormack, vice chairman of Merrill Lynch & Co, predicted in his keynote speech yesterday that the US housing crisis would likely continue for another year or two.
He urged the US government to continue with measures that assist in stabilizing banking and financial institutions, while making the financial system safer by allowing less leverage and introducing more transparency.
McCormack also warned of rising inflationary pressures, urging central banks around the world not to delay revision of policies before deflation or inflation embedded themselves deeply in local economies.
But McCormack said that he was optimistic, adding that things would look up at some point in a year or two as part of the business cycle.
McCormack closed his speech with a slogan from perhaps the US' most famous and successful long-term investor, Warren Buffett: "When others are greedy, I become careful. But when others are fearful, I become greedy."
Around 1,400 guests from 33 countries, including the US, Japan, Australia and Germany, registered to attend this year's conference, the Ministry of Economic Affairs said.
Comments will be moderated. Keep comments relevant to the article. Remarks containing abusive and obscene language, personal attacks of any kind or promotion will be removed and the user banned. Final decision will be at the discretion of the Taipei Times.