Asian exchanges retreat from record highs
PULLBACK Seoul bucked the regional trend as bargain hunters pushed the KOSPI index higher, contrasting with sharp drops in benchmarks around Asia on Friday
Asian stocks closed lower on Friday with investors taking their lead from Wall Street, where weak economic data sparked another bout of jitters over the state of the US economy.
This resulted in the Dow Jones falling 1.11 percent. Tokyo followed suit and closed 1.03 percent lower, while benchmarks around the region, most of which had been trading at or near record highs, also fell sharply.
Taipei fell 0.81 percent, Hong Kong shed 1.34 percent, Sydney was down 0.91 percent, Singapore was 0.64 percent lower, Jakarta tumbled 1.21 percent and even record-smashing Shanghai paused for breath and closed 0.69 percent down.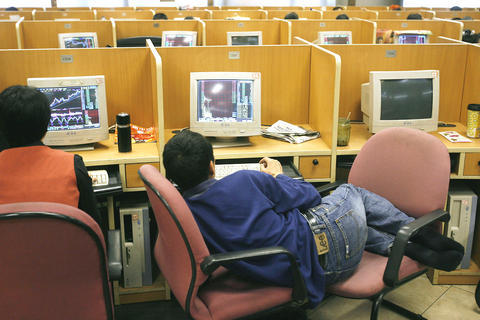 A Chinese investor slumps across two chairs as he monitors stock prices at a brokerage in Beijing on Friday. Chinese shares dipped on Friday following recent record gains as investors took profits and expressed wariness about possible government measures to cool economic growth.
PHOTO: AP
However, Seoul stood out by gaining 0.24 percent, ending the day at another record high after bargain hunters emerged following an early sell-off.
TAIPEI
Share prices closed 0.81 percent lower, tracking the slide on Wall Street overnight on concerns over US consumer spending and the state of the US economy following weak retail sales data for last month.
Dealers said bellwether technology stocks fell in step with the pullback in their US counterparts. Weakness in a number of regional markets also helped drag down local sentiment.
The weighted index closed down 65.32 points at 8,031.54. Turnover was thin at NT$82.35 billion (US$2.47 billion US).
Fuhwa Securities Corp (復華證券) assistant vice president Samson Chueh (闕山雄) said that heavyweight technology stocks were pressured by sluggish trade in their US peers.
"The New York lead triggered profit-taking on the local bourse following previous rises," Chueh said.
Investors chose a cautious approach following the market's recent failure to push the index further beyond 8,100 points.
"With technical resistance present, investors were reluctant to commit so much to position-building," he said, adding that caution over technical factors were compounded by political concerns.
"Apart from the developments in major foreign markets, President Chen Shui-bian's [陳水扁] upcoming [speech] could also affect sentiment next week," he said, referring to Chen's speech during his seventh inauguration anniversary next Sunday, where he might touch on the sensitive issue of cross-straits relations.
TOKYO
Share prices closed 1.03 percent lower after heavy losses on Wall Street overnight and concern over domestic earnings reports.
Dealers said US shares fell sharply as weak sales figures at major retailers, including behemoth Wal-Mart, raised concerns about consumer spending.
The NIKKEI-225 index was down 183.24 points at 17,553.72.
Share prices slid sharply in the morning session in reaction to the falls on Wall Street overnight although they recouped some of the losses by the close on bargain hunting, dealers said.
HONG KONG
Share prices closed 1.34 percent lower following a tumble on Wall Street overnight after weak data stoked fresh concerns about the US economy.
Dealers said China related stocks were hit by worries that mainland authorities will announce further credit-tightening measures to rein in the country's economy and markets, they said, noting a weaker finish on the Shanghai bourse.
The Hang Seng Index closed down 278.06 points at 20,468.21.
SEOUL
Share prices rose 0.24 percent for a third consecutive record finish, with retail investors emerging as active buyers to push the main index above 1,600 points.
Dealers said the market registered steep losses in early trade, tracking the overnight declines on Wall Street and in other key Asian markets, amid pre-weekend caution.
The downturn, however, allowed retail investors back into the market looking to pick up stocks at the lower levels and this was enough to put it in positive territory for the day.
The KOSPI index ended up 3.88 points 1,603.56 on volume of 370 million shares.
SHANGHAI
Share prices closed 0.69 percent lower as investors took a breather after a huge run up that pushed the main index above the historic 4,000 points level.
Dealers said financial and metal stocks were under pressure from profit takers amid increasing concerns over possible credit-tightening action after the central bank warned about the dangers of continued loose credit on the fast growing economy.
The Shanghai Composite Index lost 28.02 points at 4,021.68.
SYDNEY
Share prices closed 0.91 percent lower as the market followed an overnight sell-off on Wall Street sparked by weak US economic data.
Dealers said the US downturn followed figures showing a 2.3 percent fall in department store sales for April, hurting companies here exposed to the US markets such as Westfield and James Hardie.
The S&P/ASX 200 dropped 58.1 points to 6,297.4.
SINGAPORE
Share prices closed 0.64 percent lower following Wall Street's slump overnight that was driven by weak US economic data.
The Straits Times Index fell 22.34 points to 3,446.92.
KUALA LUMPUR
Share prices closed 0.30 percent lower on profit-taking sparked by Wall Street's steep losses overnight.
The composite index was down 4.17 points at 1,351.45.
BANGKOK
Share prices closed marginally lower in line with regional stocks, after an overnight sell-off on Wall Street on disappointing US economic figures.
The composite index fell 0.29 points to 706.90.
JAKARTA
Share prices closed 1.21 percent down on profit taking, after gains that have seen the main index hit record closing highs over the last two days. The composite index closed down 24.734 points at 2,022.297.
MANILA
Share prices closed 0.67 percent higher, supported by interest in select blue chips.
The composite index added 22.40 points to 3,364.61.
WELLINGTON
Share prices fell 0.59 percent as leading stocks dropped in line with Wall Street and major regional markets.
The NZX-50 gross index fell 25.01 points to 4,226.39.
MUMBAI
Share prices closed up 0.18 percent Friday in choppy trade as investors steered clear of building up positions ahead of the weekend.
Dealers said data showing India's inflation rate eased by a tenth of a percentage point to 5.66 percent failed to lift sentiment as it remained above the central's target of 5 percent.
The Mumbai 30-share SENSEX index closed up 24.93 points at 13,796.16.
Comments will be moderated. Keep comments relevant to the article. Remarks containing abusive and obscene language, personal attacks of any kind or promotion will be removed and the user banned. Final decision will be at the discretion of the Taipei Times.