Poisoned pet food contains fertilizer ingredient: FDA
Melamine, a substance used in fertilizer in Asia, but not rat poison, has been found in Canadian pet food blamed for killing cats and dogs across North America, US officials and experts said on Friday.
Melamine, also used in the manufacture of plastics, was found in samples of pet food manufactured by Menu Foods and tested in Food and Drug Administration (FDA) laboratories, FDA official Stephen Sundlof at a news conference said.
Melamine was also found in wheat gluten imported from China and used in the Menu Foods products, he said.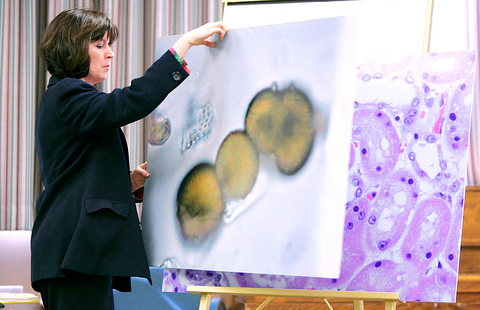 A public relations official of the US Food and Drug Administration (FDA) displays enlarged photos showing crystals found in cat urine, taken during an investigation into contaminated pet food that has killed more than 100 pets, at the FDA's headquarters in Rockville, Maryland, on Friday. The recalled pet foods contained melamine, a chemical used to make plastics, officials said on Friday.
PHOTO: EPA
Cornell University scientists detected melamine in the urine or the kidneys of dead cats that participated in the original taste testing study, he said.
"Melamine is an ingredient that should not be in pet food at any level," said Sundlof, who leads the FDA's veterinary medicine center.
But he emphasized that the scientists were not yet fully certain that melamine had caused the recent spate of pet illness and deaths in the US and Canada.
Menu Foods yesterday renotified retailers of its March 16 recall of pet foods, citing possible contamination.
In Toronto, Menu Foods CEO Paul Henderson said, "the important point today is that [the] source of that adulteration has been identified and removed from our system. ... We have removed the problem from our system."
"As a result, I can say with complete confidence today to consumers, to our customers, to governments that Menu Foods continues to uphold the high standards for which it has been known since 1971. Our products are safe," Henderson said.
A New York state laboratory, working with Cornell scientists, on March 21 identified amnoptrin, a rat poison which is banned in the US, in samples of Menu Foods pet food.
But Donald Smith, dean of the college of veterinary medicine at Cornell, said that the university's scientists could not confirm the state lab's findings.
"We have not been able to at Cornell yet confirm the presence of aminopterin in either the food, wheat gluten samples or any body tissues," Smith said on Friday at the news conference.
Menu Foods has recalled pet products sold under 95 different brands in the US, Canada and Mexico. The FDA has received more than 8,000 complaints from consumers whose pets have fallen ill or died after eating the food.
Class-action lawsuits have been filed against Menu Foods in the US and Canada.
Comments will be moderated. Keep comments relevant to the article. Remarks containing abusive and obscene language, personal attacks of any kind or promotion will be removed and the user banned. Final decision will be at the discretion of the Taipei Times.