Post-Enron residue all over Wall St.
AFTER THE STORM Securities and Exchange Commission Chairman Harvey Pitt is meeting with the most powerful men on Wall Street in an effort to improve corporate policy
Harvey Pitt was insistent. The way companies account for the stock options they give to executives, he told a Senate panel in late March, had absolutely nothing to do with the collapse of Enron, whatever the conventional wisdom held. \nTwo weeks later, Pitt, the chairman of the Securities and Exchange Commission, delivered a speech in Chicago outlining a set of proposals to eliminate abuses associated with stock options. The plan was more modest than the one he had dismissed; still, he acknowledged that "over the last few months, institutions and professions have been rocked by the taint of misconduct and greed." \nThe rhetorical shift was vintage Pitt. Eight months into a tumultuous tenure at the SEC, Pitt is maneuvering to find the right voice as the Bush administration's top cop on Wall Street. \nHis natural instinct -- hewn in a long career as a lawyer representing virtually all the most powerful interests in finance -- is to meet privately with insiders and exhort them to come up with plans to better police themselves rather than face a tougher hand from Washington. \nBut with Enron unleashing a gale of suspicion about Wall Street and corporate accounting, he has repeatedly been pressed to get tough -- not least by an aggressive investigation of stock market analysts by Attorney General Eliot Spitzer of New York. \nOn issue after issue, from corporate governance and accounting oversight to the agency's own budget, Pitt's response has been to try to head off the broadest and boldest proposals by coming out with narrower, and what critics consider timid, alternatives. \nAs Washington prepares for an election season, the question is whether Pitt, in moving deliberately, has made the right calculation. \nThe emerging view is that if there are no more shocking corporate failures of the magnitude of Enron or Global Crossing, the political imperatives of cleaning up the markets and tightening corporate oversight will largely fade by the fall. \nBut some analysts say that if the perception jells that the SEC has moved slowly in the face of turmoil, it could present problems for both Republicans in Congress and President Bush. The White House, happy to distance itself from Enron-related matters, has deferred on corporate and securities law issues to Pitt, the only senior Republican official in Washington with significant Wall Street experience. \nMoreover, as the recent fencing between Pitt and Spitzer has shown, hesitancy on the part of the SEC could actually yield tougher rules for Wall Street and corporate America, if other regulators or Congress steal a beat on the agency. \n"The commission has been slow and incomplete, and that's what allows and indeed justifies Attorney General Spitzer," said James Cox, an expert on securities and corporate law and a professor at the Duke University School of Law. \n"There's a crisis of confidence in the Securities and Exchange Commission, and that's unfortunate," Cox said. "This is a bad time for it. The confidence has been shaken of investors by the magnitude of the collapses we have seen, whether Enron and Global Crossing, the unprecedented volume of earnings restatements, and the slowness of the agency's responsiveness. It will take a while to get the train back on the track." \nDenials \nIn a wide-ranging interview this week, Pitt acknowledged that his views on an array of issues had evolved in recent months. But he disputed the notion that the agency had been co-opted by his former clients -- which included the stock exchanges, investment houses, mutual fund companies and all of the Big Five accounting firms -- or that it had failed to move aggressively. \nHe also took issue with the notion that he has tried to blunt serious reform by offering more modest proposals. \n "My view is that when something comes to your attention, you can't keep mouthing the same mantra," Pitt said. "You have to look at events and fit them in with your policies and approaches and initiatives. I pride myself on learning from events and history. Otherwise you become rigid." \nPitt said that the collapse of Enron and the shaken markets that followed had prompted him to accelerate the agenda he put forward during his confirmation hearings last summer. At the time, he vowed to move forward on new rules that would prompt faster and more accurate disclosures from corporations, and quicken the pace of enforcement actions that have tended to drag on for years. \n"If you don't accelerate such things, then confidence would surely have eroded," he said. \nHis critics, he added, had engaged in "an orchestrated campaign to spread disinformation and question my integrity" by spreading the notion that his practice as a top Wall Street lawyer had tainted his judgment. \n"Some people see in Enron an opportunity for political advantage," he said, declining to identify whom he had in mind. "I represented pretty much everyone and, as a result, I am beholden to no one." \nPitt arrived at the SEC vowing to be driven more by consensus and collegiality than by confrontation. He told friends that his predecessor, Arthur Levitt, had failed to achieve some of his objectives because he became too adversarial toward the interests that he was regulating. \nBut Pitt, in turn, has emerged as a lightening rod for the administration's post-Enron agenda, which is largely of his making. \n"Harvey has evolved slowly, but he has evolved," said Representative John LaFalce of New York, the ranking Democrat on the House Financial Services Committee. "He has been reluctant to do anything that President Bush or the Office of Management and Budget don't want him to do. He feels he's walking through a minefield, and so he wants to be careful where he walks." \nHouse Republicans, confident of his navigational skills, recently passed legislation that would give Pitt and the SEC enormous latitude in crafting regulatory responses to the Enron debacle. The Senate has yet to take up a measure. \nFor their part, Democrats have made clear that events will test the wisdom of Pitt's calculations. \n"His philosophical vision is similar to George Bush about the magic of the marketplace," LaFalce said. "But no one can know whether this will continue to be a burning issue in November, or simply a fleeting opportunity for real reform." \nPitt's latest row, with Spitzer, shows the fine line he has tried to walk as a regulator. \nMisleading recommendations \nEarly last month, Spitzer went public with the findings of his own investigation of Wall Street, presenting what he said was strong evidence that analysts at Merrill Lynch had provided misleading stock recommendations to investors to curry favor with the firm's investment banking clients. His aim, he said, was to force Wall Street to eliminate such conflicts of interest. \nThe SEC decided only late last week to open an investigation. Pitt -- who for months had been testifying that industry groups, not regulators, should be writing conflict-of-interest rules for Wall Street -- announced that the agency would consider whether pending industry proposals ought to be strengthened. \nAccording to Cox, Pitt's approach clearly reflects his background. \n"He comes out of a business person's culture of being skeptical of the rules and sensitive to the person on the other side of the desk," Cox said. "That's certainly not inappropriate. But it translates to a slowness and hesitancy and can be falsely interpreted as being beholden to the industry. And unfortunately it leads to many of the same consequences." \nOther experts, though, said that Pitt was proceeding at just the right pace. \n"If he tried too quickly, it would create even more problems," said Stanley Sporkin, a former federal judge and top enforcement lawyer at the SEC whom Pitt regards as a mentor from their days together at the agency in the 1960s and 1970s. \n"You have to understand that he loves the agency and would never do anything to destroy it, and he's not at all like some regulators interested in eliminating their agencies," Sporkin said. "He came in with a strong agenda, particularly on disclosure and enforcement issues. Judge him not by what happens now, but what is in place a year from now."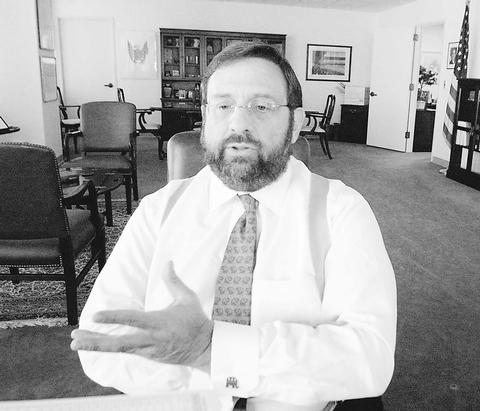 Securities and Exchange Commission Chairman Harvey Pitt in his office in Washington on Wednesday acknowledged that ``over the last few months, institutions and professions have been rocked by the taint of misconduct and greed.''
PHOTO: NY TIMES
Comments will be moderated. Keep comments relevant to the article. Remarks containing abusive and obscene language, personal attacks of any kind or promotion will be removed and the user banned. Final decision will be at the discretion of the Taipei Times.