Greek expat scores political upset
A little-known former shipping executive and ex-Goldman Sachs trader on Sunday pulled off one of the biggest upsets in Greek political history after winning the leadership of SYRIZA, the main opposition party.
Stefanos Kasselakis, 35, is a self-styled self-made entrepreneur who says he wants to promote transparency, boost labor and social rights, speed up justice, and eliminate perks for bankers and politicians.
Picking up more than 56 percent of the vote based on preliminary results, he defeated four other candidates — three of them prominent SYRIZA former ministers — after a whirlwind campaign mostly waged on social media.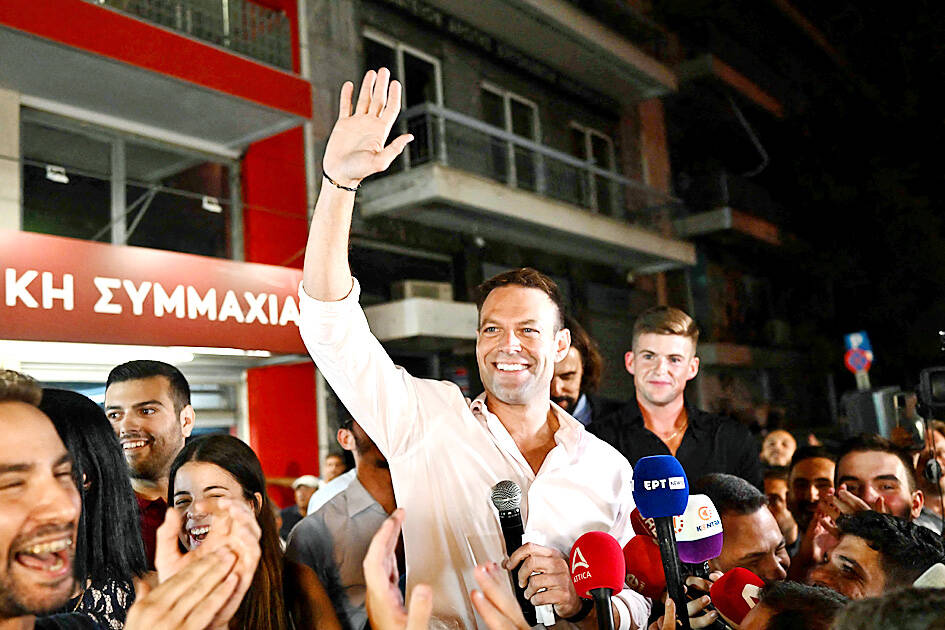 Newly elected SYRIZA party leader Stefanos Kasselakis waves to supporters outside the party's headquarters in Athens yesterday.
Photo: AFP
"We want a Greece where you don't have to hustle to get ahead," Kasselakis said as his campaign took off this month, vowing to "conquer the Greek Dream" and create a "modern left."
Kasselakis was born in Athens, but moved to the US at the age of 14 after winning a school scholarship.
His resume says that he holds international studies and economics degrees from the University of Pennsylvania, speaks five languages and worked as a volunteer on then-US senator Joe Biden's 2008 White House campaign.
He subsequently worked at Goldman Sachs as a commodities trader before becoming chief executive of UK-based shipowners SwiftBulk Holding.
SYRIZA is reeling from successive electoral defeats to the conservative New Democracy party of Greek Prime Minister Kyriakos Mitsotakis.
In the last ballot in June, the party sank to less than 18 percent, more than 20 points behind New Democracy and its worst showing in more than a decade.
Long-term SYRIZA leader Alexis Tsipras stepped down soon afterward.
The rise of Kasselakis, a political novice, is unprecedented in a nation where successful party cadres often have a past in student politics — or are the children of lawmakers and ministers.
His predecessor Tsipras had been a student protest organizer and youth leader who was later picked by the party to run for mayor of Athens.
Blue-eyed, athletic and speaking with a slight American accent, Kasselakis is also the first elected official to openly declare his homosexuality.
The issue remains taboo in a nation still built around the traditional family model, and where the powerful Orthodox Church frowns on same-sex relations.
Kasselakis' business background is anathema to many SYRIZA cadres, many of whom were in the 2015 SYRIZA government that unsuccessfully battled against the austerity imposed by Greece's EU-IMF creditors during the nation's 10-year financial crisis.
Comments will be moderated. Keep comments relevant to the article. Remarks containing abusive and obscene language, personal attacks of any kind or promotion will be removed and the user banned. Final decision will be at the discretion of the Taipei Times.