Jimmy Lai's son fears for father
The son of jailed Hong Kong media mogul Jimmy Lai (黎智英) on Wednesday said that he did not want to see his father die in detention, as his lawyers raised the prospect that his long-delayed trial might be pushed back indefinitely.
Sebastien Lai (黎崇恩) also said that the British government was "shameful" for its lack of action in helping his father, who is a British national.
Jimmy Lai, the 75-year-old founder of Hong Kong's now-defunct Apple Daily, has been in detention since he was arrested in 2020 under a National Security Law imposed by Beijing.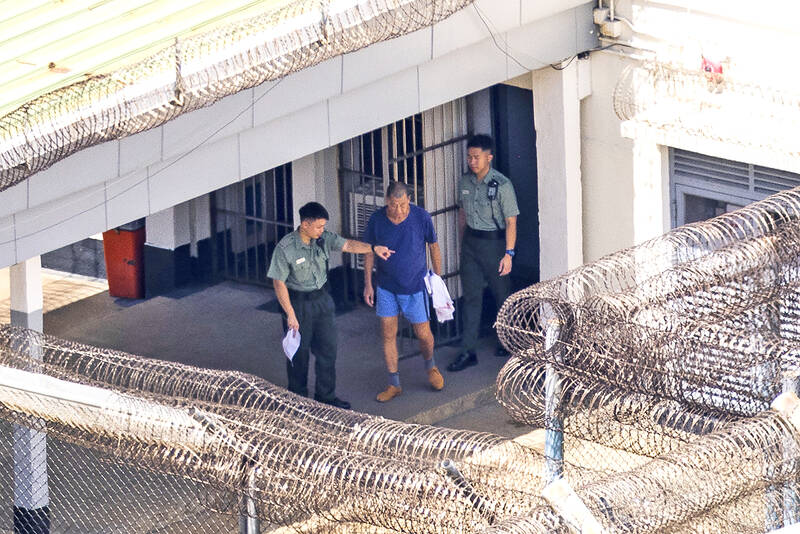 Hong Kong media mogul Jimmy Lai, center, is pictured at Stanley Prison in Hong Kong on Aug. 4.
Photo: AP
The Hong Kong businessman faces up to life in prison if convicted.
He has already been sentenced to five years and nine months in a separate case.
His trial was originally set to begin in December last year, but it has been delayed several times by judges. It is now due to start on Dec. 18.
Sebastien Lai, 28, and his lawyers have described the case as a "show trial."
They said that Hong Kong authorities might delay the trial date further not only because they have a weak case, but also because there is no benefit to them for Jimmy Lai to air his views during a public hearing that is expected to last two to three months.
Sebastien Lai, who has been traveling to the US, the UK and the UN to lobby international leaders to help his father, criticized Britain's government for its muted language in condemning his father's lengthy detention.
He also called London's approach to China incoherent because while some government officials are speaking out against Beijing's human rights record, others say that it is paramount to keep China on side as a trade partner.
"If they are willing to sacrifice human rights for trade, I think it's a big misstep," Sebastien Lai told reporters. "I don't want to see my father die in jail. He's 75, he's in prison, he does risk just dying. It is very worrying."
Caoilfhionn Gallagher, a London-based rights lawyer who is leading the Lais' international legal team, said that British Secretary of State for Foreign, Commonwealth and Development Affairs James Cleverly and British Prime Minister Rishi Sunak have declined to meet with Sebastien Lai, despite repeated requests.
"We're seeing very mixed messaging from the government as a whole," Gallagher said. "We think there's an element of the UK government speaking out of both sides of its mouth — on the one hand it says something about Jimmy Lai's case, and throws us some breadcrumbs, and on the other hand they take that away by pushing the message that it's business as usual."
Sebastien Lai said that he has not heard any fresh updates from the British government since Cleverly visited Beijing last month and raised his father's case, among other topics, with his Chinese counterparts.
Sebastien Lai has not seen his father in three years, and only saw what he looked like recently when photographs were published of him being led out by guards for daily exercise inside a maximum-security prison.
"Some part of me was happy because he's still the same ... [but] it also reminded me of his age," he said. "You never know what's going to happen tomorrow at that age."
Comments will be moderated. Keep comments relevant to the article. Remarks containing abusive and obscene language, personal attacks of any kind or promotion will be removed and the user banned. Final decision will be at the discretion of the Taipei Times.