Nord Stream probe turns to clues in Poland: WSJ
SABOTAGE: Investigators reconstructed the voyage of a yacht, rented from a Polish-based company owned by Ukrainians, with suspected involvement in the explosions
German investigators are examining evidence that suggests a sabotage team used Poland as an operating base to damage the Nord Stream pipelines in the Baltic Sea in September last year, the Wall Street Journal (WSJ) reported yesterday.
German investigators have fully reconstructed the two-week voyage of the Andromeda, a 15m white pleasure yacht suspected of being involved in the sabotage of the pipelines that supply Russian gasoline to Europe, the newspaper said.
They have pinpointed that the yacht deviated from its target to venture into Polish waters, it said, citing data from the Andromeda's radio and navigation equipment, satellite and mobile telephones, Gmail accounts "and DNA samples left aboard, which Germany has tried to match to at least one Ukrainian soldier."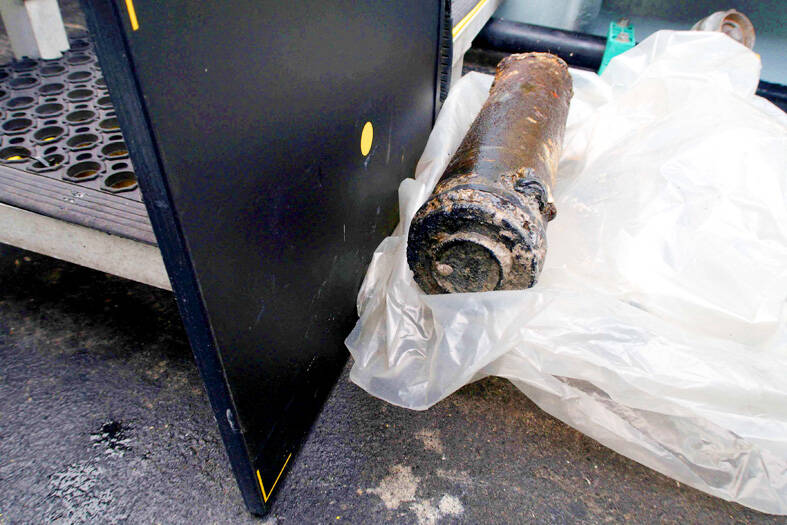 An empty maritime smoke buoy found close to the Nord Stream 2 gas pipeline in the Baltic Sea is pictured in an undated photograph.
Photo: Reuters
The German Federal Criminal Police Office and the Polish Chancellery of the Prime Minister did not immediately respond to requests for comment.
The Washington Post last week reported that the US had learned of a Ukrainian plan to attack the pipelines three months before they were damaged by the underwater explosions.
Ukrainian President Volodymyr Zelenskiy on Wednesday told German media that Ukraine did not attack Nord Stream pipelines.
The blasts occurred in the economic zones of Sweden and Denmark. Those countries said that the explosions were deliberate, but they were yet to determine who was responsible.
Investigators concluded an explosive used in the operation was HMX, also known as octogen, a colorless substance suited for demolishing underwater infrastructure, the Wall Street Journal said.
German media in March identified the possible involvement of a yacht from a Poland-based company owned by Ukrainian citizens in the attack.
The Journal cited people familiar with the Andromeda's voyage as indicating that the sabotage crew had finished half of the job, laying deep-sea explosives on Nord Stream 1, before they set their Bavaria 50 Cruiser on a course away from their target, toward Poland.
The Andromeda, which had days before been rented from a German company based close to where the pipelines land, sailed back north in what investigators believe was an effort to complete its task and plant mines on Nord Stream 2, the newspaper added.
Comments will be moderated. Keep comments relevant to the article. Remarks containing abusive and obscene language, personal attacks of any kind or promotion will be removed and the user banned. Final decision will be at the discretion of the Taipei Times.