'Future Yugoslavs' in Serbia look to resist nationalism
Every year, a small group of elderly people in well-worn World War II uniforms bedecked with Communist paraphernalia line up in Belgrade to pay their respects to former Yugoslav president Josip Broz Tito.
However, decades after the bloody breakup of Yugoslavia, a younger contingency has also begun to fill the ranks to commemorate Tito's death and pine the loss of a socialist federation that once united a divided region.
Amid the virulent nationalism that is common in Serbia and across much of the Balkans, these young people are embracing the "Yugoslav" identity of old. A growing number went so far as to register as "Yugoslav" during a census in Serbia.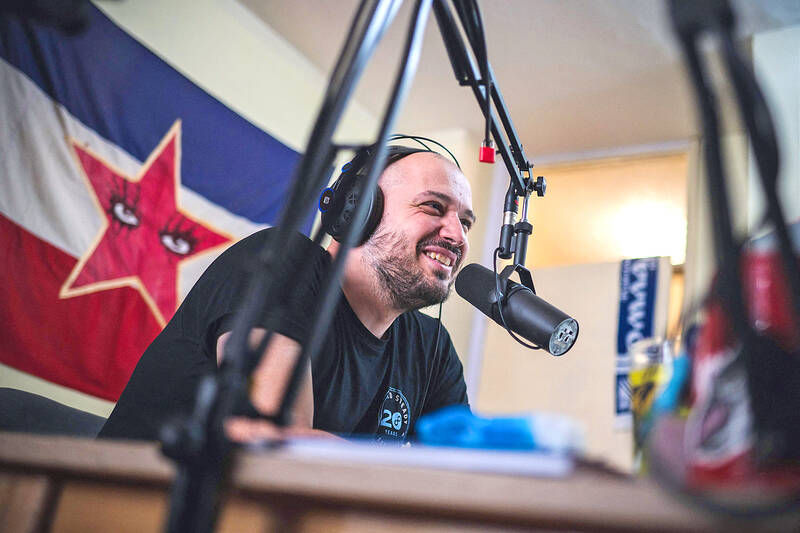 Writer and popular radio host Dasko Milinovic speaks into a microphone at his studio in Novi Sad, Serbia, on May 11.
Photo: AFP
Ivan Cvetkovic, a 23-year-old economics student in Belgrade, was among the declared Yugoslavs.
One of his parents is Croatian, the other Serbian — "a mixed marriage" — so he does not consider himself to be more one nationality than the other.
"In the Balkans, we share the same language, history and mentality," Cvetkovic said. "Being Yugoslav is just natural for me."
Formed in the ashes of World War II by Tito and his band of socialist partisans, Yugoslavia stretched from the Adriatic coast bordering Italy to the frontier with Greece to the south, comprising six republics and two autonomous areas. For more than four decades, the federation largely prospered compared with other socialist nations, with its citizens able to travel abroad and enjoy comfortable living standards at home, but following Tito's death in the early 1980s, the nation began to tear at the seams.
Nationalism returned with a vengeance, sparking a series of wars in which more than 130,000 died. Bosnia, Croatia, Montenegro, North Macedonia, Slovenia and Serbia were carved from the ruins, while Kosovo has struggled for decades for its own independence.
Yugoslavia was relegated to the dustbin of history and the ambitious goal of uniting the disparate ethnic and religious groups in the region under a single identity lay in tatters, but for those nostalgic for the prosperity and salad days of their youth, being Yugoslav carries a powerful meaning.
"I am Yugoslav... It will be like that until my death," said Zivko Mitrev, 78, who traveled from Northern Macedonia to put flowers on Tito's grave.
The rebirth of the Yugoslav identity is still in its infancy, but is increasingly palpable, especially in Serbia.
During the nation's census last year, approximately 27,000 people declared themselves Yugoslavs, up from 23,000 in 2011 — a rare jump in numbers for a nation with a falling population. For many, it is also a form of protest.
"I see Yugoslavianism as a type of resistance, a more responsible and more natural form of anti-nationalism," said Viktor Ivancic, a prominent journalist from Croatia. "If someone can be a Serb or a Croat based on their nationality, then I can be a Yugoslav based on my lack of nationality."
In Serbia, authorities recognize about 20 ethnic minorities. This entitles the communities with public funding to help preserve their culture, along with certain electoral advantages at the ballot box.
Some, like the popular author and radio host Dasko Milinovic, are hopeful this official status would be extended to the Yugoslavs, who outnumber about half of the official listed minorities.
For Milinovic, Yugoslavia's dissolution decades ago should stand as no barrier to recognizing the group.
"The kingdom of Ruthenia died a long time ago, but the Ruthenians still exist. Wallachia has been gone for a while. The Roma, as far as I know, never had a country, but they are still Roma," he said.
Over a decade ago, Serbian officials dismissed a formal bid to recognize Yugoslavs, citing a lack of "language, alphabet and literature."
Milinovic described the government's response as laughable, saying Yugoslavia had an official language, two alphabets and was home to the acclaimed author Ivo Andric, who won the Nobel Prize in Literature.
"All nations are invented and represent a political idea. The nation does not exist in a natural state, otherwise bears, birds and squirrels would have one," Milinovic said.
A renewed push for recognition might find a receptive audience, one official said.
"As a citizen of this country that upholds liberal beliefs, of course I support this," Serbian Minister for Human and Minority Rights and Social Dialogue Tomislav Zigmanov said.
If the community is able to gather 11,000 signatures — or 40 percent of people who registered as Yugoslavs in the census — then the initiative could potentially be adopted.
While many have embraced the Yugoslav identity in a fit of nostalgia, for Milinovic and others their decision is more about creating a better future where progressive ideas trump nationalism.
"We are not ex-Yugoslavs. We are future Yugoslavs," Milinovic said. "This is not about former Yugoslavia, but the future one."
Comments will be moderated. Keep comments relevant to the article. Remarks containing abusive and obscene language, personal attacks of any kind or promotion will be removed and the user banned. Final decision will be at the discretion of the Taipei Times.