California's wet winter sparks a new gold rush
Albert Fausel has been scouring the rivers of Placerville, California, for decades in search of gold, but the task has never been easier, nor the haul bigger, thanks to recent torrential rains.
"This year, there's a lot of new spots" to find gold, Fausel said, clad in a wetsuit and snorkel, standing up to his knees in water.
Less than 10 minutes into a recent visit by reporters, Fausel — diving with a small shovel to dig a crevice at the bottom of the riverbed — resurfaced with proof.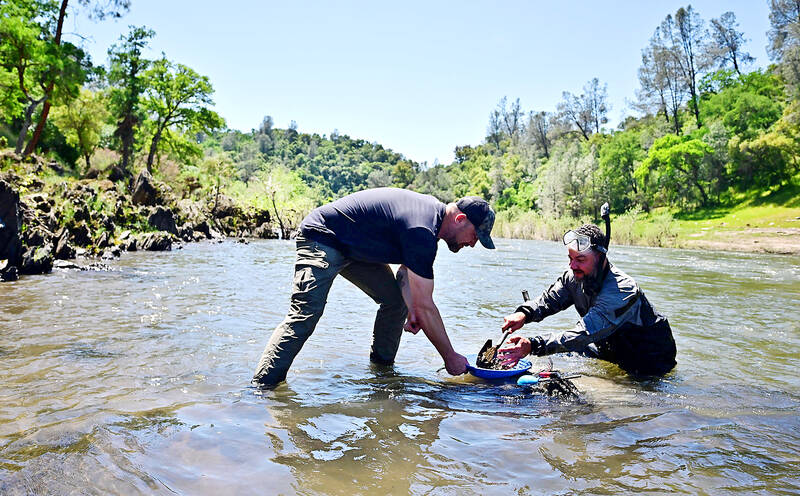 Albert Fausel, right, and Mark Dayton pan for gold in the Consumnes River in Amador County outside of Placerville, California, on April 28.
Photo: AFP
Among the mix of clay and sand emptied onto a plastic tray, unmistakable shiny particles glittered brightly under the strong midday sun.
"Mother Nature has done a great job with all this flooding," he said.
While his search near the shoreline has yielded "a small amount of gold," he predicts that closer to the middle of the river, "there's probably going to be a lot larger, bigger, heavier pieces."
Fausel collected his bounty with a tool that resembles a suction pump, before adjusting his snorkel and disappearing back into the water.
California is emerging from an unusually wet winter, with near-record rainfall.
A series of atmospheric rivers — high-altitude ribbons of moisture — chugged into the western US, dousing a landscape that had been baked dry by years of below-average rain.
In northern California, those downpours triggered scenes reminiscent — if on a far smaller scale — of the original Gold Rush that transformed this region in the 19th century, when thousands of miners arrived in search of El Dorado.
"Now, we're talking about flood gold," said Barron Brandon, a geologist and foreman of the Cosumnes River Ranch.
Heavy rainfall creates powerful currents in the river that "wash" the banks, loosening particles of mud and gold, which are then carried downstream to be scooped up by lucky miners.
The river acts "like a big sluice box ... just on a very grand scale," said Brandon, who also pans for gold in summer as a hobby.
"The real gold is just being out here," he added, smiling as he took in the landscape of blue and green hues, soundtracked only by the gushing flow of the water.
Placerville — about 70km from California's state capital, Sacramento — relies heavily on tourism, most of which is themed on its golden history.
Through the small city runs a road called the "El Dorado Freeway." Stores with names like Ancient Gold Jewelers, Gold Country Artists Gallery and Gold Insurance Solutions dot the street.
In one toy store, plastic mining helmets and miniature panning trays take up half of the display space.
A hotel on the main street maintains the aesthetics of the original Gold Rush, with 19th-century furniture and photographs from that bygone era.
A hardware store run by Fausel sells a wide range of mining and panning tools, such as sluice boxes and metal detectors, as well as brightly painted souvenir "gold seeds."
However, Fausel is not worried about a tide of outsiders invading the region in a new wave of gold fever.
"Come out to California. Give yourself a chance to find some gold," he said. "It's out here for everybody, but follow all the rules."
Mark Dayton, a local treasure hunter with millions of views on his YouTube channel, said many of his followers have heard about the rains and were on their way.
He traces the public's widespread fascination with striking gold to many children's love of tales about pirate booty.
"There's so many movies like Indiana Jones and all those movies, Pirates of the Caribbean — they all pull at the heartstrings of treasure," he said.
One of Placerville's main attractions is the Gold Bug Park and Mine, which draws visiting school groups.
"Kids are always interested about the gold... California was built on gold," said Pat Layne, an 80-year-old volunteer guide who worked in gold mining for decades.
"What we try and get across to them is the true history, not the Hollywood version of the Gold Rush," he added.
Standing next to a tributary of the river that borders the now-defunct mine, Layne described to visitors how there were once "hundreds of miners right here in this creek, right where we're standing, working, panning gold."
"It was very, very rich here ... gold was delivered to the creeks by Mother Nature over millions of years," Layne said.
Comments will be moderated. Keep comments relevant to the article. Remarks containing abusive and obscene language, personal attacks of any kind or promotion will be removed and the user banned. Final decision will be at the discretion of the Taipei Times.