Floating toilets help Cambodia's lake-dwelling poor
Pointing to the murky waters of the Tonle Sap, Si Vorn fights back tears as she recalls her four-year-old daughter dying from diarrhea after playing in the polluted lake.
Her family of 12 is among 100,000 people living in floating houses on Cambodia's vast inland waterway, and while their village has 70 houses and a primary school, it has no sanitation system.
Now a local social enterprise, Wetlands Work, is trying to tackle the problem by rolling out "floating toilets" to filter waste, but the high cost of installation means that, for now, they are available to only a lucky few.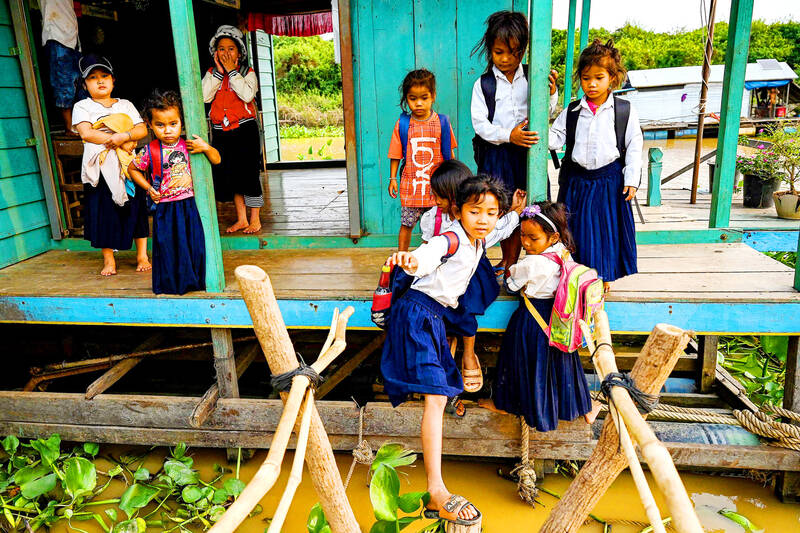 Pupils leave their school in Chong Prolay village on Tonle Sap lake in Cambodia on Monday last week.
Photo: AFP
For generations, villagers whose livelihoods depends on fishing have defecated directly into the water that they use for cooking, washing and bathing — risking diarrhea and even more severe water-borne diseases such as cholera.
"We use this water, we drink this water, and we defecate into this water. Everything," 52-year-old Si Vorn said, adding that her family fell ill all the time.
"Every day, I worry about my health. Look at the water, there is no sanitation. I'm so worried, but I don't know what to do," she said.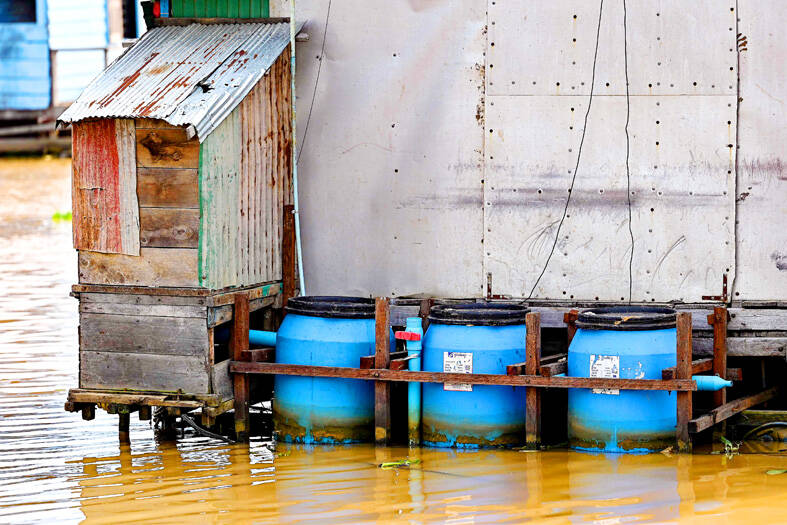 HandyPods toilets float in Chong Prolay village on Tonle Sap lake in Cambodia on Monday last week.
Photo: AFP
More than 1 million people live on or around Tonle Sap, the world's largest inland fishery, but there is no system in place for managing human waste from the 20,000 floating houses around the lake.
Cambodia, ravaged by war and the genocidal Khmer Rouge in the 1970s, is one of the poorest countries in Southeast Asia.
About one-third of the population does not have access to proper toilets and diarrhea is a leading killer of children under five, the charity WaterAid has said.
Wetlands Work hopes its HandyPods, as the floating toilets are properly known, can help Si Vorn's village and others like it in other countries.
HandyPods use three small tanks to filter and clean the sewage.
Human waste passes from the toilet into the first tank, then the second and third. Inside, trillions of microbes in a "biofilm" — a slimy matrix of microorganisms — remove pathogens and the treated water is discharged into the lake.
"We're addressing sanitation in floating villages that have never experienced sanitation before," Wetlands Work founder Taber Hand said.
The resulting "gray water" might not be clean enough to drink, but it is safe to use for washing and cooking.
The company has installed 19 floating toilets in Chong Prolay, Si Vorn's village, and they have proved popular with the few that have them.
"We use this water because a bottle of clean water is 4,000 riel [US$1], so we can't afford to buy clean water for using, cooking and bathing," said fisher Roeun Nov, who won a free HandyPod through a lucky draw two months ago. "We buy clean water for just drinking."
Wetlands Work has installed more than 100 HandyPods in 20 villages on the lake through two separate projects funded by the EU, and aims to roll out 200 more by 2025.
The hope is that the more villagers see the toilets in action, the more they will want proper sanitation.
Outside Cambodia, Wetlands Work has also installed the system in 12 villages in Myanmar, but cost is a major obstacle to widespread adoption.
The floating toilets cost about US$175 each — a huge sum of money for Tonle Sap fishing communities, where on a good day a person might make US$5.
Hand said his team is considering subsidies in the longer term, so that families would only pay US$35 to US$40 for a treatment system.
Wetlands Work field officer Chan Sopheary said that lake people are beginning to change their behavior around sanitation and hygiene, but they are not yet willing to pay for the toilet given what they earn.
"We cannot afford one because we just make enough money for daily spending," Si Vorn's husband, Yoeun Sal, said after bathing in water by his house during a hot afternoon.
"If no one helps us, we will keep using the lake" as a toilet, he added.
Comments will be moderated. Keep comments relevant to the article. Remarks containing abusive and obscene language, personal attacks of any kind or promotion will be removed and the user banned. Final decision will be at the discretion of the Taipei Times.