N Korea tests mock nuclear warhead
QUICK-FIRE OPTION: Analysts said that the short-range ballistic missile appeared to take off from a buried silo, meaning launch preparations would not be detected
North Korean leader Kim Jong-un oversaw a nuclear counterstrike drill involving a missile with a mock atomic warhead capable of reaching Japan's west coast, state media reported yesterday.
Kim took his daughter to exercises over the weekend, where he issued a threat to the US over joint Freedom Shield military drills it is conducting with South Korea, saying that his country is preparing to make "an immediate and overwhelming nuclear counterattack anytime," the Korean Central News Agency (KCNA) reported.
Sunday's launch of the solid-fueled KN-23, a short-range ballistic missile, was an element of drills simulating a nuclear counterattack against the US and South Korea, the KCNA said.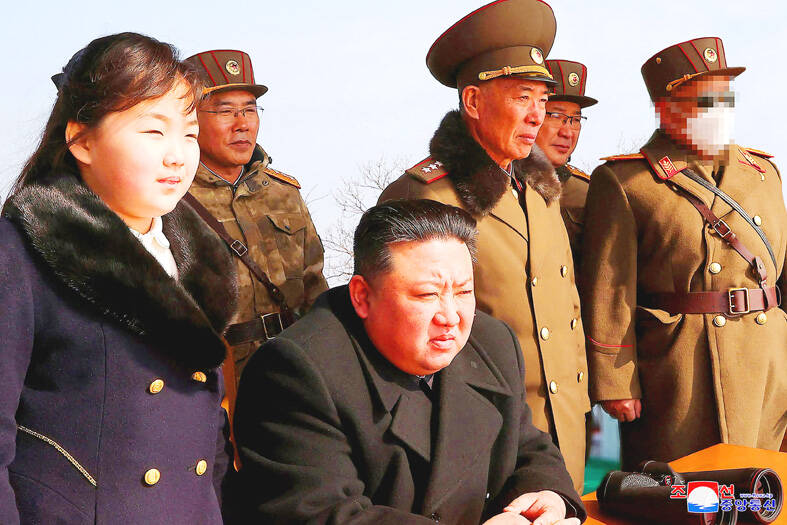 North Korean leader Kim Jong-un, center, and his daughter, left, reportedly observe a warhead missile launch exercise simulating a tactical nuclear attack in Cholsan County on Sunday.
Photo: AFP / KCNA via KNS
The missile, fitted with detonators and devices to simulate a nuclear attack, exploded at a height of about 800m above its target, it said
The test seems to be the first of its type to be mentioned in state media.
State media photographs showed that the missile soared from what appeared to be a buried silo, which analysts said would help fire missiles with little warning while evading outside monitoring, as Pyongyang races to perfect ICBMs capable of striking anywhere in the US.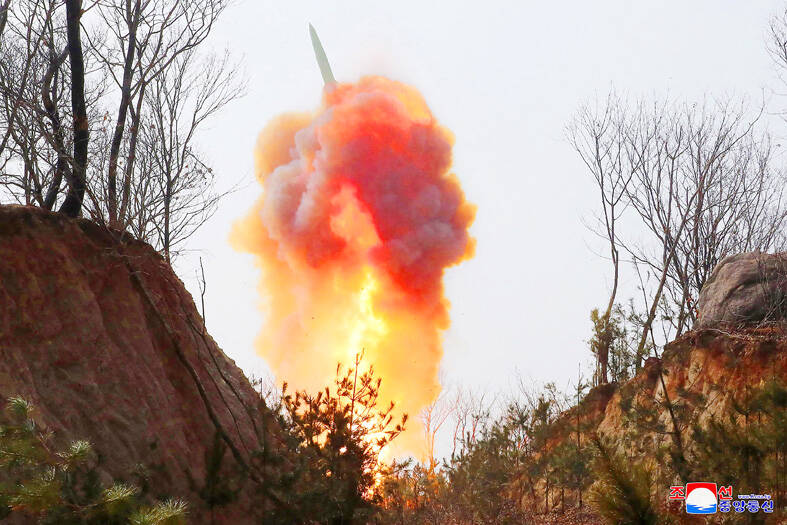 A warhead missile launch exercise simulates a tactical nuclear attack in Cholsan County, North Korea, on Sunday.
Photo: AFP / KCNA via KNS
"With a silo, you can quickly fire a missile, almost immediately, and without launch preparations being detected in advance, you can just press a button," said Yang Uk, a fellow at the Asan Institute for Policy Studies in Seoul.
Unlike the KN-23, liquid-fueled missiles such as North Korea's Hwasong-17 ICBM require time for fueling. With a silo that can take place underground, out of sight.
North Korea typically relies on mobile launchers, but its lack of infrastructure could make launches from such trucks challenging, Yang said.
"But the downside is that silos can be detected with satellite imagery, so someone would always keep an eye on them, and they might just be incapacitated in a pre-emptive strike," he said.
North Korea started breaking ground on the silo in late January, which means the deployment time for a missile based in such a structure could be less than 60 days, said Decker Eveleth at the James Martin Center for Nonproliferation Studies in California.
Satellite imagery on Feb. 13 and March 18 indicated recent excavation and construction of possible fixed launch sites at the North's Sohae missile launching station, said Joseph Dempsey, a defense researcher at the International Institute for Strategic Studies.
Comments will be moderated. Keep comments relevant to the article. Remarks containing abusive and obscene language, personal attacks of any kind or promotion will be removed and the user banned. Final decision will be at the discretion of the Taipei Times.