Train crash could sway Greek vote
APPROVAL PLUMMETS: An election due by July could turn into a protest vote against the prime minister and former governing parties as protests rage, analysts said
The Greek prime minister's bid for re-election at forthcoming polls could be thwarted by the country's deadliest train crash, which has sparked mass protests and calls for him to resign.
A nation heartbroken at the loss of 57 lives has exploded in anger, with tens of thousands on Wednesday taking to the streets of Athens in sometimes violent protests.
The demonstrations came as Greek civil servants staged a 24-hour walkout, with doctors, teachers and transport workers also going on strike.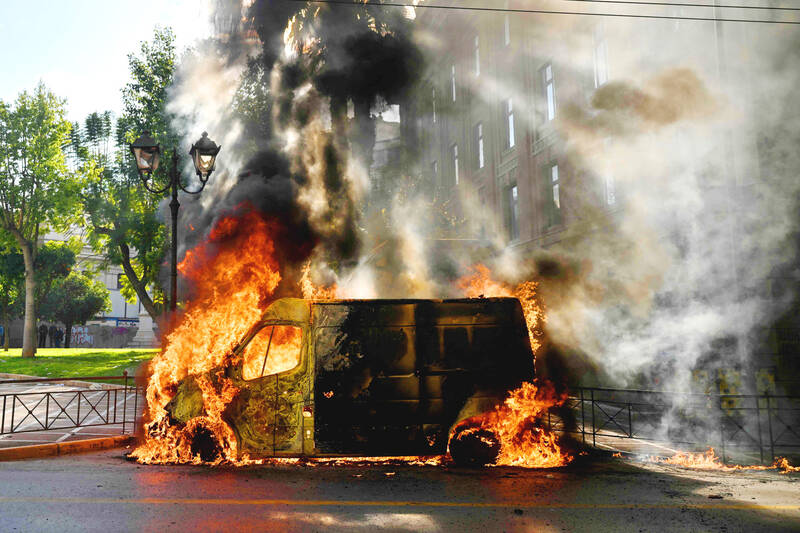 A van burns in Athens on Wednesday during a nationwide day of mass strikes and protests over the country's worst rail tragedy on Feb. 18, which killed 57 people.
Photo: AFP
Four people — three station masters and a rail supervisor — are facing multiple charges over the Feb. 28 head-on collision, and could be jailed for life.
However, public anger has focused on mismanagement and underfunding of the railway network, which critics have said is symptomatic of a broader hollowing-out of public services that was triggered by the country's debt crisis.
Observers have said Greek Prime Minister Kyriakos Mitsotakis — who had looked on course to comfortably win a second term — could pay a heavy price.
The accident "will have an impact on the government, as it has political and ethical responsibility," said Stella Ladi, who is a lecturer at Panteion University in Athens and Queen Mary University of London.
During Wednesday's protests, the biggest the capital has witnessed since demonstrations some years ago in the wake of the eurozone debt crisis, anger among protesters was palpable.
"People have been under pressure since the financial crisis," said Pinelopi Horianopoulou, a striking civil servant who joined the protests. "There are not enough staff."
Understaffing had been a key complaint of railway unions, who had long been ringing alarm bells about the perilous state of the nation's underfunded network.
However, it might not be just Mitsotakis' conservative New Democracy party that is punished at the ballot box.
Ladi said other mainstream parties that have held power in recent years — left-wing Syriza and the socialist Pasok — could also suffer losses.
There could be "a protest vote against ruling parties of the last decade, which were unable to address public sector failings," she said.
Mitsotakis was elected in 2019 and, before the train crash, his party held a 7.5 percentage point lead over Syriza, its closest rival.
The latest polls on voting intentions suggest that while his party is still ahead of Syriza, that lead has narrowed since the train disaster. One poll of 1,241 people carried out last week gives New Democracy 29.6 percent of voting intentions to 25 percent for Syriza.
The 55-year-old's term ends in July and he had already been out campaigning this year, criss-crossing the country and saying the "countdown" to polls had started.
Mitsotakis had been widely expected to call elections on April 9 but, following the backlash triggered by the accident, analysts said he is likely to delay the polls, possibly to the end of May.
He seems keen to avoid the question for now.
Asked when the election date would be set, Greek government spokesman Yiannis Economou said this week that the "issue is not on the prime minister's mind at all."
Ladi said the government's priority currently is "the adoption of measures to comfort victims' families and restore the railway network."
Criticized for intially trying to blame the accident on "human error," Mitsotakis sought forgiveness from the victims' families and apologized, but his words were widely judged to have come too late.
Results of the forthcoming polls are unpredictable, and the chances of a single party being able to form a government are weakening, observers have said.
Comments will be moderated. Keep comments relevant to the article. Remarks containing abusive and obscene language, personal attacks of any kind or promotion will be removed and the user banned. Final decision will be at the discretion of the Taipei Times.