SE Asia may gain most from China's travel revival
worries downplayed: Singapore said it has high immunity levels, Malaysia said it did not want to discriminate, while Japanese welcome a business boost
Southeast Asia's tourist economies are set to be the leading beneficiaries of China's scrapping of travel bans as they have steered clear of the COVID-19 pre-entry tests that the US, Japan and many European countries have imposed on Chinese visitors.
Such newly mobile Chinese tourists are likely to opt for "minimal hassle" and head for destinations that do not require testing, which in turn stands to benefit Southeast Asia, CIMB Private Banking economist Song Seng Wun (宋城煥) said.
"The busier regional airports are, the better it is for their economies," he said.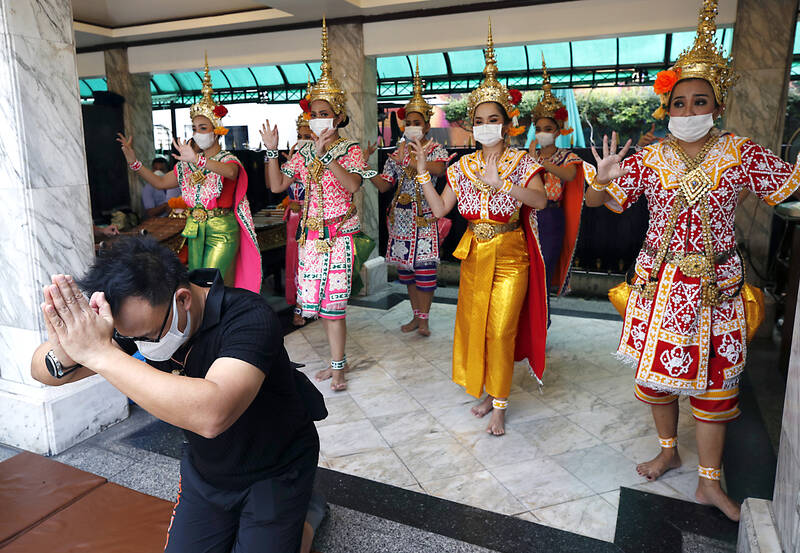 A person prays in front of Thai dancers performing to worship Lord Brahma at Erawan Shrine, a popular spot among Chinese tourists, in Bangkok on Wednesday.
Photo: EPA-EFE
Southeast Asian countries — including Cambodia, Indonesia and Singapore — have not mandated COVID-19 testing for arrivals from China.
"We are not taking the stance of discriminating [against] any countries," Malaysian Prime Minister Anwar Ibrahim said.
Officials have downplayed health worries aired by other countries.
Singapore said it has a high population immunity, as about 40 percent of its people have been infected with COVID-19 and 83 percent have been vaccinated, while it has bolstered healthcare capacity.
Hong Kong University public health professor Karen Grepin agreed with that approach.
"Every day, countries import thousands of cases of COVID-19 from around the world," she said.
Bali Tourism Board chairman Ida Bagus Agung Partha said the popular resort island would "increase our defense," as workers are offered a second booster dose of a COVID-19 vaccine this month.
Cambodian Prime Minister Hun Sen described other countries' testing requirements as "propaganda" designed to "scare people."
Meanwhile, many businesses in Japan and South Korea welcome the return of Chinese tourists.
In Tokyo's Asakusa tourist district, caricaturist Masashi Higashitani has been practicing his Mandarin in preparation for an influx of travelers.
"We used to say 'ni hao' all the time," he said with a laugh as he whipped up a portrait in minutes.
Nearly 9.6 million Chinese visited Japan in 2019, the biggest group of foreign tourists by far, and a massive leap from the 450,000 who went in 2003.
Higashitani estimated that about 20 percent of his customers were from China before the COVID-19 pandemic, and he and his employees picked up Chinese phrases from those visitors and each other.
He had to downsize and let staff go during the pandemic, so he is thrilled about the expected wave of arrivals, although he admits to some apprehension.
"I wonder if an influx of too many of them might overwhelm our capacity. I'm also worried that we need to be more careful about anti-virus measures," he said.
Travelers arriving back in China starting tomorrow no longer need to quarantine, removing one of the main barriers to Chinese traveling abroad.
The announcement sparked a frenzy of trip planning, with online searches spiking for Thailand, Japan, South Korea, Macau and Hong Kong.
Chinese tourists made up about one-third of all pre-pandemic foreign visitors to South Korea.
At a crepe stand in Seoul, Son Kyung-rak said he was making plans to deal with a flood of tourists from China.
"We're looking to hire and preparing to stock up," the 24-year-old said in Seoul's popular Myeongdong district. "Chinese tourists are our main customers, so the more the merrier."
However, authorities in Seoul are more cautious.
The slump in Chinese visitors "has been a blow to our tourism industry," South Korean Ministry of Culture, Sports and Tourism official Yun Ji-suk said. "But now is not the time to be active in tourism marketing, due to the ongoing COVID situation."
Additional reporting by AFP
Comments will be moderated. Keep comments relevant to the article. Remarks containing abusive and obscene language, personal attacks of any kind or promotion will be removed and the user banned. Final decision will be at the discretion of the Taipei Times.