Hanoi's nudists bare it all, defying social norms
Butt cheeks bared, Hanoi's ragtag nudist club ignore the chilly weather to do their daily exercises — some swim, some jog, one performs military drills — stripping off and defying norms in the conservative communist nation.
Tucked behind banana trees on the banks of the city's Red River, the men meet to shed their clothes, and modesty, for a cheeky dip, a game of chess, or yoga headstands in the buff — which they believe comes with health benefits.
"It's important for us to come here, because we want to be healthy, we call ourselves addicts," said Nguyen Tuan Nghia, a 43-year-old self-taught Buddhist who has been disrobing at the meeting spot for 18 years.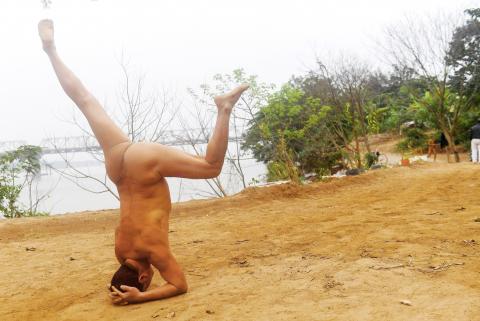 A nudist warms up for a swim on the southern bank of the Red River in Hanoi on Monday last week.
Photo: AFP
For Nghia, who recently embraced Protestantism, getting naked is his way to return to infancy, making him feel like he was just "given birth [to] by Jesus or Buddha."
Most of them have straightlaced day jobs as civil servants, journalists, or even state officials. Many come every day — a temperature of 18°C did not keep a few dozen skinny-dippers out of the water on a recent afternoon, although many warm up over hot tea by the fire.
They say shedding their clothes makes them feel uninhibited, a rare chance to stray from the pack in the one-party state where social compliance and strict norms are taught from a young age.
"I feel relaxed ... and it's fun. I feel at ease when I come here; I exercise and it makes me feel better when I return to my day job," 23-year-old vendor Nguyen Hoang Duong told reporters, wearing nothing but an army green cap.
Although public nudity remains taboo in much of Asia, nudist swimming clubs have popped up in conservative China, and tourist-haven Thailand boasts several "naturalist" retreats mostly for foreigners, while public bathhouses have long been popular across Japan and South Korea.
However, nudist bathing and beach-going is rare in Vietnam, where porn is banned and communist propaganda posters are ubiquitous. Nudity in art, photography, film and dance is subject to strict censorship by eagle-eyed authorities, although some exhibitions featuring nudes have been given the green light in recent months.
None of this phases the men at Hanoi's nudist enclave, who also brush aside concerns that the Red River might not be clean enough for swimming. They are not worried by rising levels of trash on the river's edge, nor do they pay much attention to reports about polluted runoff from nearby factories.
"We've never had any skin disease or feel itchy at all, we think it's quite clean here," 67-year-old Le Duc Lam said, adding that his own health has improved after swimming in the river, which flows from southern China to the South China Sea east of Hanoi.
For Lam, the skinny dipping sessions under the 115-year-old Long Bien Bridge, today buzzing with motorbikes, are also a chance to escape the commotion of the fast-growing capital and have a bit of fun with friends.
His group is one of a handful that meet in different spots along the waterway, including one for women to swim in the buff.
Some hope the trend will catch on.
"Vietnamese people should be more open when they talk about nudist bathing. We shouldn't be so modest about it like in the past," naked bather Nguyen Thi Thuy said, wearing nothing but the hair on her head.
Comments will be moderated. Keep comments relevant to the article. Remarks containing abusive and obscene language, personal attacks of any kind or promotion will be removed and the user banned. Final decision will be at the discretion of the Taipei Times.