Senior China official gets life for taking US$22m in bribes
Former Chinese National Bureau of Statistics head Wang Baoan (王保安) was sentenced to life in prison for taking massive bribes over more than two decades — one of a spate of newly resolved public corruption cases involving almost US$100 million in money and illicit gifts.
Wang was accused of trading political favors for money, sex, gifts, property and business concessions, a court in Hebei Province and Xinhua news agency said.
The bribes reportedly worth 153 million yuan (US$22.4 million) were channeled to Wang either directly or through relatives.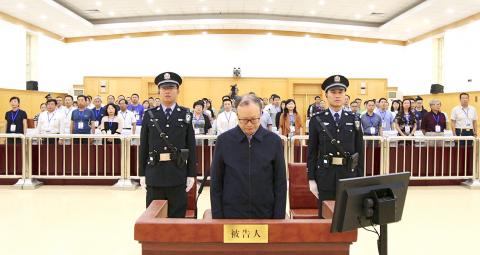 A photo released by Xinhua News Agency shows former National Bureau of Statistics head Wang Baoan as he stands trial at the Intermediate People's Court of Zhangjiakou in Hebei Province, China, on Wednesday.
Photo: AP
Control over information, such as bank lending and local economic growth, is enormously valuable in China, where the government often operates in secret and officials are mainly evaluated for promotion based on their ability to meet economic development targets.
Wang's sentencing was one of seven in corruption trials involving senior public officials reported on Wednesday and yesterday by Xinhua.
The cases involved a combined 650 million yuan in bribes, an enormous sum compared with the relatively modest salaries paid to public officials in China.
Four of the officials, including Wang, received life in prison.
Wang was accused of taking bribes between 1994 and last year, when he was expelled from the Chinese Communist Party (CCP) and the investigation into his activities began. During that period, he also served in the State Administration of Taxation and the Ministry of Finance.
Three other former officials also received life sentences: former Ningbo mayor Lu Ziyue (盧子躍) for taking 148 million yuan in bribes between 1999 and last year; former member of the CCP's standing committee in Henan Province Chen Xuefeng (陳雪楓) for taking bribes worth 125 million yuan between 2000 and 2015, and embezzling 5.5 million yuan of public funds; and former Guangdong Province vice governor Liu Zhigeng (劉志庚) for taking money and gifts worth 98 million yuan, Xinhua reported.
Comments will be moderated. Keep comments relevant to the article. Remarks containing abusive and obscene language, personal attacks of any kind or promotion will be removed and the user banned. Final decision will be at the discretion of the Taipei Times.