Activists urge Obama to discuss HK with Xi
DEMOCRACY: Former lawmaker Martin Lee and student leader Joshua Wong urged the Beijing government to live up to its pledge of democratic rights for Hong Kong
Two Hong Kong democracy activists — one young enough to be the other's grandson — on Tuesday expressed deep distrust over China's intentions and urged US President Barack Obama to press their cause when he meets his Chinese counterpart this week.
The activists, Joshua Wong (黃之鋒), 18, and former Hong Kong lawmaker Martin Lee (李柱銘), 77, also said it was in the interests of Chinese President Xi Jinping (習近平) to allow Hong Kong all of the democratic rights promised when Britain returned the territory to China in 1997.
Chinese leaders should regard Hong Kong as "a testing ground for China," Lee said during a meeting with members of the editorial board of the New York Times.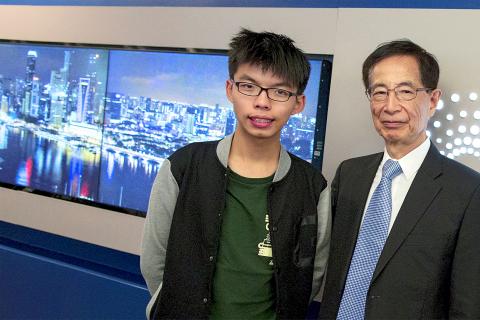 Veteran Chinese democracy advocate Martin Lee, right, and student leader Joshua Wong pose together in New York on Tuesday.
Photo: Reuters
Wong and Lee were visiting the US to attend the 75th anniversary of Freedom House, a pro-democracy monitoring organization. It is using the occasion to commend their work for the Hong Kong democracy movement.
A third activist, Benny Tai (戴耀廷), is to be honored at the Freedom House anniversary, which is to take place today in Washington and coincide with a working dinner at the White House for China's visiting president.
Lee, a founding member of Hong Kong's Democratic Party, said Obama should use the occasion to remind China of its Hong Kong pledges.
"If China doesn't deliver on democracy on Hong Kong, then your president ought to know that any agreement that he might enter into with Xi Jinping could end up the same way," Lee said.
Hong Kong "has this great relevance now: If Hong Kong is actually the testing ground of democracy for China, then there is hope that Xi Jinping's great China dream might materialize," he said.
Wong, a college student who rocketed to fame for politically mobilizing his generation in last year's protests, said that his telephone had been tapped and that he had been pilloried by the pro-Beijing media.
"They say I am a CIA agent, or even that I received US military training," he said.
Hong Kong authorities this month charged him with offenses including incitement, contempt of court and obstruction of the police in connection with the protests, and he faces a maximum prison sentence of five years if convicted. His trial is scheduled for Oct. 26.
Still, under his bail terms, Wong was permitted to leave Hong Kong to visit the US — in part, he said, because he had secured a long-term visa last year.
"That shows the rule of law still exists in Hong Kong," Lee said.
Democracy advocates in Hong Kong have increasingly expressed frustration over what they view as China's efforts to assert more political control in violation of the agreement.
"We see that they are trying to eliminate the difference between Hong Kong and mainland China," Wong said.
Under the worst-case projection, "after 2047, 'one country, two systems' will change back to 'one country, one system,'" he said.
Comments will be moderated. Keep comments relevant to the article. Remarks containing abusive and obscene language, personal attacks of any kind or promotion will be removed and the user banned. Final decision will be at the discretion of the Taipei Times.