Indian minister Munde killed in road collision
India's minister for rural development died yesterday after a road collision in New Delhi, depriving Indian Prime Minister Narendra Modi of a key ally just eight days after coming to office with a mandate to revitalize a stalled economy.
India's roads are among the most dangerous in the world, and the capital, New Delhi, ranks near the top of cities that account for the most fatalities.
Late Indian minister of rural development Gopinath Munde, 64, was on his way to the airport for a victory rally in his home state of Maharashtra, on India's west coast, when his sedan was hit by a car. He died later in hospital.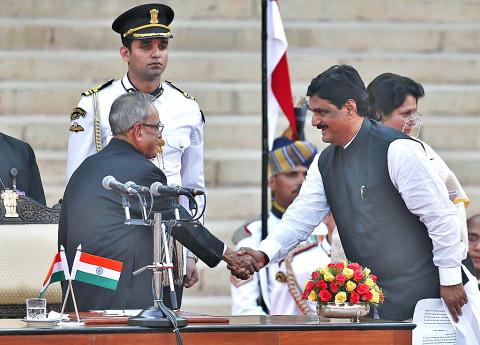 Late Indian minister of rural development Gopinath Munde, right, shakes hands with Indian President Pranab Mukherjee after taking his oath as a Cabinet minister at the presidential palace in New Delhi on May 26.
Photo: Reuters
"My tributes to a dynamic leader whose premature demise leaves a void hard to fill," Modi said in a tweet, amid a flurry of tributes from allies and political opponents. "Condolences to Munde's family. We stand by them in this hour of grief."
Modi had entrusted to Munde the crucial task of spearheading his government's battle on poverty in the countryside, home to more than half of India's population of 1.2 billion, but which contributes just 14 percent of GDP in Asia's third-largest economy.
The minister was sitting in the back of his Maruti SX4 sedan when it was hit on the side by a Tata Indica saloon, whose driver police said was in custody. Munde's driver and a personal assistant survived.
Doctors tried to revive Munde for 50 minutes after he was taken to the All-India Institute of Medical Sciences in the capital, a hospital spokesman said.
"There was no spontaneous breathing, no pulse, no cardiac activity," he said.
Television pictures of the other driver's car at a police station showed frontal damage and dents and scrapes down its left side.
Munde becomes at least the third senior Indian politician to die in a car crash in recent times. The Indian National Congress Party's Rajesh Pilot, a former transport minister, was killed in 2000, and Sahib Singh Verma, a former labor minister belonging to Modi's Bharatiya Janata Party (BJP), in 2007.
Modi called a Cabinet meeting to mourn Munde, whose body was to be flown home for a funeral today.
From 1995 to 1999, Munde was deputy chief minister of Maharashtra, the state that is home to Mumbai, the financial capital. He was twice elected to India's lower house of parliament, in 2009 and again last month in the landslide general election victory of the BJP.
Comments will be moderated. Keep comments relevant to the article. Remarks containing abusive and obscene language, personal attacks of any kind or promotion will be removed and the user banned. Final decision will be at the discretion of the Taipei Times.