Russians laugh to cope with return of 'president Putin'
After Russian Prime Minister Vladimir Putin announced at a ruling party congress that he would reclaim the Russian presidency in March and likely stay in the Kremlin for another two six-year terms, most Russians did two things.
They calculated how old they would be in 2024 — and, shell-shocked, threw themselves headlong into biting political satire.
It is a skill Russians have honed for decades. To cope with the darkest days of Josef Stalin's rule, they whispered jokes to one another in the privacy of their kitchens. Jokes helped them get through the bleak years of the Leonid -Brezhnev-era stagnation and survive the trauma of the Soviet collapse. In 2008, Russians marked the arrival in the Kremlin of Putin's chosen successor, Russian President Dmitry Medvedev, with a bevy of good-natured jokes, while giving him the benefit of the doubt and hoping he could make Russia a modern democratic country.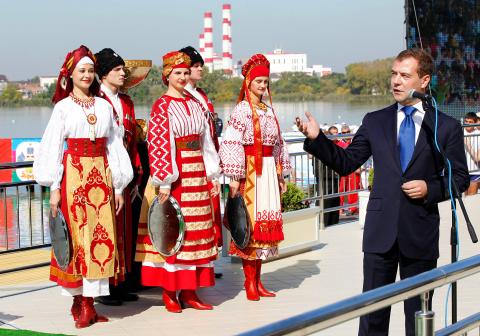 Russian President Dmitry Medvedev speaks next to performers wearing traditional costumes as he visits a rowing center in the southern Russian Krasnodar region on Saturday.
Photo: AFP
However, the realization that for all his passionate, seemingly independent declarations, Medvedev turned out to be a seat-warmer president who agreed to serve as prime minister to allow the former KGB officer Putin to return to the Kremlin for another 12 years shocked many.
Frustrated with their inability to make a difference, but so far unwilling to take to the streets en masse, Russians have once again turned to humor to cope.
"So what do you think of Russia's future president getting elected at a ruling party convention?" one joke asks.
"Absolutely fine. That's what you would call a 'managed democracy,'" the joke answers, using a favorite Kremlin buzzword.
Such jokes making fun of the Putin-Medvedev job swap and the dramatic ouster of Russian finance minister Alexei Kudrin, who bluntly refused to work in a Medvedev government, have been making rounds on the Internet following the Sept. 24 announcement to the ruling United Russia party.
"It's an indicator that shows up troubles in society," said Vitaly Pichugin, a Moscow-based psychologist.
"All that many people can see is hopelessness and danger. Nothing is changing. For them, humor is a way to relieve stress," said Pichugin, who uses humor in his therapy sessions.
Putin is famous for his salty language and a crude sense of humor, but has been known to be very sensitive about jokes at his expense.
A satirical puppet show, Kukly, depicting the then-president as an ugly dwarf was pulled off the air in 2000, soon after he moved into the Kremlin. In the past few years, state-controlled television sought to somewhat push the limits by airing a series of largely toothless comedy sketches about the ruling tandem, but genuine political satire remains a clear no-go zone for the country's top -broadcasters.
Russia's best punchlines are typically reserved for the Internet and a handful of opposition news outlets, but are now beginning to spill out into mainstream media, in a symptom of troubled times, observers say.
"Condemned to tell jokes," broadsheet newspaper Nezavisimaya Gazeta said this week, running a selection of fresh gags about Putin and Medvedev. "Like a litmus test, popular humor has always exposed and today exposes the most important things in the life of the country."
If jokes earlier revolved around Medvedev's youthful looks and diminutive height, today he is increasingly ridiculed as the glove-puppet of his master Putin, with his seat-warmer status an open secret to his subordinates.
One popular joke embellishes the recent dialogue as Medvedev fires Kudrin.
"I'll give you an answer, but I have to consult the prime minister first," Kudrin says.
"How dare you?" Medvedev retorts angrily. "Who is the president here? I am the president. So I will consult the prime minister."
Russians are becoming more unforgiving of Putin, even though he is still credited with ushering in a decade of economic stability on the back of high energy prices.
A visual gag popular among Russian bloggers depicts the judo-mad Putin as he might look by 2024 at the age of 72, when he would have become Russia's -longest-serving leader since dictator Stalin.
In the doctored image, Putin, who never made a secret of his nostalgia for the Soviet past, has morphed into a grotesque version of Brezhnev, his chest festooned with medals. During his 18 years in power, Brezhnev presided over a period of stagnation and in his later years became the butt of insulting jokes for his slurred speech and perceived dementia.
However, Putin's spokesman Dmitry Peskov took issue with the comparison, saying those warning of a second Brezhnev era were simply misinformed.
"You know, Brezhnev is not a minus sign in the history of our country, he is a huge plus," he said in an interview on Dozhd Internet television late on Tuesday. "There is no need to confuse this with the late Brezhnev [era]. There is no need to think this is a bad thing."
Observers say the fresh crop of jokes may be less innocuous than it seems.
Not only does the subversive humor help people vent feelings of anger and despair, but it also helps destroy the regime from within, said Viktor Shenderovich, an opposition journalist who created the doomed Kukly puppet show.
"It is a double-edged sword," he said.
"The verdict against the USSR was delivered by Vladimir Vysotsky and Mikhail Zhvanetsky," he said, referring to a Soviet-era bard and a popular satirist respectively.
Comments will be moderated. Keep comments relevant to the article. Remarks containing abusive and obscene language, personal attacks of any kind or promotion will be removed and the user banned. Final decision will be at the discretion of the Taipei Times.