Bhutan's new king aims for happiness
PARENT, BROTHER, SON With his slick black hair, sideburns and winning smile, the Oxford-educated bachelor is viewed as a down-to-earth monarch
Bhutan's new king vowed on Friday to shield his remote, staunchly traditional and insular Himalayan country from the negative forces of globalization.
In a speech the day after his lavish coronation ceremony, 28-year-old Jigme Khesar Namgyel Wangchuck said he would protect the landlocked country's unique culture and traditions by pursuing the principle of "Gross National Happiness."
"My deepest concern is that as the world changes we may lose these fundamental values on which we rest our character as a nation and people," King Wangchuck, now the world's youngest reigning monarch, said in a speech to tens of thousands of people.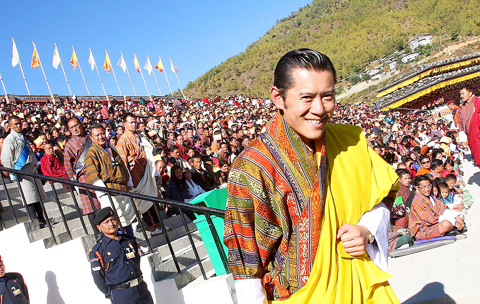 Bhutan's fifth king, Jigme Khesar Namgyel Wangchuck, greets Bhutanese after addressing the nation in Thimphu on Friday.
PHOTO: EPA
"Henceforth, even as more dramatic changes transform the world and our nation, as long as we continue to pursue the simple and timeless goal of being good human beings … we can ensure that our future generations will live in happiness and peace," he said.
"Ultimately without peace, security and happiness we have nothing. That is the essence of Gross National Happiness," he said.
The crowning of the new king on Thursday capped a year of sweeping changes for the Buddhist country, which is sandwiched between Asian giants India and China, but has never been colonized.
Bhutan held its first democratic elections for a new parliament and prime minister in March, as part of a plan by the former king to modernize the country by relinquishing the Wangchuck dynasty's absolute power.
It was the revered former king, who is 52, who devised the principle of pursuing national happiness rather than focusing on purely economic indicators.
He abdicated two years ago, saying he wanted to match the shift to democracy with a change of face in the white-walled palace that overlooks Thimphu.
The king, an Oxford-educated bachelor, is widely viewed as having brought a more common touch to the royal family. Immediately after being crowned, he stood for hours personally greeting thousands of well-wishers.
"Throughout my reign, I will never rule you as a king. I will protect you as a parent, care for you as a brother and serve you as a son," he said in his speech.
"As the king of a Buddhist nation, my duty is not only to ensure your happiness today but to create fertile ground from which you may gain the fruits of spiritual pursuit and attain good karma," he said.
"As citizens of a spiritual land you treasure the qualities of a good human being — honesty, kindness, charity, integrity, unity, respect for our culture and traditions, love for our country and for God," he said.
Bhutan, home to just over 600,000 people, is one of the most remote places on earth.
It had no roads or currency until the 1960s, allowed television only in 1999 and continues to resist the temptation of allowing mass tourism — preferring instead to allow access to only small organized groups of well-heeled visitors.
The king's first speech was delivered to at least 30,000 people in Thimphu's main stadium, the scene of traditional dance, military parades and Buddhist rituals throughout the day.
On Friday, Wangchuck spent most of the afternoon among the 20,000 spectators, chatting, joking, and greeting old friends, ordinary people and tourists.
"He is very gracious and he has amazing charisma," said 36-year-old Patty Wu from San Francisco, after the king stopped to jokingly enquire if her friends were wearing suncream and to talk about California.
"We felt like we were the only people in the stadium," added 37-year-old photographer Jay Hu at her side.
A few steps on, the Dragon King picked out a 70-year-old man from several rows back in the crowd. Phuentsho had spent most of his life working for the royal household.
"He joked that I had never made the pilgrimage I had promised to, but told me I had worked very hard," said the laughing old man, dressed in a Bhutanese gho, the national knee-length gown, and a woolly Nike hat.
This is the style of Bhutan's new "People's King," as he has inevitably been nicknamed, a young man who has also been educated in the US and India and now wants to help shepherd his ancient Himalayan kingdom into the modern world.
With his slicked-back black hair, sideburns and winning smile he has the kind of star quality royal families dream of, looking a bit like a cross between a Hong Kong movie star and a young Elvis Presley.
As the entertainment continued, Wangchuck moved through the crowd dressed in a red and gold gho with the bright yellow scarf of the highest office worn across his left shoulder, stooping to talk and pick up or kiss young children.
Fifty years ago there were no cars or roads in Bhutan and TV and the Internet only arrived in 1999.
But slowly Bhutan is entering the modern globalized world, with its young people taking cultural cues from places like the US and India.
"My deepest concern is that as the world changes we may lose these fundamental values on which we rest our character as a nation and people," Wangchuck said in a national address in the morning.
But the king said he was hopeful his people would continue to "pursue the simple and timeless goal of being good human beings" and that if they did, his country would stay under the "sun of peace and happiness" for many more centuries.
Wangchuck's 52-year-old father introduced democracy to Bhutan and abdicated in favor of his son. Neither move was taken particularly well by his largely adoring subjects, but both are now looking like masterstrokes.
The new young king is already enormously popular, especially among the young, and he appealed to them to help him build a better future for Bhutan.
At the start of the second day of three days of national celebrations, Wangchuck inspected a military parade from the back of a jeep. Soldiers in modern uniforms marched to bagpipes, brass and drums, before the grass stage was given to Bhutan's ancient culture and brand of Buddhism.
Monks in black hats decored with peacock feathers, in flowing robes, dipped and twirled to the blare of long trumpets and the beat of drums, in a sacred dance designed to subdue evil.
Painted elephants, horses with gold and silver saddles, mules, cows, yaks and sheep trooped past.
Then masked dancers dressed as spirits or mythical animals pranced on the turf. Warriors in ghos, cloth helmets and carrying round black shields brandished swords and whooped to ask the gods to bring them victory in battle.
But somehow it was the king who stole the show.
Comments will be moderated. Keep comments relevant to the article. Remarks containing abusive and obscene language, personal attacks of any kind or promotion will be removed and the user banned. Final decision will be at the discretion of the Taipei Times.