Survivors tell tales of destruction
MYANMAR DISASTER The bodies of both humans and animals dot the land, but suvivors don't have the fuel to cremate them, increasing the risk of disease spreading
Haunted survivors emerging from the devastation of Myanmar's storm-tossed southwest say entire families were wiped out when Cyclone Nargis cut its deadly path through the region.
Huddled in the township of Labutta, they told tales of survival against the odds even as children, mothers and fathers were swept away by the floodwaters that submerged huge swathes of the Irrawaddy delta.
"The storm came into our village, and a giant wave washed in, dragging everything into the sea," said one man in his 20s, who had trekked in from Kanyinkone village.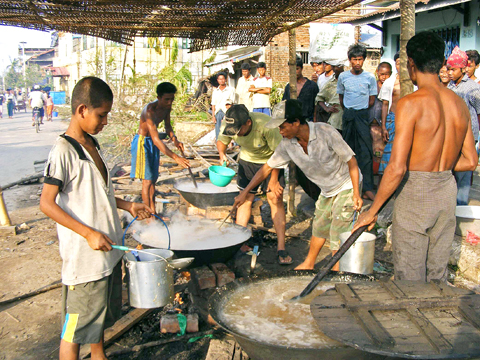 Cyclone survivors cook food in an Arrawaddy delta village near Labutta, Myanmar, on Wednesday. Aid agencies say the death toll will rise if relief supplies of food, water and medicine do not reach the devastated area soon.
PHOTO: AFP
"Houses collapsed, buildings collapsed, and people were swept away. I only survived by hanging on to a big tree," he said.
"Only about 20 percent of the people survived in our village. I am the only one who survived in my family. My wife and my two children died in the storm," he said.
Labutta town is surrounded by 63 small villages dependent on fishing and salt mining in the low-lying Arrawaddy (Irrawaddy) delta, one of the areas worst hit when the cyclone brought tidal waves washing over their homes.
"The waves were so strong, they ripped off all my clothes. I was left naked hanging in a tree," one teenage survivor said.
Based on stories emerging from the countryside, only about 20 percent of people in the area survived, Labutta residents said.
Tin Win, leader of a ward within the town, estimated that the death toll in those villages alone was 80,000.
"No one is left in my immediate family," said one shell-shocked woman who was unable to stop her tears. "I also lost many brothers and sisters and their families."
Another woman saw her one-year-old baby die, and was trying to seek comfort with the hundreds of others who fled when their ramshackle villages were washed away after the storm hit at the weekend.
"We sit and talk about our lost ones together and cry, and then we stop again to think how we can cope with this hardship," she said.
Orphans, widows, grieving parents, monks — their faces blank and staring — sat on the floor of temporary shelters in Labutta awaiting assistance as conditions became increasingly desperate, with no drinking water, toilets or medicine.
Official state media have put the number of dead and missing at more than 60,000.
If food, water and medicine does not reach Labutta soon, doctors and aid agencies say the death toll will carry on growing.
"People here need emergency assistance for basic needs like water, food, medicine and a sanitation system immediately," a local doctor said.
"Those who are still in the remote villages also need emergency assistance. Drinking water wells in the villages are spoiled. The corpses of people and animals are still unburied. It's going to be a huge problem," he said.
Piles of rotting corpses are stacking up in remote villages in the delta, with residents saying they don't have enough fuel to cremate them.
The region's rice paddies and roads are covered with the corpses of people as well as buffaloes, pigs and chickens.
What scarce fuel remains is being used to ferry water and other supplies by boat from Labutta.
"We need diesel to drive motor boats for fetching water from town," said Myint Oo, a boat owner in Kanynkone.
"We collect many corpses, but we're just leaving them on the ground because we don't have enough gasoline to burn them all," he said.
"There are still many dead bodies of people and animals along the river," he said.
"It's going to be a big problem for people downstream who drink water from the river," he said.
Comments will be moderated. Keep comments relevant to the article. Remarks containing abusive and obscene language, personal attacks of any kind or promotion will be removed and the user banned. Final decision will be at the discretion of the Taipei Times.