Thailand swoons over Bhutan's spicy crown prince
PRINCE CHARMING The kingdom was won over by the prince during a visit this month, but now a photo published of him with a mysterious woman has Thai police scrambling
Handsome and well-mannered, the crown prince of Bhutan has become the talk of Thailand.
Women have swooned over the bachelor prince's shiny, neatly combed hair and easy smile. Front pages have featured him as "Prince Charming," and a poll named him the most popular of all 25 royals who visited Thailand this month to celebrate King Bhumibol Adulyadej's 60th anniversary on the throne.
Now, a small scandal -- involving one woman in particular -- has spiced things up.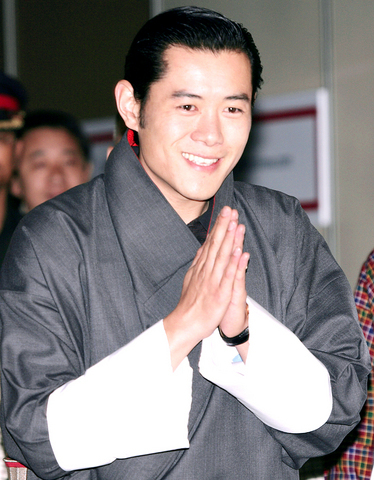 Bhutan's Crown Prince Jigme Khesar Namgyel Wangchuck is seen arriving at an airport in Bangkok on June 11.
PHOTO: AP
Among the many pictures of Crown Prince Jigme Khesar Namgyel Wangchuck that circulated around Thai Internet sites after his visit is one that has sparked an uproar.
It shows the 26-year-old prince staring into the camera, leaned in close to a smiling mystery woman. He looks relaxed, with his chin resting on the head of the woman, who is wearing a halter top and dangling earrings.
The picture has trees in the background, leading some to speculate it was taken in his Himalayan kingdom, and it suggests a close relationship -- which is precisely the problem.
In Thailand, a royal's private life is not for public consumption.
Thai media never intrudes on the personal life of the country's royals, who are respected with a genuine reverence. Much of the country is honoring 78-year-old King Bhumibol during this celebratory year by wearing yellow shirts every Monday, the color that symbolizes the day of the week he was born.
Out of respect for the Bhutanese prince, police this week called for a halt to the online distribution of the photo and are searching for the culprit who initially posted it. Questions have arisen over whether the picture was doctored, which police say would carry criminal charges.
Police have asked the Bhutanese Embassy, which declined comment, to help determine its authenticity.
Thai authorities say it's their job to protect Jigme, who returned to his Himalayan kingdom more than a week ago after visiting a Thai beach resort following the king's June 9-12 celebrations.
"This may violate the prince's reputation. It requires thorough and careful examination," said police Major General Prachin Waree of the national police force's cyber crimes unit.
One Thai-language newspaper splashed the image across the top of its front page on Tuesday, but apparently sought to deflect criticism with an accompanying banner headline that denounced the picture as "very inappropriate."
Online chat rooms are abuzz with criticism over the photograph's circulation, speculation that it's a fake and general disgust over the prospect of offending the Oxford-educated prince, who became a media darling during his trip to Thailand.
Much talk was generated by widely publicized images of the prince giving a "wai" -- the Thai greeting of palms pressed together with a head bow -- during his outings in Thailand. A sign of humility and respect, it showed his "charm and easy manners," the Nation newspaper reported.
As a result of all the attention, tourism from Thailand to Bhutan is projected to increase this year, said Somyos Limthongkam, vice president of the Thai Travel Agents Association.
"Ever since Prince Jigme's visit, TV, radio and newspapers have been talking nonstop about Bhutan," he said. "Many people are interested in traveling to the country -- and they're mostly women."
Comments will be moderated. Keep comments relevant to the article. Remarks containing abusive and obscene language, personal attacks of any kind or promotion will be removed and the user banned. Final decision will be at the discretion of the Taipei Times.