Bhopal survivors demand some action
20 YEARS ON Two decades after the world's worst-ever industrial accident, many of those who survived injury are still waiting for their compensation
Twenty years after a cloud of deadly gas savaged this central Indian city, thousands of demonstrators and survivors marked the anniversary of the world's worst industrial accident yesterday with protests demanding justice for those still suffering. \nA leak of 40 tons of poisonous gas from a Union Carbide pesticide plant on Dec. 3, 1984, killed at least 10,000 people in Bhopal and affected more than 555,000 others, although the exact number of victims has never been clear. Many died over the years due to gas-related illnesses, like lung cancer, kidney failure and liver disease. \nWhile millions of dollars in compensation has been set aside, much of the money has been tied up by bureaucratic and legal issues and many people have received little or nothing. \n``For the last 20 years I've been visiting the hospital and government offices, begging for compensation to take care of my two children,'' said Leelaben Aherwar, whose baby girl survived the gas leak but immediately afterward began showing signs of mental and physical retardation. \nHer son, born a few years later, suffers from similar problems. \n``The answer is always the same: 'The court will make a decision.' I don't know what court is this that cannot see our suffering,'' she said yesterday. \nSo far, she has received about 16,000 rupees (US$360). \nUS chemical company Union Carbide Corp., which was bought by Michigan-based Dow Chemical Co. in 2001, paid US$470 million in compensation under a settlement with India's government in 1989. But only part of that amount has reached the victims. \nRashida Bee, a disaster survivor who heads a women victims' group, said the protesters would conclude yesterday's rally with a mass pledge to keep up the fight until victims' demands for compensation, medical care and rehabilitation are met. \n`They are treating us, the victims, like the culprits responsible for causing the disaster,'' Bee said. \nThe protesters also called on Dow Chemical to clean up the plant site, where rusted pipes and pesticide storage tanks have collapsed or ruptured in the years since the plant was abandoned after the disaster. \n``Lethal chemicals are still lying around at the plant, some in the open. Every time it rains these poisonous chemicals are leaked into the soil, affecting groundwater resources of the area,'' Bee said. \nUnion Carbide insists the tragedy was due to sabotage by a disgruntled employee and not shoddy safety standards or faulty plant design, as claimed by many activists. \nUnion Carbide, in a statement sent to reporters, said it spent more than US$2 million to clean up the plant from 1985 to 1994, when it sold its stake in Union Carbide India Ltd. and the local company was renamed as Eveready Industries. \nThe company also says state studies indicated in 1998 that the groundwater around the plant was free of toxins and that any water contamination was due to improper drainage and other pollution, not Union Carbide chemicals. \nThe state government took over legal responsibility of the site in 1998, but it has done little to remove the debris and sacks of chemicals. Greenpeace estimates it would cost at least US$30 million to clean up the plant and the groundwater and soil that it claims are laced with carcinogens. \nDow maintains the legal case was resolved in 1989, when Union Carbide settled with the Indian government. \nUnion Carbide claims that 3,800 people were killed, while Indian officials say up to 15,000 may have died. \nIndian officials estimate that nearly 600,000 more have become ill or had babies born with congenital defects over the last 20 years.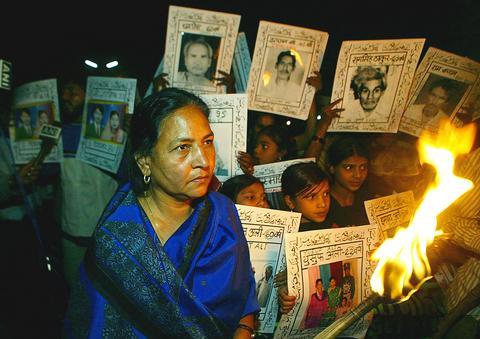 Rashida Bee, left, a Bhopal Gas tragedy survivor and activist, leads a rally during a candle light vigil with relatives carrying the photographs of victims, on the 20th anniversary of the Bhopal Gas disaster in Bhopal, India, Thursday.
PHOTO: AP
Comments will be moderated. Keep comments relevant to the article. Remarks containing abusive and obscene language, personal attacks of any kind or promotion will be removed and the user banned. Final decision will be at the discretion of the Taipei Times.