NCC to probe if boat used China navigation system
SECURITY ISSUE: It would be problematic if fishing boats with BDS terminal equipment installed were drafted for military exercises, a TSP legislator-at-large candidate said
The National Communications Commission (NCC) yesterday said it would investigate whether a Taiwanese fishing boat that was seized last year for drug trafficking had used terminal equipment linked to the BeiDou Navigation Satellite System (BDS), which is operated by the China National Space Administration.
"We have since 2018 informed fishers' associations across the nation that their members should not use BeiDou Navigation Satellite System terminal equipment, as their specifications have yet to be verified and approved," NCC Vice Chairman Wong Po-tsung (翁柏宗) said.
"Our preliminary understanding from our staff in southern Taiwan is that the fishing boat could have been using a positioning box or an app linked to the BDS or an automatic identification system (AIS)," he said.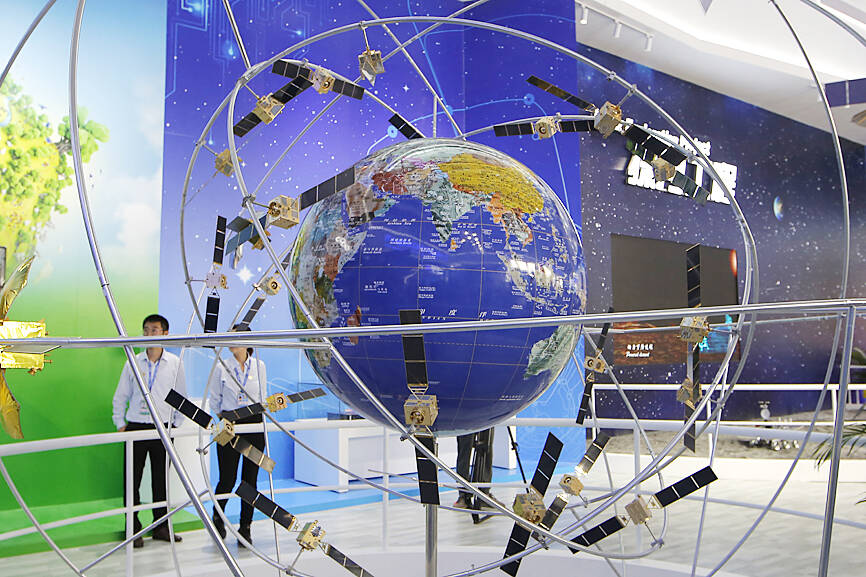 A model of the BeiDou navigation satellite system is displayed during the 12th China International Aviation & Aerospace Exhibition in Zhuhai, China, on Nov. 6, 2018.
Photo: AP
If the boat used AIS, which is an automated tracking system, the Maritime and Port Bureau should determine if the use was in compliance with the Regulations on Equipment of Ships (船舶設備規則), Wong said.
However, if the boat used BDS terminal equipment, which are radio-relay devices, the NCC would determine whether the boat has contravened the Telecommunications Management Act (電信管理法), he said.
Businesses and individuals selling unauthorized radio frequency devices can be fined NT$10,000 to NT$200,000 (US$309 to US$6,186) for contravening the act, while those manufacturing or importing the devices without the NCC's approval can be fined NT$100,000 to NT$1 million and would be ordered to rectify the situation, Wong said.
People use unauthorized devices to circumvent government surveillance, Wong said, adding that fishers are encouraged to use the Inmarsat or Thuraya satellite communication systems, which have been approved in Taiwan.
At a news conference in Kaohsiung yesterday, the Taiwan Statebuilding Party (TSP) called for a comprehensive inspection of navigation systems used by fishing boats across the nation, adding that fishing boats should be required to install navigation systems that meet national security standards.
Attorney Huang Hsin-ying (黃馨瑩), one of the party's legislator-at-large candidates, said that China developed BDS for military purposes and so that it would not have to rely on GPS, which was developed by the US.
However, it is now using BDS to penetrate Taiwan's defense mechanisms, she said.
The Ministry of National Defense plans to build a Harpoon missile military camp in Kaohsiung's Zuoying District (左營), while the city's Cianjhen District (前鎮) is home to the nation's largest port for distant-water fishing, Huang added.
"If fishing boats that have BDS terminal equipment installed were drafted for military exercises in Taiwan, our military deployment could be compromised, as the boats can send their locations to China via BDS," she said.
The Fisheries Agency said that BDS terminal equipment is illegal, as the NCC has yet to approve its use and manufacturers and importers have not secured the government's permission to use radio frequency bands to transmit satellite signals.
"We will work with local government officials, fishers' associations and Fishery Radio Station to remind fishers to avoid contravening the Telecommunications Management Act," it said.
Comments will be moderated. Keep comments relevant to the article. Remarks containing abusive and obscene language, personal attacks of any kind or promotion will be removed and the user banned. Final decision will be at the discretion of the Taipei Times.