Navy's 'Yushan' transport ship open to public next week
The navy's first domestically built amphibious transport ship, the 10,600-tonne Yushan, is to be on display at an open day in Kaohsiung next month, the Ministry of National Defense announced yesterday.
The public can view the landing platform dock on Saturday next week from 9am to 4pm at the navy's Sinbin Pier, Naval Fleet Command Chief of Staff Rear Admiral Hsu Chih-chung (許志中) said.
The landing platform dock is a type of warship used to transport landing craft, such as amphibious vehicles. It is designed for combat operations during wartime and to transport personnel and supplies in peacetime.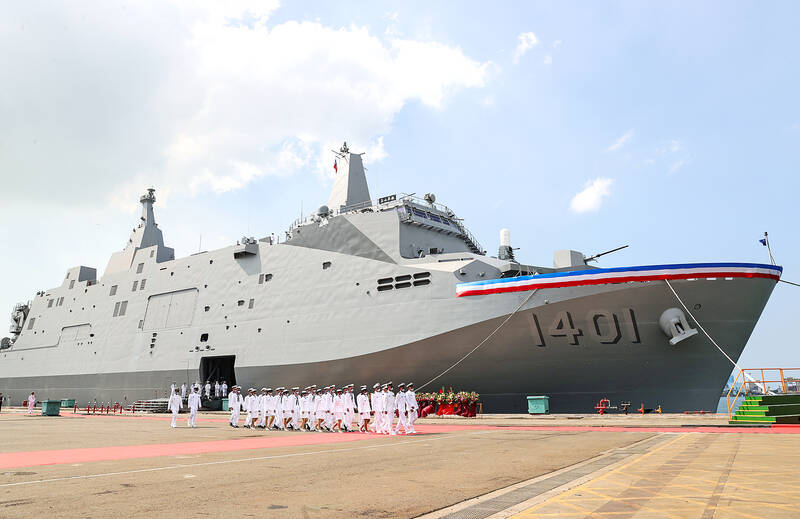 The navy's first 10,600-tonne domestically built amphibious transport ship, the Yushan, is pictured in an undated photograph.
Photo: CNA
The Yushan began active service in June.
The ship's dry dock would have four amphibious assault vehicles on display, while another four landing craft would be showcased on the Yushan's wet dock, Hsu said, adding that its field hospital and main deck, where an S-70C helicopter is to be parked, would also be accessible to the public.
The Yushan is 153m long and 23m wide, with a displacement of 10,600 tonnes. It has a range of 11,265km and can travel at up to 22.1 knots (41kph).
It can carry several AAV-7 amphibious armed personnel carriers and 673 soldiers, and can be fitted with an MK-75 76mm gun, two MK-15 Phalanx close-in weapons systems and two TC-2N missile systems that can be loaded with a maximum of 32 TC-2N missiles.
The Yushan is the first of four landing platform docks being built for the navy by local shipbuilder CSBC Corp, Taiwan.
In addition to the Yushan, one of the navy's indigenous Tuo Chiang-class corvettes, the Ta Chiang, as well as other weapons systems, assault boats and domestically built uncrewed aerial vehicles would be on display at the open day, Hsu said, adding that the military marching band would also perform.
Taiwanese attending the event must present their national identification card, driver's license or National Health Insurance card before entering, the navy said.
Foreign and Chinese spouses of Taiwanese citizens who do not yet have an identification card, as well as foreign caregivers, would also be allowed to enter the base if they are accompanied by their spouse or the individual they are caring for, it said.
Other foreign nationals and reporters must obtain advance permission to enter, it said.
The military regularly holds similar events to promote national defense awareness. The last one was held on Sept. 24 at Hsinchu County's Hukou Army Base and attracted nearly 110,000 visitors.
Comments will be moderated. Keep comments relevant to the article. Remarks containing abusive and obscene language, personal attacks of any kind or promotion will be removed and the user banned. Final decision will be at the discretion of the Taipei Times.