University opens Taiwan's first co-ed dorm
CHANGES: While NCCU opened the nation's first co-ed dorm in Mucha, a recent survey showed that Taiwanese are in favor of abolishing gender segregation at high schools
National Chengchi University (NCCU) has opened a co-ed dormitory, a first in Taiwan among state-funded Taiwan universities.
The 22 duplexes are at the renovated "Huanan New Village," in Taipei City's Mucha (木柵) area, near the NCCU campus, a school official said yesterday.
Twenty-two out of 37 group applications were selected in a lottery draw to select who would be chosen to live in the units, which can either be shared by up to eight students if the unit has four bedrooms, or up to 10 students if it is a five-bedroom unit, officials said.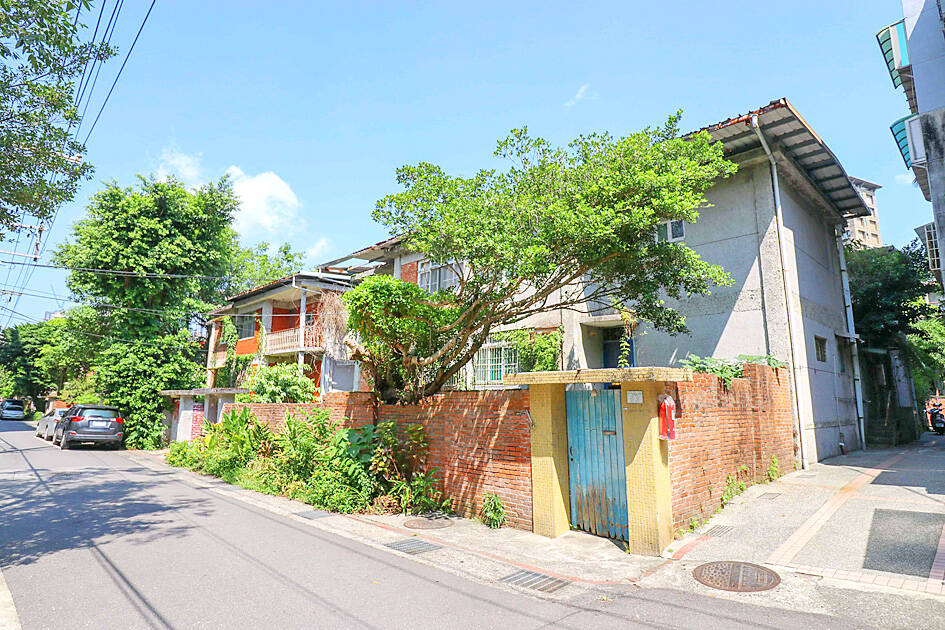 National Chengchi University's Huanan residences in Taipei City's Mucha area are pictured in an undated photograph.
Photo courtesy of the school
Completed in 1964 for campus staff housing, the "Huanan" residence has since undergone renovation and cultural preservation work in recent years, with NCCU now allowing male and female co-habitation, and each unit is provided with beds, tables, chairs, a refrigerator and a washing machine, officials said.
The units are reasonably priced, as the total monthly rent ranges between NT$20,000 to NT$25,000 for groups of up to 10 students per house, and the cost for each student is only about NT$2,500 per month for a school term duration, officials said.
In other related news, a recent survey conducted by the Professor Huang Kun-huei Education Foundation found that Taiwanese are in favor of abolishing gender segregation at high schools, endorsing boys and girls to be taught together in classrooms during their teenage years.
Nearly all top high schools across Taiwan are unisex, said professor of education Kuo Sheng-yu (郭生玉) who headed up the survey.
"This school segregation by gender is like 'Apartheid' for students, It is a severe violation of the human character," Kuo said last week.
"During a student's teenage years, attending high school is the most critical stage for getting to know the opposite sex. The schools should not be segregated, and boys and girls should learn together in classrooms," he added.
Survey results showed Taiwanese have more progressive concepts on gender issues, with 80 percent saying they would encourage children to challenge traditional gender roles, so that they are less restricted by norms when pursuing personal interests and professional careers, foundation director Huang Kun-huei (黃昆輝) said.
Nearly 70 percent agreed that society has changed, he said, adding that Taiwan's traditionally male-centered mindset has diminished.
Comments will be moderated. Keep comments relevant to the article. Remarks containing abusive and obscene language, personal attacks of any kind or promotion will be removed and the user banned. Final decision will be at the discretion of the Taipei Times.