Average hotel prices surge to NT$4,618 per night
The average daily rate of licensed tourist hotels in Taiwan was NT$4,618 (US$145) in the first half of this year, up 14.14 percent from the same period last year, according to the statistics released by the Tourism Bureau on Wednesday.
The statistics show that prices at registered "general hotels," which do not require a tourist hotel license, averaged US$2,647 per night in the first six months this year, up 8.1 percent from a year earlier, while the prices of B&Bs averaged NT$2,536, up 1.44 percent year-on-year.
The average hotel room price hikes could be attributed in part to soaring raw material prices, the bureau said in a statement.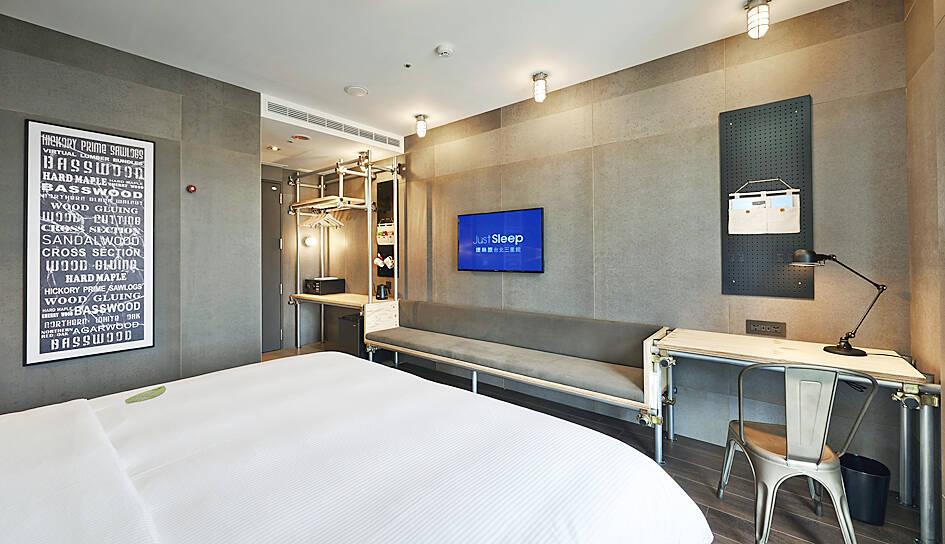 A room in a hotel in Taipei is pictured in an undated photograph.
Photo: CNA
In addition, higher electricity prices also boosted hotel operational costs.
By region, tourist hotels in Nantou County had the highest average prices at NT$15,449 per night, largely due to the presence of hotels targeting high- end customers, such as The Lalu and Fleur de Chine, the bureau said.
In terms of general hotels, Yilan County had the highest average room prices at NT$3,474 per night, the bureau added.
Meanwhile, the number of guests at hotels and other collective accommodation establishments in Taiwan reached 38.08 million in the January-to-June period, which is close to pre-pandemic levels, the bureau added.
The guest number translated into NT$84.84 billion in total business revenue, exceeding the amount in the same period of 2019, the bureau said.
Comments will be moderated. Keep comments relevant to the article. Remarks containing abusive and obscene language, personal attacks of any kind or promotion will be removed and the user banned. Final decision will be at the discretion of the Taipei Times.