Ko slammed for allegedly linking up with criminals
BAD REPUTATION: Internet celebrity Liu Yu and users said on social media that some TPP members were involved with gangs and people with criminal records
Politicians and pundits slammed former Taipei mayor Ko Wen-je (柯文哲), the Taiwan People's Party (TPP) Chairman and presidential candidate, for allegedly linking up with people with criminal records, politicians convicted of vote-buying, and gangsters in regional offices, following reports yesterday that two TPP executives in Taipei are members of Chinese secret society Hongmen (洪門).
Internet celebrity Liu Yu (劉宇) and others alleged that current heads of the TPP's Taipei offices in Zhongshan (中山) and Songshan (松山) districts, Chen Ta-yeh (陳大業) and Wang Chen-hung (王振鴻) respectively, are members of the Saint Wenshan Group, Hongmen's largest network branch in Taiwan.
The accusations came days after TPP executives in Tainan last weekend endorsed the candidacy of Lee Chuan-chiao (李全教), a former Chinese Nationalist Party (KMT) Tainan City Council speaker, who is running as an independent for a legislator seat.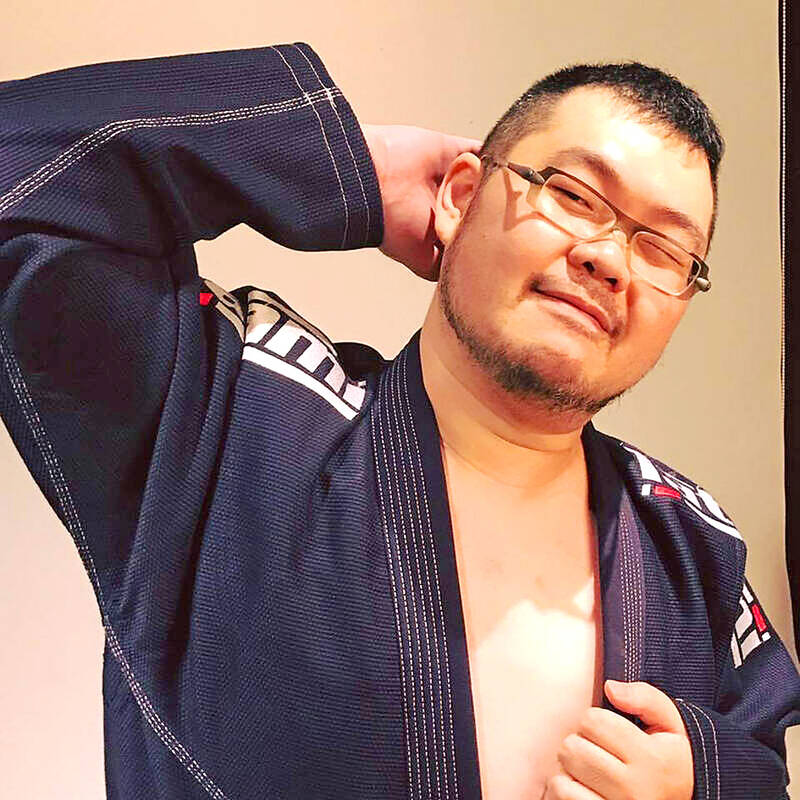 Online influencer Liu Yu poses in an undated photograph.
Photo: screen grab from the Facebook page of Liu Yu
Lee and his aides in campaign rallies said: "TPP Chairman Ko gives his full support to Lee."
Democratic Progressive Party (DPP) members in Tainan said that Lee has a bad reputation as a "politician closely associated with [black gold, 黑金] money bribery, influence peddling, and illegal gangster activities," and was relieved of his duties as council speaker and councilor positions, after he had been convicted of vote-buying in two separate cases.
Lee served a nine-month prison term and was deprived of his civil rights for three years.
Wu Hsin-tai (吳欣岱), the Taiwan Statebuilding Party's Taipei chapter director, lashed out at Ko in a post yesterday.
Wu said, the public should be wary of Ko's "pro-China ideology," citing Ko's statements that "both sides of the Taiwan Strait belong to the same family."
"No wonder Ko admitted that China wants him to run for Taiwan's president. So we see the TPP is attracting members of organized crime and people advocating for Beijing ruling Taiwan," Wu said. "Clearly, Ko and the TPP are ideal partners in China's 'united front' campaign in Taiwan."
She said that Hongmen started in the Qing Dynasty as a Chinese secret society, turned into a triad organization, with a strong presence in Hong Kong and Taiwan, and overseas chapters in many other countries.
Saint Wenshan is Hongmen's largest network in Taiwan and it promotes the concept of a Chinese "motherland," and denies what it calls Taiwan's "separatist movement," Wu said.
"The TPP's local offices are fronts for Chinese 'united front' propaganda, so we demand Ko to explain this to the public, and the government to check into it, as it has become a national security threat," Wu said. "People need to know, has the TPP — besides signing up as members and taking up chapter head positions — been receiving any financial support from pro-China organizations, and external sources?"
Meanwhile, Liu Yu and other whistle-blowers posted on social media alleging that TPP members in Taichung and Tainan and Yunlin and Chiayi counties, along with other cities and counties, have been involved with gangs and people with criminal records, with some convicted of crimes such as assault, running loan shark and debt-collecting operations, including a TPP city councilor candidate surnamed Wang (王), who operates an illegal gambling site and was convicted of assault causing bodily harm.
The TPP released a statement yesterday saying the two Taipei chapter executives named in news reports have promoted local businesses and have served at social welfare organizations for benevolent activities, and the party would protest the "distortion" and "wrongful reporting" by the media.
Comments will be moderated. Keep comments relevant to the article. Remarks containing abusive and obscene language, personal attacks of any kind or promotion will be removed and the user banned. Final decision will be at the discretion of the Taipei Times.