Identify China in cybersecurity law: professor
An academic has renewed a call for Minister of Digital Affairs Audrey Tang (唐鳳) to identify China in proposed amendments to the Cyber Security Management Act (資通安全管理法) in a Facebook duel over public policy.
A draft of the amendments released by the Ministry of Digital Affairs stipulated that government offices would be barred from using devices or software deemed to be a cybersecurity risk or employing the services of a contractor or venue that uses such products.
In a Facebook post on Thursday, National Cheng Kung University electronics engineering professor Lee Chung-hsien (李忠憲) said that the proposed amendment should explicitly ban government offices from using hardware or software originating from China.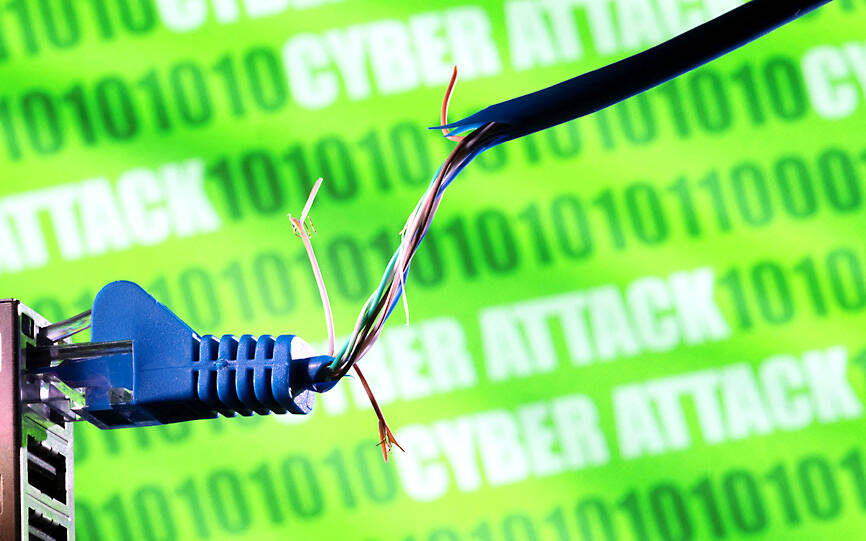 A broken Ethernet cable is pictured in front of binary code and the words "cyber attack" in an illustration photograph taken on March 8 last year.
Photo: Reuters
Tang later that day defended the policy through an intermediary, saying that forbidding officials from using any Beijing-controlled technology without regard to the listed country of origin was among her first acts in office.
Information security is a top priority for the ministry, which continues to spearhead Taiwan's participation in the Global Tech Security Commission to bolster the nation's ability to defend data security in conjunction with foreign partners, she was paraphrased as saying.
In a post on Friday, Lee asked why the ministry does not clearly state that the restricted products include those made in China.
Asked to elaborate, Lee said he believes that a national cybersecurity policy must unambiguously name the main security threat it seeks to address.
Priorities cannot be assigned or resources properly allocated if the threat is never identified by name, he said.
As no absolutes exist in security, regulators must prioritize threats, he said, adding that the terms used in the draft were too vague and might confuse officials tasked with implementing security measures.
Fears of a blowback from China over the amendments are overblown, as the scope of the legislation is limited to protecting government offices and key infrastructure, Lee added.
"Refusing to prepare our defenses, buy weapons or treat China as an enemy would not make Taiwan safer," he said.
"The government has to punish rule-breakers with heavy fines and invest real resources in patching up vulnerabilities to make clear that cybersecurity is not just for show," he said.
Comments will be moderated. Keep comments relevant to the article. Remarks containing abusive and obscene language, personal attacks of any kind or promotion will be removed and the user banned. Final decision will be at the discretion of the Taipei Times.