Purdue launching center to advocate for Taiwan
Purdue University is launching a center to advocate for Taiwan as a trusted partner and encourage US investment in the nation, former US undersecretary of state for economic growth, energy and the environment Keith Krach told a news conference in Taipei yesterday.
Krach, chairman of the Krach Institute for Tech Diplomacy at Purdue, first announced plans for the establishment of the Taiwan Center for Innovation and Prosperity before his arrival in Taiwan on Wednesday for a four-day visit.
The center would be a partnership between public and private sectors in the US and Taiwan to "advocate for Taiwan internationally and attract more global partners," the institute said.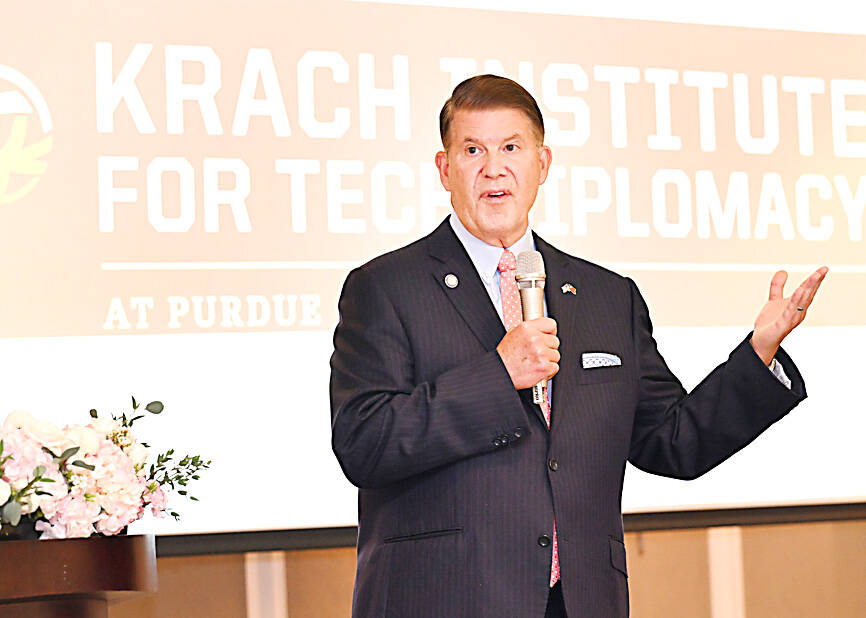 Former US undersecretary of state Keith Krach speaks at the Mandarin Oriental Hotel in Taipei yesterday.
Photo: Tien Yu-hua, Taipei Times
While Western firms are pulling out of China due to security concerns, Taiwan has great opportunities to attract investment with its skilled labor force and a friendly government, Krach said.
The center hopes to facilitate such cooperation, as well as help foster and strengthen customer relationships as, for example, more than half of Taiwan Semiconductor Manufacturing Co's customer base is in the US, he said.
The partnership also looks to address the shortage of skilled labor, a topic he discussed extensively with President Tsai Ing-wen (蔡英文) during their meeting, Krach said.
Purdue is the only university that offers bachelor's, master's and doctorate programs in semiconductor engineering and is a top university in national security research, he said.
By signing memorandums of understanding with National Chengchi University and National Yang Ming Chiao Tung University, the center is to provide tech diplomacy training for the private sector as well as diplomats, he said.
It is also to accelerate innovation, from research to development and adoption of trusted technology with its venture capital capabilities and mentor network, he added.
US President Joe Biden last year signed the Creating Helpful Incentives to Produce Semiconductors (CHIPS) and Science Act, which provides billions of US dollars for research in critical national security sectors such as biotechnology, cybersecurity, autonomous vehicles and aerospace.
"I think the opportunities for Taiwan to participate in that is huge," Krach said.
Krach is also chairman of the Global Tech Security Commission, where Minister of Digital Affairs Audrey Tang (唐鳳) serves as a commissioner as Taiwan's representative.
Tang is going to "play a pivotal role" in developing a set of trusted tech standards, Krach said.
Asked about Taiwan's presidential election in January next year, Krach said that he hoped Taiwanese can select a transformational leader who has courage, like President Tsai.
"All eyes are on Taiwan. Taiwan is the linchpin of democracy," he said. "I think if there's anything that I've learned from the people of Taiwan, there is no prosperity without freedom."
Comments will be moderated. Keep comments relevant to the article. Remarks containing abusive and obscene language, personal attacks of any kind or promotion will be removed and the user banned. Final decision will be at the discretion of the Taipei Times.