US bill proposes 'layered' Taiwan defense strategy
EARLY WARNING: A draft of the NDAA would mandate a 'comprehensive analysis' of the possible precursors, signs and effects of a Chinese blockade around Taiwan
The US Senate Armed Services Committee on Tuesday filed its draft of an annual defense policy bill containing provisions to bolster defense and cybersecurity cooperation with Taiwan.
The draft, the National Defense Authorization Act (NDAA), which the committee approved in a bipartisan 24-1 vote on June 23, would authorize US$876.8 billion for military and national defense programs at the US departments of defense and energy.
It is to be debated in the Senate.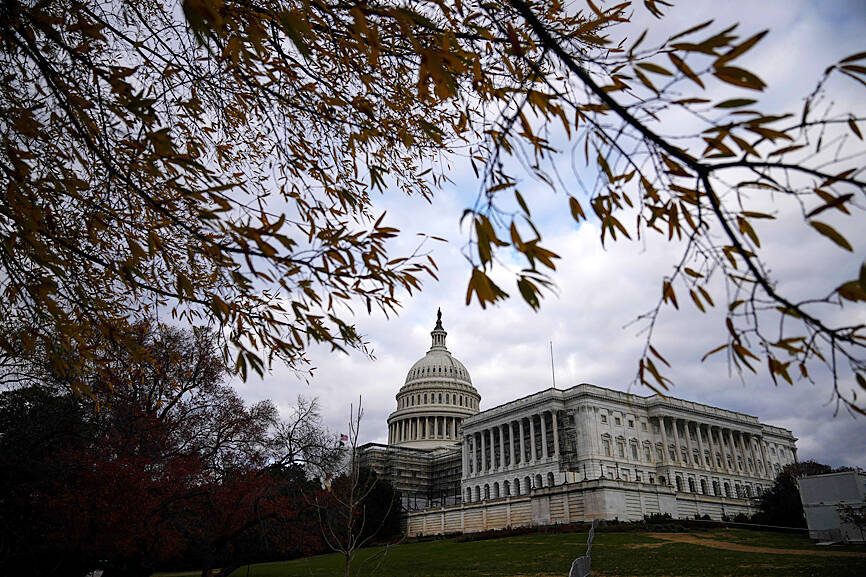 The US Capitol Building is pictured in Washington on Nov. 28 last year.
Photo: AFP
The bill directs the US secretary of defense to work with their counterpart in Taiwan to establish a "comprehensive training, advising and institutional capacity-building program" for Taiwan's military forces.
The program would be aimed at enabling a "layered defense" of Taiwan by Taiwanese forces, including through the use of an asymmetric defense strategy, and would also boost interoperability between Taiwan and US forces and encourage information sharing, the bill says.
The legislation would also require US officials, including the secretary of defense and the heads of the US Cyber Command and the US Indo-Pacific Command, to engage with Taiwan on expanding military cybersecurity cooperation.
Aside from these initiatives, the draft NDAA would instruct the US Department of Defense to provide an assessment to the US Congress on how Taiwan has integrated the military capabilities it has received from the US over the previous 10 years.
It would also mandate the completion of a "comprehensive analysis of the risks and implications of a sustained military blockade of Taiwan" by China, a report that would be carried out by the secretary of defense and the chairman of the US Joint Chiefs of Staff in coordination with the US director of national intelligence.
The analysis would include an assessment of how China might execute a blockade, its possible precursors or warning signs, its potential effects on Taiwan and the US, and military and nonmilitary options for countering a blockade, the bill says.
In addition to the draft NDAA in the Senate, the US House of Representatives Armed Services Committee passed a separate version of the legislation late last month.
Typically, after the House and Senate have passed their own versions of the NDAA, they negotiate a reconciliation of the bill to send to the president to sign into law before the end of the year.
Comments will be moderated. Keep comments relevant to the article. Remarks containing abusive and obscene language, personal attacks of any kind or promotion will be removed and the user banned. Final decision will be at the discretion of the Taipei Times.