New supernova can be observed by simple telescopes
A recently discovered supernova is the brightest and closest to Earth identified in the past decade, and can be observed with basic equipment, the Taipei Astronomical Museum said on Wednesday.
The supernova has an absolute magnitude of 14.9 in luminosity and is in the Pinwheel Galaxy (M101) about 21 million light-years from Earth.
It was discovered early on May 20 by Japanese amateur astronomer Koichi Itagaki, who immediately reported the finding to the International Astronomical Union, the museum said.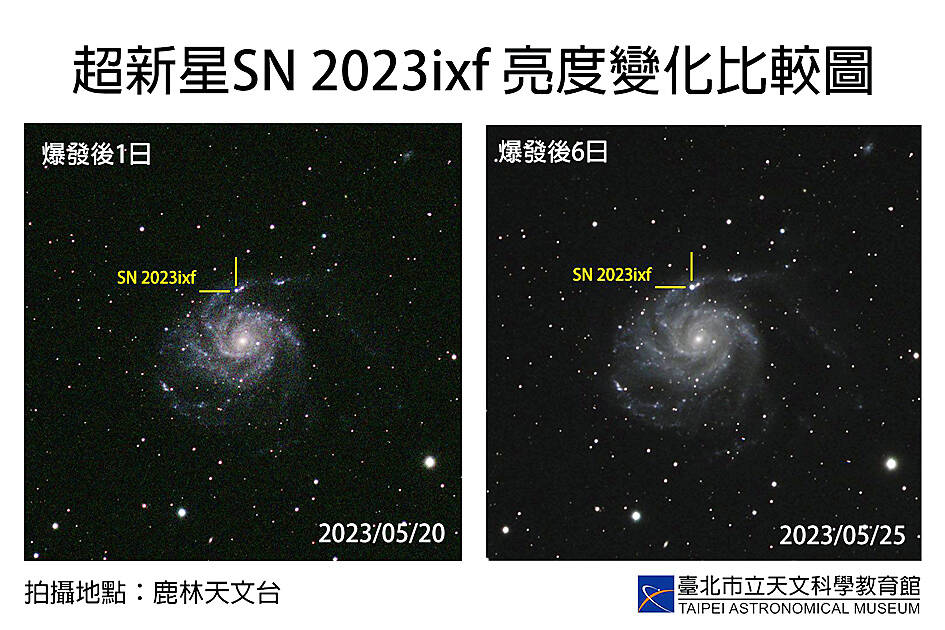 A recently discovered supernova in the Pinwheel Galaxy is pictured on May 20 and 25.
Photo courtesy of the Taipei Astronomical Museum
The supernova was designated SN 2023ixf following the astronomical naming conventions for supernovas, it added.
The museum said that it observed the supernova with a 5cm astronomical telescope at National Central University after receiving the news, and captured images of it with an exposure time of two minutes to analyze its brightness.
The supernova was created after the catastrophic destruction of a supergiant star, it said.
It is the brightest supernova discovered in a decade, it said, adding that the previous brightest supernova that was discovered was SN2014J in 2014.
People can observe the supernova with a small telescope, if the sky is clear and they are away from light sources, the museum said.
Observers around the world have been sharing the images they have taken, it said.
However, it could be a challenge for people to view the supernova with the naked eye or take clear pictures of it, as that would depend on the quality of photographic equipment used and the person's experience, it said.
Comments will be moderated. Keep comments relevant to the article. Remarks containing abusive and obscene language, personal attacks of any kind or promotion will be removed and the user banned. Final decision will be at the discretion of the Taipei Times.