Diverse taxi operators blast scrapping of airport plan
More than 400 taxi and diverse taxi operators yesterday staged a protest outside the Ministry of Transportation and Communications building in Taipei after it suspended a plan to allow diverse taxis to enter Taipei International Airport (Songshan airport).
The decision aims to benefit large fleet operators, the protesters said.
Diverse taxis, mainly referring to Uber-like services, are defined as transportation provided by services that are accessed online or via mobile applications and are prepaid. Diverse taxis are not yellow like official taxis, may not pick up passengers without a booking and cannot display plate numbers on the body of the vehicle, or the rear windshield.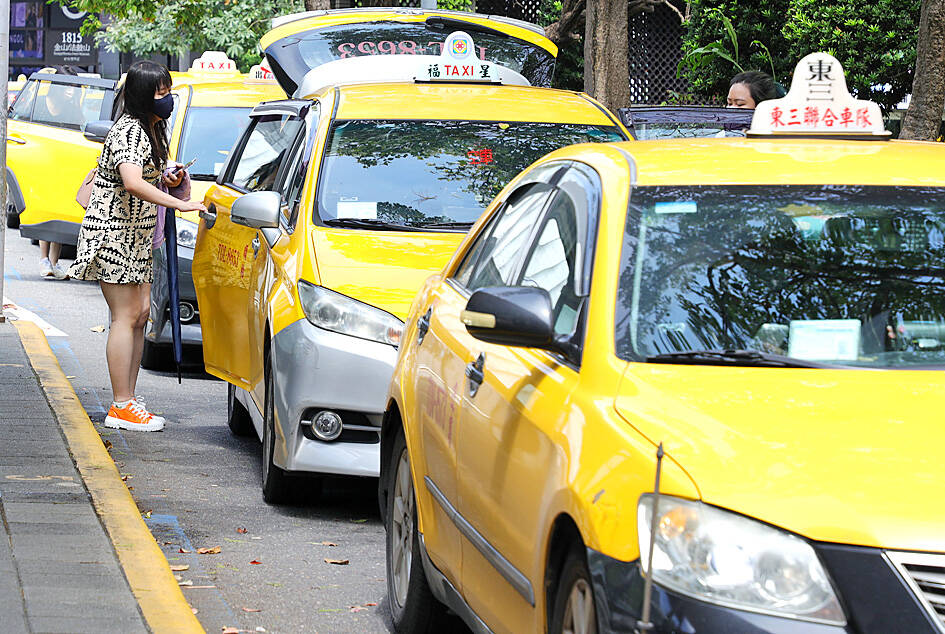 A woman boards a taxi at Taipei Railway Station on April 2.
Photo: CNA
Transportation Drivers' Union president Lee Wei-er (李威爾) said that a leaked recording of last week's meeting between ministry officials and industry representatives purportedly showed a business representative saying that allowing diverse taxis at the airport would clutter the area with similar services.
The representative also said that he had twice made a similar suggestion to an unnamed deputy minister of Transportation and Communications over dinner, Lee said.
Members of the public cannot even meet with the director of the Department of Railways and Highways, but it only took one meal with a deputy minister to undo months of effort, affecting the livelihoods of more than 20,000 drivers, he said.
Lee urged Minister of Transportation and Communications Wang Kwo-tsai (王國材) to investigate the matter and dismiss the deputy minister involved.
The plan was conceived during rounds of mediation between the union and Songshan airport overseen by Taiwan People's Party Legislator Lai Hsiang-ling (賴香伶).
It was brought before the Civil Aeronautics Administration and the ministry for review following several rounds of revisions and negotiations.
The union yesterday demanded that the ministry reinstate the plan, hold a public hearing on drafting special legislation to allow people to reserve transportation online, and create measures to prevent private actors from taking the business of taxis and diverse taxis.
Lee said that if Wang does not provide a satisfactory answer by the end of the week, he would next week go to Taipei City Hall with NT$1 million (US$32,544) to apply for permission to protest in front of the ministry building for a month.
"I will pitch a tent in front of the ministry and wait for Wang to give me a satisfactory answer on how the ministry will handle a deputy minister who sides with large corporations," he said.
Speaking at the Tourism Forum, Wang said the ministry placed the plan on hold due to "great opposition," without elaborating.
He said the ministry would reach out to all interested parties for further discussions.
Protesting and clamoring for immediate restoration of the plan is not the way to go, he added.
Comments will be moderated. Keep comments relevant to the article. Remarks containing abusive and obscene language, personal attacks of any kind or promotion will be removed and the user banned. Final decision will be at the discretion of the Taipei Times.