Meta asked to ban fake ad featuring Nvidia boss
LATEST TRENDS A fraudulent Facebook ad shows a genuine news report about Nvidia, but follows with fake claims of stock insights from its CEO Jensen Huang
The Criminal Investigation Bureau (CIB) has contacted Meta, the parent company of Facebook, to remove fake advertisements promoting "Jensen Huang's stock investment chat group."
Jensen Huang (黃仁勳), the Taiwanese-American CEO of Nvidia Corp, was in the media spotlight during a visit to Taiwan last week.
Citing accelerating artificial intelligence applications, Nvidia on May 24 said that its sales this quarter would reach US$11 billion, soaring 64 percent from a year earlier and beating a market estimate of US$7.2 billion, which caught many market analysts off guard.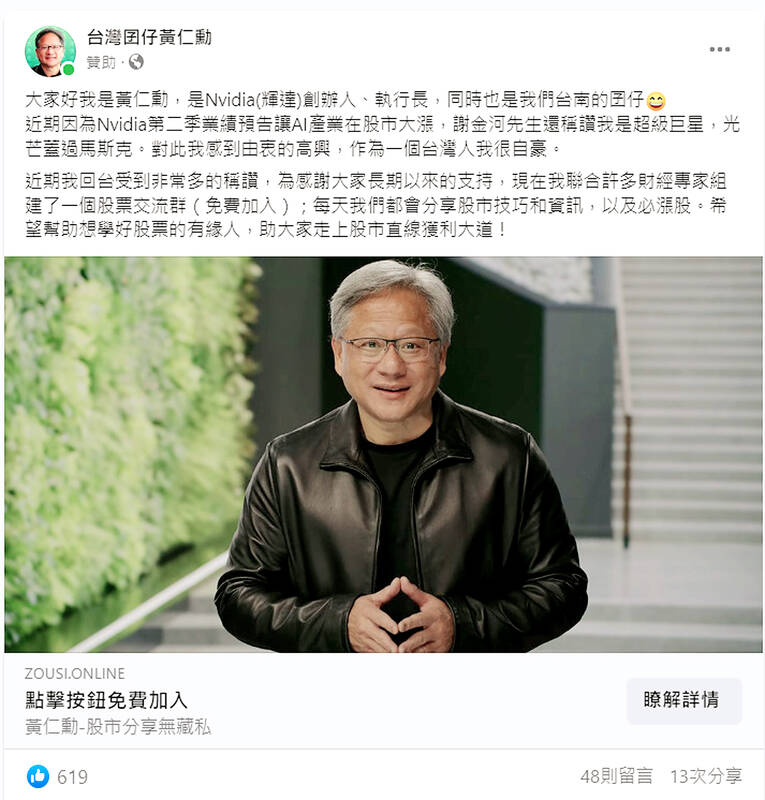 A fraudulent Facebook advertisement using Nvidia Corp CEO Jensen Huang is pictured in an undated photograph.
Photo: Screen grab from Facebook
The GPU designer posted more than US$2 billion in net profit and US$7 billion in sales for the first quarter, both topping Wall Street expectations.
CIB officials said the Facebook advertisement was clearly fabricated, but it was still circulated widely and has led to complaints that the social media platform was doing nothing to curb the spread of fake advertisements.
"Scammers are good at following the latest trends," a CIB official said on condition of anonymity.
The CIB said the advertisement was titled "Jensen Huang, Taiwan's native-born kid," and was accompanied by authentic information about Nvidia's second-quarter forecast boosting the stocks of AI firms.
However, the next part of the advertisement was made up by the scammers, which said: "We thank people for their support. Now, with financial experts, we have set up a stock market investment chat group to share updates on daily stock movements and tips on when to buy and sell. We hope everyone can profit on the stock market," the CIB said.
CIB officials said some people might have difficulty discerning the fraudulent advertisement from genuine promotions.
"We are working to prevent people falling for such scams. We have set up an anti-fraud unit to help people distinguish real news from fake news," the CIB official said.
The bureau said it would treat the posting of fake advertisements as a criminal offense.
It urged people to contact the CIB's "165" anti-fraud hotline to report bogus investment news and scams.
Additional reporting by CNA
Comments will be moderated. Keep comments relevant to the article. Remarks containing abusive and obscene language, personal attacks of any kind or promotion will be removed and the user banned. Final decision will be at the discretion of the Taipei Times.