Police warn against scams using deepfake videos
HIGH-TECH SCAM: A businessman in China lost more than US$600,000 to a scam using deepfake technology, which might proliferate in Taiwan soon, officials said
Taiwanese should beware of fraud schemes using deepfake video, as scammers in China have been using altered likenesses over video chat in an attempt to defraud people, police said on Saturday.
A case was reported last month in China's Fuzhou involving the head of a technology company surnamed Guo (郭).
Using deepfake technology, fraudsters created a video likeness of a friend of Guo's, including their voice, which they used to call Guo over video chat.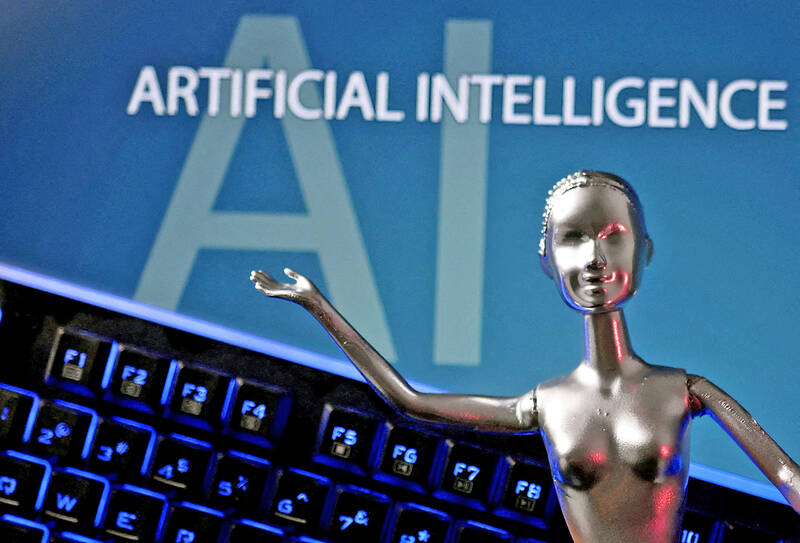 A figurine is displayed in front of the words "artificial intelligence" on May 4.
Photo: Reuters
The "friend" said they were competing for a contract abroad and asked Guo to send 4.3 million yuan (US$607,671) for a deposit.
Believing the request was genuine, as it appeared to come from his friend, Guo transferred the money in two installments.
He later called his friend, who said he had no knowledge of the situation.
Guo said that he had in the past received fraudulent WeChat messages claiming to be from people he knows, but this was the first time he received a video call impersonating a friend using deepfake technology.
As this type of fraud becomes more prevalent, the Taipei City Police Department's Criminal Investigation Division on Saturday urged people to keep an eye out for deepfakes, as fraud trends in China tend to spread quickly to Taiwan.
The division said it has identified three main strategies utilizing digital alterations.
In telephone fraud, fraudsters often impersonate the voice of a family member, friend or public figure to extort money or personal information from the victim, it said.
In video fraud, deepfake technology is used to impersonate the voice and likeness of a real person, such as a company executive, who then instructs the victim to transfer funds or provide confidential information, the division said.
Third, a fraudster fabricates a sensitive image of the victim to blackmail them, it said.
In March, a number of well-known university professors in Taiwan were sent such images, it added.
The best protection against new forms of fraud is maintaining vigilance and skepticism, the division said, adding that unusual requests from strangers or even close friends should be viewed with caution.
When sent media content, especially if it is controversial, people should check the source for credibility, the division said.
Comments will be moderated. Keep comments relevant to the article. Remarks containing abusive and obscene language, personal attacks of any kind or promotion will be removed and the user banned. Final decision will be at the discretion of the Taipei Times.