Uniform invoice lottery for March-April announced
The winning number for the NT$10 million (US$324,781) special prize in the March-April uniform invoice lottery is 20783987, the Ministry of Finance announced yesterday.
The winning number for the NT$2 million grand prize is 04135859, while the three numbers for the first prize of NT$200,000 are 94899145, 71143793 and 41055355, the ministry said.
The holders of receipts whose serial numbers match the last seven digits of the first-prize numbers win NT$40,000, while those with invoices whose serial numbers match the last six digits win NT$10,000.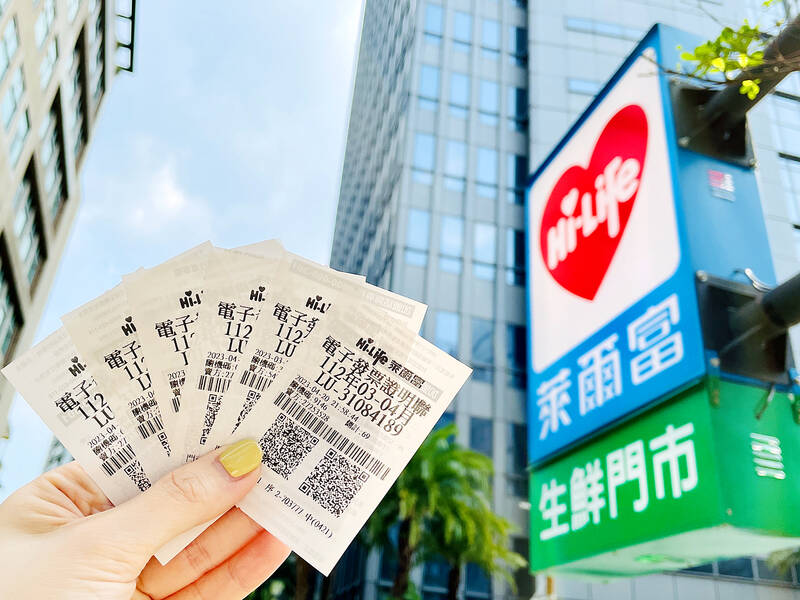 A person holds receipts in front of a Hi-Life store in an undated photograph.
Photo courtesy of Hi-Life
Other prizes are NT$4,000 for receipts with the last five digits of the first-prize numbers, NT$1,000 for receipts with the last four digits and NT$200 for invoices with the last three digits.
Two winners of the NT$10 million special prize purchased items from 7-Elevens, one of whom spent NT$62 on bread and a drink in Nantou County and the other spent NT$114 on a meal and a drink in Yunlin County, the ministry said.
A special prize winner spent NT$46 on soy milk and two tea eggs from a Hi-Life in Pingtung County, it said.
Those holding prize-winning receipts can claim their winnings between June 6 and Sept. 5, the ministry said, adding that prizes up to NT$1,000 can be collected from 7-Eleven, FamilyMart, OK Mart, Hi-Life, PX Mart and Simple Mart stores.
Prizes up to NT$40,000 can be collected from credit cooperatives across the nation, while First Commercial Bank, Chang Hwa Bank and Agricultural Bank of Taiwan offer cash redemptions for all prizes, including those larger than NT$200,000, the ministry said.
The uniform invoice lottery system, which draws winning numbers every two months, was created to encourage people to ask for receipts when making purchases as part of the ministry's efforts to rein in tax evasion.
The ministry has also released the winning numbers for its cloud-based uniform invoice lottery, which includes 30 NT$1 million prizes, 16,000 NT$2,000 prizes, 100,000 NT$800 prizes and 2.15 million NT$500 prizes.
Unlike the regular draw for paper receipts, which randomly draw winning serial numbers, winners in the cloud-based lottery are drawn directly from digitally stored receipts.
Winners can redeem their awards using the "uniform lottery redemption" app, which can store and check receipts and enables winners to claim their prizes electronically, with the money remitted directly to their bank account.
Comments will be moderated. Keep comments relevant to the article. Remarks containing abusive and obscene language, personal attacks of any kind or promotion will be removed and the user banned. Final decision will be at the discretion of the Taipei Times.