US nuclear protection positive for Taiwan: experts
LOCAL FACTOR: The result of January's presidential vote would greatly influence Taiwan's bid to be covered by the US nuclear umbrella, an assistant professor said
A proposal to put Taiwan under the US nuclear umbrella has drawn mostly positive responses from defense experts, after Minister of Foreign Affairs Joseph Wu (吳釗燮) told lawmakers at the Legislative Yuan on Monday that Taipei and Washington are engaged in talks on the matter.
Taiwan's national security doctrine explicitly rejects the development of nuclear, chemical and biological weapons of mass destruction, despite the nation facing the threat of such weapons being used against it, Institute for National Defense and Security research fellow Su Tzu-yun (蘇紫雲) said yesterday.
The extension of an ally's nuclear umbrella over Taiwan would be significantly beneficial to the Taiwan's security, he said.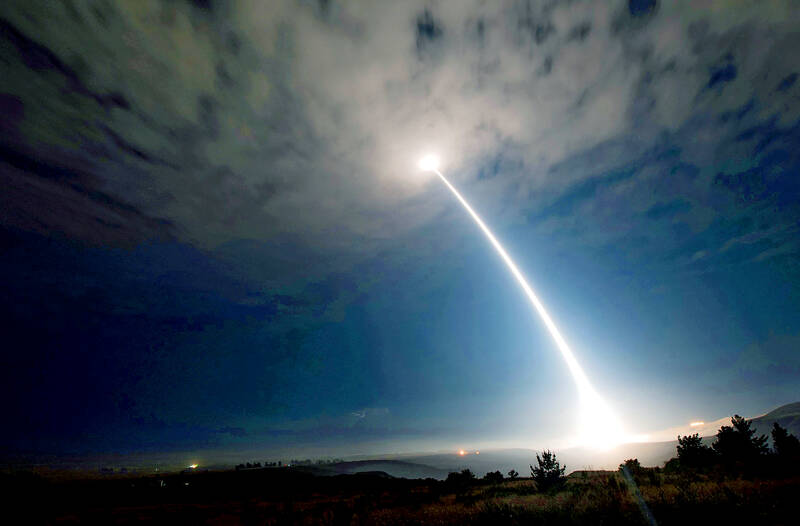 An unarmed Minuteman III intercontinental ballistic missile launches during an operational test from Vandenberg Air Force Base, California, on Aug. 2, 2017.
Photo: Reuters
The nuclear umbrella is a deterrence strategy developed during the Cold War. The US uses it to guarantee the safety of smaller countries by threatening to retaliate in kind if those allies came under nuclear attack, he said.
Taiwan's armed forces already provide conventional deterrence, but obtaining a nuclear deterrence would reduce its susceptibility to nuclear coercion, Su said.
Taiwan's bid to be protected by the US nuclear umbrella would depend on domestic and international factors, including the outcome of the presidential election next year, Lu Hsin-chi (盧信吉), an assistant professor of international politics at National Chung Hsing University, told an Institute for National Policy Research forum on Monday.
The political will of Taiwanese would play a large part in the international community's perception and assessment of the cross-strait situation, while the forcefulness of China's reaction would also likely affect the outcome, he said.
If international and domestic conditions align, it would be possible for the US to provide Taiwan with a certain level of nuclear deterrence, including deploying ballistic missile submarines to patrol the nation's waters, he said.
The threat of a nuclear-armed North Korea has reinvigorated the South Korea-US military alliance, with South Korean President Yoon Suk-yeol's administration and US officials issuing the Washington Declaration last month, he said.
Expansion of the US nuclear umbrella over South Korea and Japan would potentially pave the way for Taiwan, he said.
Comments will be moderated. Keep comments relevant to the article. Remarks containing abusive and obscene language, personal attacks of any kind or promotion will be removed and the user banned. Final decision will be at the discretion of the Taipei Times.