Most Taiwanese support domestic defense program
Eighty-five percent of Taiwanese back the government's autonomous development of national defense equipment, but have become less inclined to support its purchase of US arms packages due to delivery delays, an Institute for National Defense and Security Research poll showed.
Lee Kuan-cheng (李冠成), an assistant researcher at the institute's Division of Chinese Politics, Military and Warfighting Concepts, said that 58 percent of respondents in March agreed that "Taiwan should continue purchasing US military equipment and arms to strengthen its defensive capabilities," down from 65 percent a year earlier.
A delay in the delivery of the M136 Volcano automated mine-laying system, and false news that surrounded the sale of the system, might have led to the drop in support, Lee said.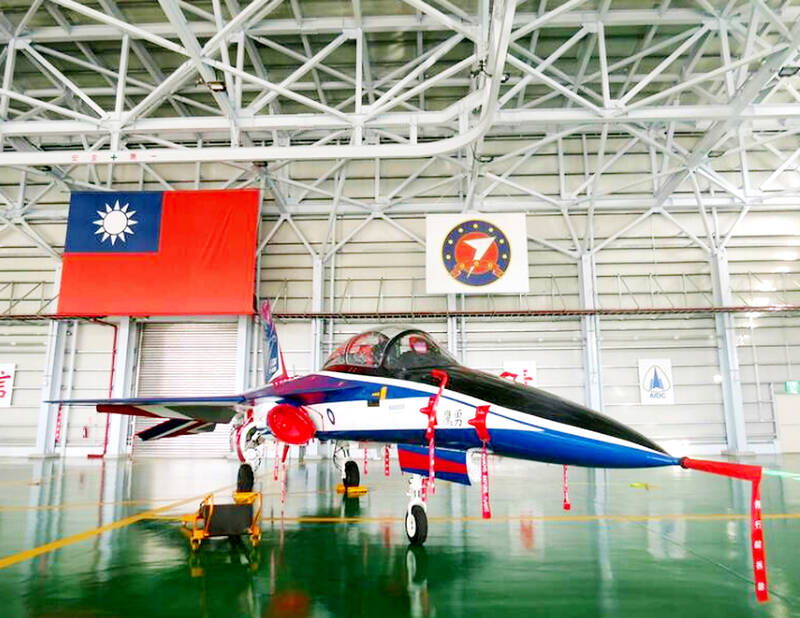 Taiwan's domestically produced advanced jet trainer is pictured in an undated photograph.
Photo: Taipei Times file
The overwhelming public support for the government's autonomous development of national defense equipment showed that more Taiwanese are beginning to understand that to prevent Taiwan's defense from being affected by international situations, it must retain the ability to research and develop its own weapons systems and equipment, he said.
The public are becoming increasingly aware of the threat posed by China, as there was an increase in the number of respondents who agreed that national defense expenditure should grow, the poll report said.
The delivery of locally manufactured surface ships, the T-5 Brave Eagle trainer jet and the expected delivery of the indigenous submarine program's prototype in September have increased public support for the government's indigenous defense programs, it said.
Solid public support for such programs would lay the foundation for continued investment in and the growth of national defense industries, the report said.
The institute commissioned the National Chengchi University's Election Study Center to conduct the poll via telephone from March 23 to 29.
The poll primarily targeted individuals aged 18 or older, and received 1,535 valid responses with a margin of error of 2.5 percentage points.
Polled respondents lived on Taiwan proper, with the nation's outlying islands excluded.
Comments will be moderated. Keep comments relevant to the article. Remarks containing abusive and obscene language, personal attacks of any kind or promotion will be removed and the user banned. Final decision will be at the discretion of the Taipei Times.