MOFA vows to do its best to help after NY complaint
Minister of Foreign Affairs Joseph Wu (吳釗燮) yesterday said the Ministry of Foreign Affairs (MOFA) would do its best to assist overseas Taiwanese in need.
The remarks came after a Taiwanese student expressed disappointment at the Taipei Economic and Cultural Office in New York after seeking help from there following an attack.
The student said in a post on the Dcard online forum on Saturday that she was attacked by a woman at the New York Public Library on Wednesday.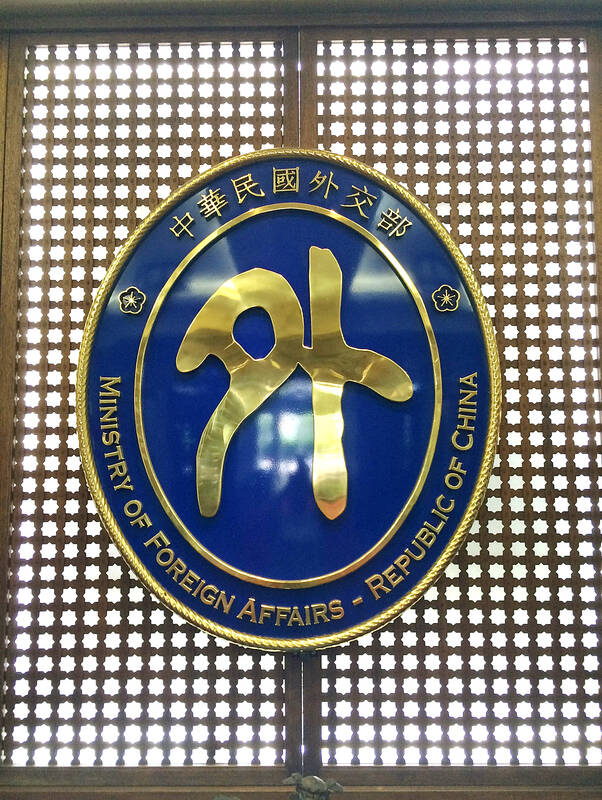 The Ministry of Foreign Affairs' emblem is pictured in an undated photograph.
Photo: Lu Yi-hsuan, Taipei Times
The woman punched her on the right side of her head for no reason when she left the toilet, causing her to hit the corner of a wall, which left her bleeding, the student said.
The student's friend asked the security personnel at the library for help, but five of them let the attacker leave the scene and asked her friend to calm down, she said, adding that she was later sent to hospital in an ambulance.
The student called the emergency line provided by the ministry afterward, but was only provided with a telephone number of an attorney, she said.
Asked by reporters about the incident, Wu yesterday said that since the student wished to seek legal remedy over the incident, the office recommended an attorney who had worked with the office before.
He said that the ministry and all foreign embassies and missions would do their utmost to assist overseas Taiwanese.
The ministry said in a statement that the office asked about the incident and what assistance the student needed when it received her call on Friday.
The student said she wished to file a lawsuit against the library, as its staff let the suspected attacker leave before the police arrived, so the office provided her with contact information of the attorneys it worked with and the Asian American Bar Association of New York, the ministry said.
The office told the student that it would be happy to provide further assistance and kept in close contact with local law enforcement, it said.
The ministry condemned any violence, including racial discrimination and verbal or physical violence, and said that it would ask offices in the US to keep in touch with overseas Taiwanese to offer help when needed.
In case of an emergency that threatens personal safety, people should take measures to protect themselves and immediately contact local law enforcement agencies or the nearest Taiwanese office abroad for assistance, it said.
Comments will be moderated. Keep comments relevant to the article. Remarks containing abusive and obscene language, personal attacks of any kind or promotion will be removed and the user banned. Final decision will be at the discretion of the Taipei Times.