Taipei councilors grill mayor over Shanghai forum
Taipei Mayor Chiang Wan-an (蔣萬安) yesterday said the annual Shanghai-Taipei Twin-City Forum would be held in China this year, as city councilors questioned if he was going back on a promise not to attend if Chinese military aircraft continued to harass Taiwan.
During a city council meeting, Chiang said that the forum would be held in Shanghai in July or August, under the theme of "new trends, new challenges."
Regarding whether he would attend the forum — as there are concerns over his background, given he is purportedly the great grandson of former president Chiang Kai-shek (蔣介石) — he said that a city task force would discuss the details, and Taipei Deputy Secretary-General Wang Chiu-tung (王秋冬) would visit Shanghai for preliminary discussions.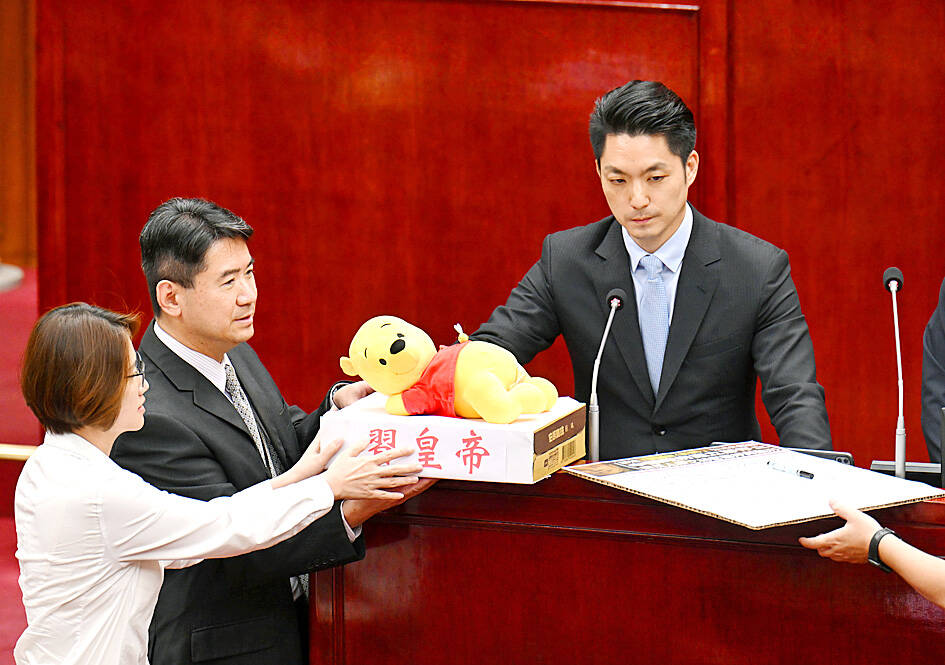 Democratic Progressive Party city councilors present Taipei Mayor Chiang Wan-an, right, with a Winnie the Pooh toy labeled "Emperor Xi," in reference to Chinese President Xi Jinping at a Taipei City Council meeting yesterday.
Photo: Tien Yu-hua, Taipei Times
Democratic Progressive Party (DPP) city councilors Yen Juo-fang (顏若芳) and Ho Meng-hua (何孟樺) asked Chiang Wan-an whether he was reneging on an election campaign promise.
While running for office last year, he said the forum should only be held under certain conditions, including that "Chinese military aircraft no longer harass Taiwan."
Chiang Wan-an said he would uphold the principles of mutual respect and reciprocity, and would comply with the Constitution and the Act Governing Relations Between the People of the Taiwan Area and the Mainland Area (臺灣地區與大陸地區人民關係條例).
Ho said that the city government has been taken advantage of in previous forums, and asked the mayor how he would stand up for Taiwan.
Chiang Wan-an said that the Mainland Affairs Council (MAC) has recognized the forum in the past, so if the city councilors are questioning the forum, they are questioning the MAC, too.
DPP Taipei City Councilor Wang Shih-chien (王世堅) said Chiang Wan-an should insist that Taipei is not "paying a tribute" to Shanghai, and the forum should not be treated as exchanges between the Chinese Nationalist Party (KMT) and the Chinese Communist Party.
DPP Taipei City Councilor Lin Yen-feng (林延鳳) said that the benefits of holding the forum are decreasing, and Taipei should consider holding twin-city forums with other cities, such as Tokyo or Kyoto.
Comments will be moderated. Keep comments relevant to the article. Remarks containing abusive and obscene language, personal attacks of any kind or promotion will be removed and the user banned. Final decision will be at the discretion of the Taipei Times.