Submarine project passes cost, procurement issues
CSBC Corp, Taiwan has been able to overcome some significant problems that arose while building a prototype of the nation's first domestically made submarine, CSBC chairman Cheng Wen-lon (鄭文隆) said on Wednesday last week.
Earlier this year, Cheng said that the prototype would undergo final tests in September.
"We have been able to build 85 components locally so far," Cheng said, after a source familiar with the program in January revealed that more than 40 percent of the submarine's main body is being manufactured in Taiwan.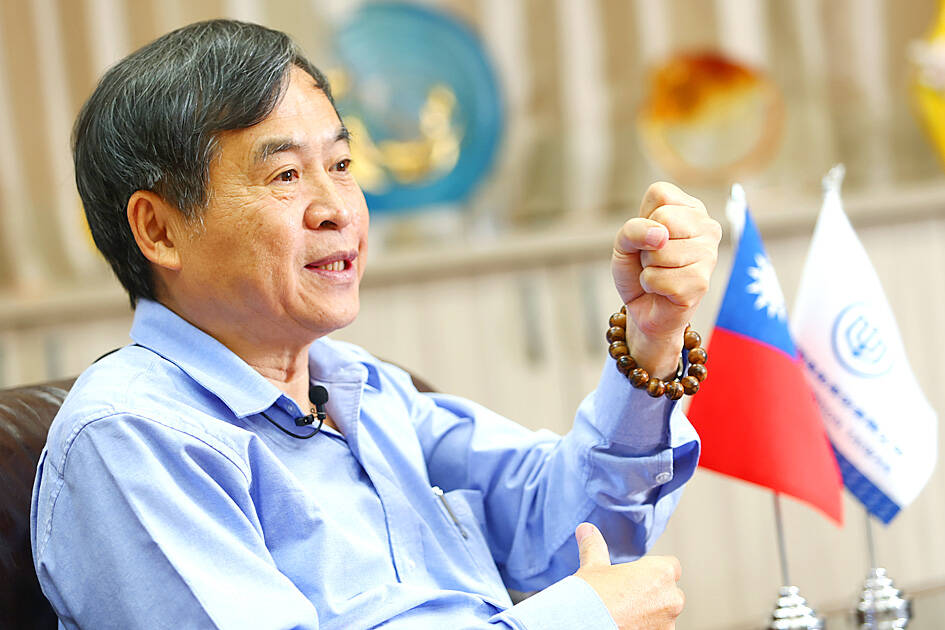 CSBC Corp, Taiwan chairman Cheng Wen-lon attends a news conference on Wednesday.
Photo: CNA
This would include airtight doors, a water conversion system, hydraulic system and a silent air-conditioning system, the source said.
Giving an example of how difficult it is to build a modern submarine, Cheng cited the need for silent toilets.
As Taiwan lacks experience building submarines, it had to procure 107 core technologies from overseas to build what is known as the "red zone" of the vessel, and manufacture the rest itself, he said.
Due to the silence required on submarines, Cheng's team initially planned to import toilets costing NT$670,000 (US$21,744) each.
However, the price drew a public backlash, and the 990-member team in charge of building the submarine turned to local companies to manufacture the toilets for NT$150,000 each, he said.
The Ministry of National Defense has divided the hardware and technology needed to build a submarine into red, yellow and green categories, with red parts needing to be imported, yellow parts potentially made locally and green parts readily made in Taiwan.
Some red category technologies beyond Taiwan's submarine design and building capability, such as diesel engines, torpedo tubes and other combat equipment, have been procured from overseas, the source said.
The construction of the prototype has continued around the clock since work started in 2020, Cheng said.
Other problems were overcome with the cooperation of the Naval Shipbuilding Development Center, the navy's 256th Submarine Squadron, the Chungshan Institute of Science and Technology and a CSBC task force.
"We worked as partners rather than buyers and sellers," he said.
After CSBC completes shipyard testing of the submarine in September, Cheng said the company would conduct harbor and sea operations tests before delivering the submarine to the navy.
Taiwan has allocated a NT$49.36 billion budget over seven years — from 2019 to 2025 — to build the prototype, with a plan to launch an indigenous submarine building program that would make it less dependent on other countries.
Such efforts could help Taiwan develop a national defense industry, and even enable the country to become a key submarine exporter, he said.
Although it has previously been reported that Taiwan is planning to allocate NT$300 billion to build a fleet of eight submarines as part of the Indigenous Defense Submarine Program, this has not been publicly confirmed by the military, and the ministry said such a plan requires further evaluation.
Comments will be moderated. Keep comments relevant to the article. Remarks containing abusive and obscene language, personal attacks of any kind or promotion will be removed and the user banned. Final decision will be at the discretion of the Taipei Times.