Hou You-yi against 'two systems' and independence
New Taipei City Mayor Hou You-yi (侯友宜) on Monday said that he opposes Beijing's "one country, two systems" formula, as well as Taiwanese independence.
Hou is considered a front-runner in the Chinese Nationalist Party's (KMT) nomination race for next year's presidential election. He faces competition from Hon Hai Precision Industry Co founder Terry Gou (郭台銘), who, despite not being a member of the KMT, has said he plans to seek the party's nomination.
Speaking at a hearing at the New Taipei City Council, Hou said he insists on upholding Taiwan's democratic values to allow the nation to move ahead, while opposing China's "one country, two systems" formula.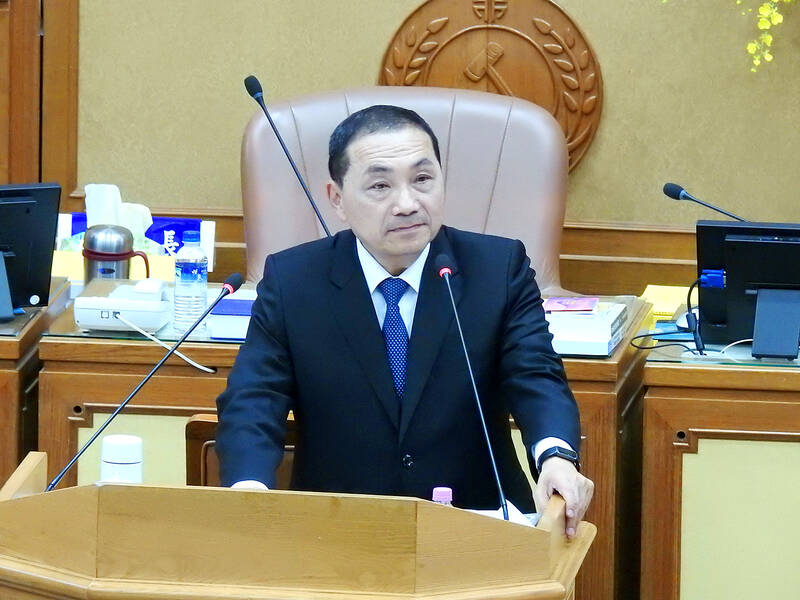 New Taipei City Mayor Hou You-yi attends a city council meeting yesterday.
Photo: CNA
Chinese President Xi Jinping (習近平) has said the "one country, two systems" formula, used in Hong Kong and Macau, could be customized to apply to Taiwan if China were to take control of the nation.
During the hearing, New Taipei City Councilor Chen Chi-nen (陳啟能) of the Democratic Progressive Party (DPP) said Hou has never condemned Beijing for sending military jets to the skies around Taiwan.
Hou said that challenges to national sovereignty are unacceptable, and that Taiwan needs to take these challenges seriously and ensure a high level of battle readiness.
He said if Taiwan were attacked, he would rise to the challenge and called on city councilors to stop questioning his patriotism.
Chen called Hou the New Taipei City mayor of "the Republic of China [ROC], Taiwan," but Hou corrected him, saying he should be referred to as the New Taipei City mayor of "the Republic of China," adding the latter has a legal basis under the nation's ROC Constitution.
"Taiwanese independence has no legal basis, so I oppose it," Hou said.
Unity in Taiwan should not be damaged by ideology, he said.
"The ROC is our country and Taiwan is our home. We have to take good care of our home as well as our country," he said.
DPP spokeswoman Michelle Lin (林楚茵) said that Hou's opposition to the "one country, two systems" formula is an attempt to cheat people and solicit votes for his potential presidential race.
She accused Hou of using his rhetoric on the "one county, two systems" formula to skirt the so-called "1992 consensus" supported by former KMT president Ma Ying-jeou (馬英九).
Ma recently discussed the "1992 consensus" at an international event and publicly accepted it, so Hou should say whether he supports Ma's stance on the issue, Lin added.
Hou on Saturday said he respected Ma's stance on the "1992 consensus."
Chiang I-chen (江怡臻), deputy head of the KMT Culture and Communications Committee, on Monday said Hou has described his political beliefs clearly, as he adheres to the ROC Constitution and has said: "Our country is the ROC, a democratic and free county under rule of law, and a sovereign country."
At a hearing of the city council on Tuesday, Hou said the ROC's sovereignty covers Taiwan, Penghu, Kinmen and Matsu.
"I am here to protect Taiwan, Penghu, Kinmen and Matsu," he said.
Hou said he deals with cross-strait affairs based on the ROC Constitution and the Act Governing Relations Between the People of the Taiwan Area and the Mainland Area (臺灣地區與大陸地區人民關係條例), adding that the act clearly describes ties across the Taiwan Strait.
The act describes the Taiwan area as Taiwan, Penghu, Kinmen, Matsu and any other area under the effective control of the government, while the mainland area refers to the territory of the Republic of China outside the Taiwan area.
The "1992 consensus" — a term that former Mainland Affairs Council chairman Su Chi (蘇起) in 2006 admitted making up in 2000 — refers to a tacit understanding between the KMT and the Chinese Communist Party that both sides of the Taiwan Strait acknowledge that there is "one China," with each side having its own interpretation of what "China" means.
Comments will be moderated. Keep comments relevant to the article. Remarks containing abusive and obscene language, personal attacks of any kind or promotion will be removed and the user banned. Final decision will be at the discretion of the Taipei Times.