Gou apologizes for nuclear proposal
Hon Hai Precision Industry Co founder Terry Gou (郭台銘) yesterday apologized for saying that small modular nuclear reactors (SMRs) should be built in Kaohsiung.
Gou is vying for the Chinese Nationalist Party (KMT) nomination for next year's presidential election.
Asked about his views on green power during a speech on Monday, Gou said establishing SMRs near Banpingshan (半屏山) in Kaohsiung would be "the right move" and is guaranteed to make money, adding that the government should take the lead in making the investment.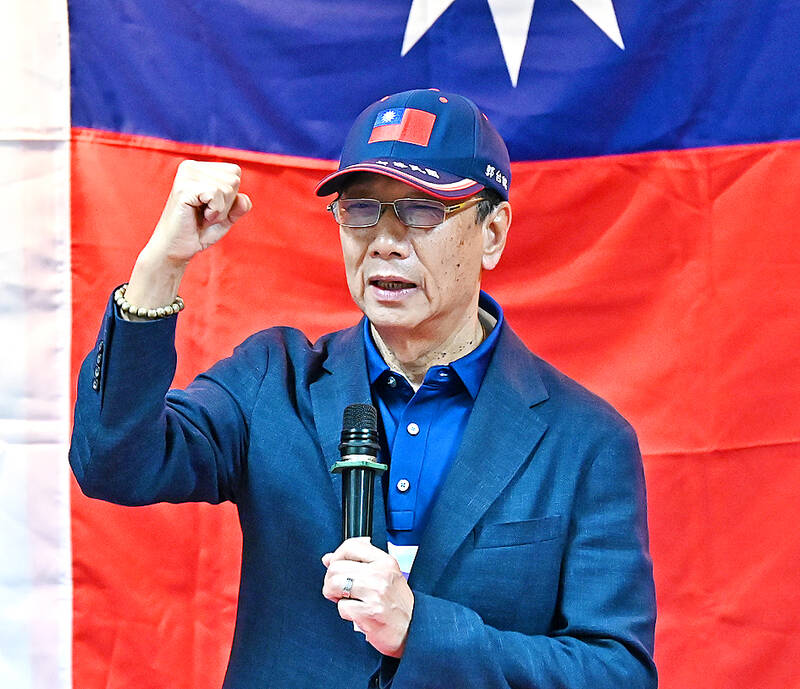 Hon Hai Precision Industry Co founder Terry Gou gestures at an event in Kaohsiung yesterday.
Photo: Lee Hui-chou, Taipei Times
The remarks caused a stir, with Citizen of the Earth, Taiwan saying that research into SMR technology worldwide is incomplete, adding that even if Taiwan wished to develop such technology, there is no mature predecessor for reference.
"We hope that Mr Gou will spend more time finalizing his energy policy platforms before commenting, or he might risk propagating untrue information," the group said.
Later on Monday evening, Gou said on Facebook that he meant to highlight that Taiwan's power provision capabilities were unstable and often fell short of actual usage.
He added that this would, inevitably, impact industry as it transitions toward a more sustainable model of production.
Gou said he was perhaps too brash in his haste to highlight the issue, but he also believes that at this juncture, nuclear power is among the options that need to be taken into account when considering the nation's energy policy.
He said his team would present a transparent energy policy, adding that he understands that the decision for any public policy must consider multiple facets.
Gou also apologized for saying that he hopes to run the government like a corporation.
"We will not need the legislature to provide oversight; we will do it ourselves," he said earlier.
Legislative oversight is an immutable part of the democratic process and should not be challenged or destroyed, Gou said on Monday, calling on people to understand what he meant instead of just listening to his words.
Gou also said he would use robots to defend Taiwan from the Chinese People's Liberation Army and hopes to begin the production of the robots within three years.
Democratic Progressive Party Legislator Su Chiao-hui (蘇巧慧) yesterday called Gou a "failed presidential candidate."
"That was basically an attempt by Gou to cover up his ridiculous remarks by brushing them off as a gaffe," Su said.
Additional reporting by Wang Jung-hsiang
Comments will be moderated. Keep comments relevant to the article. Remarks containing abusive and obscene language, personal attacks of any kind or promotion will be removed and the user banned. Final decision will be at the discretion of the Taipei Times.