E-cigarette investigations top 2,000 after new rules
STORES AND ONLINE: The HPA said it had found 6,100 suspected illegal items listed on online platforms and at brick-and-mortar stores, even as store numbers fell
More than 2,000 cases are being investigated a month after amendments to the Tobacco Hazards Prevention Act (菸害防治法) banned e-cigarettes and tightened restrictions on heated tobacco products (HTPs), the Health Promotion Administration (HPA) said yesterday.
Fines totaling NT$280,000 have been imposed in 18 cases, the HPA said.
The amendments were implemented on March 22, which also increased the age to buy cigarettes to 20, increased the size of required health warnings on cigarette cartons and expanded non-smoking zones in public spaces.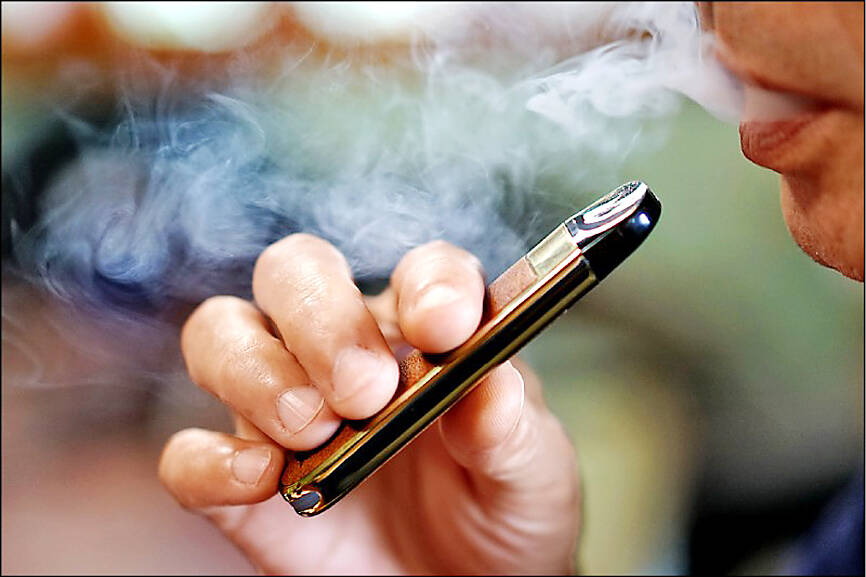 A person smokes an e-cigarette in an undated photograph. Warning: Smoking can damage your health
Photo: Taipei Times
HPA Tobacco Control Division head Chen Miao-hsin (陳妙心) said that the agency cooperated with Taiwan's 22 local health departments to enhance inspections.
As of Friday, 6,100 suspected illegal items were discovered, with 5,495 items listed on online platforms and 605 items at brick-and-mortar stores, Chen said, adding that the number of brick-and-mortar stores that sell e-cigarettes and HTPs has gone down to 54 from 228.
Of the 6,100 items, e-cigarettes accounted for the majority, with 2,173 cases under investigation, Chen said.
Local health departments have asked the alleged perpetrators to submit statements, she said.
HPA data showed that about 67 percent of the 2,173 cases, or 1,453, were for allegedly selling e-cigarettes, 477 were for advertising e-cigarettes, 40 were for displaying e-cigarettes and 42 were for e-cigarettes or HTP use.
"What is worth noticing is that among the 42 cases of alleged illegal use, 41 involved people aged under 20," Chen said.
Shih Hsin University Department of Journalism professor Chung Chi-hui (鍾起惠), who assisted in monitoring the sales of e-cigarettes and HTPs online, said that after the amendments took effect, some e-cigarette dealers began employing new marketing methods, such as not listing brand names and using terms such as "scented candles" or "perfumes."
Some dealers hold online flash sales or frequently change accounts to sell the illegal items, and some only allow regular customers to place orders through private messaging, "customizing" the sales of e-cigarettes and HTP products, making inspections more difficult, Chung said.
HPA Deputy Director-General Chia Shu-li (賈淑麗) said that as HTPs must pass health risk assessments before they can be imported or sold, and as no such products have been approved, all e-cigarettes and HTPs that are available are illegal.
Inspections would continue, so people should not buy, advertise or use the products, Chia said.
People can report contraventions of the act along with evidence to their local health department or via the toll-free tobacco hazard consultation and reporting hotline 0800-531-531.
Comments will be moderated. Keep comments relevant to the article. Remarks containing abusive and obscene language, personal attacks of any kind or promotion will be removed and the user banned. Final decision will be at the discretion of the Taipei Times.