Taipei plans NT$3.3bn budget boost from tax surplus
CHILDCARE, HEALTH: The mayor's priorities include private pre-schools and birth incentives, although opposition councilors said the plans lack financial balance
A proposal for an additional budget of NT$3.3 billion (US$108.89 million) is to be put forward by the Taipei City Government for policies covering childcare, welfare benefits and baby bonuses.
As the city had surplus tax revenue of NT$6.914 billion and debt repayments of about NT$2.6 billion, it plans to propose an additional budget of NT$3.309 billion, New Taipei City Finance Department Director Lee Tai-hsin (李泰興) said on Saturday.
Of the proposed NT$3.3 billion, about NT$1.846 billion would be used for a few major policies put forward by Taipei Mayor Chiang Wan-an (蔣萬安), Lee said.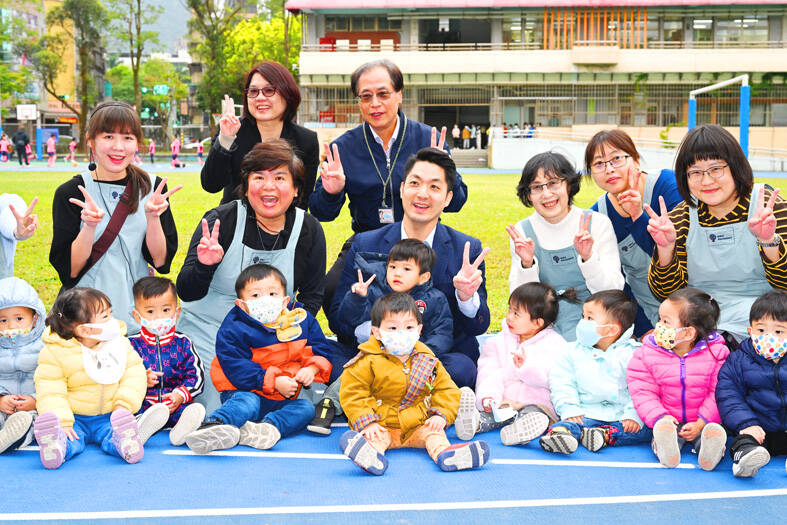 Taipei Mayor Chiang Wan-an, second row, center, poses for a picture with staff and children during a visit to a nursery in Taipei on March 13.
Photo: Tien Yu-hua, Taipei Times
They include NT$601 million for childcare, including incentives for childbearing and childcare subsidies; NT$916 million for education, including subsidies for young children at private pre-schools; NT$288 million for long-term care, including "Double Ninth Festival" cash payments; and NT$41 million to promote health and exercise, Lee said.
The city plans to introduce the budget measure before the new council session begins, and officials are to visit the council's party caucuses to explain the proposal in detail, he said.
The city's surplus tax revenue was a result of the national surplus tax revenue last year, Democratic Progressive Party (DPP) Taipei City Councilor and DPP city council caucus convener Chien Shu-pei (簡舒培) said.
Taipei received an additional NT$12.8 million in centrally allocated tax revenue, she said.
The additional budget requested by the city government should not be a "fireworks display," as long-term policies must have steady financial sources, Chien said.
If there is no additional centrally allocated tax revenue next year, Chiang would struggle to continue funding the new policies he begins, she added.
The Chinese Nationalist Party (KMT) caucus is supportive of Chiang's proposal, Taipei City Councilor and KMT city council caucus convener Chin Huei-chu (秦慧珠) said, adding that the party would review the details thoroughly.
The city government usually does not propose a significant additional budget, but Chiang's administration is proposing NT$3.309 billion in the first session, Chin said, adding that more requests are expected in the next session.
The city government should manage its financial resources and keep it in balance, she said.
"There is no such thing as a free lunch," Taipei City Councilor and Taiwan People's Party city council caucus convener Huang Ching-ying said.
Chiang's administration should value fiscal discipline and secure financial resources to sustain the city's development, she added.
Comments will be moderated. Keep comments relevant to the article. Remarks containing abusive and obscene language, personal attacks of any kind or promotion will be removed and the user banned. Final decision will be at the discretion of the Taipei Times.