Online registration for NT$6,000 handout begins
OFFLINE: People who do not wish to register can get the money from select ATMs using their bank card, ID number and National Health Insurance card number
Online registration for NT$6,000 (US$196.32) cash payments drawn from last year's tax surplus is to open today for eligible people whose national ID or permanent residency number ends in either a zero or a one, the Ministry of Finance said on Monday.
Officials from the ministry revealed which days Taiwanese and eligible foreigners would be able to register for the cash payments at a joint news conference with the Ministry of Digital Affairs.
Online registration is to open tomorrow for those whose number ends in a two or three; on Friday for those that end in a four or five: on Saturday for numbers ending in six or seven; and on Sunday for numbers ending in eight or nine.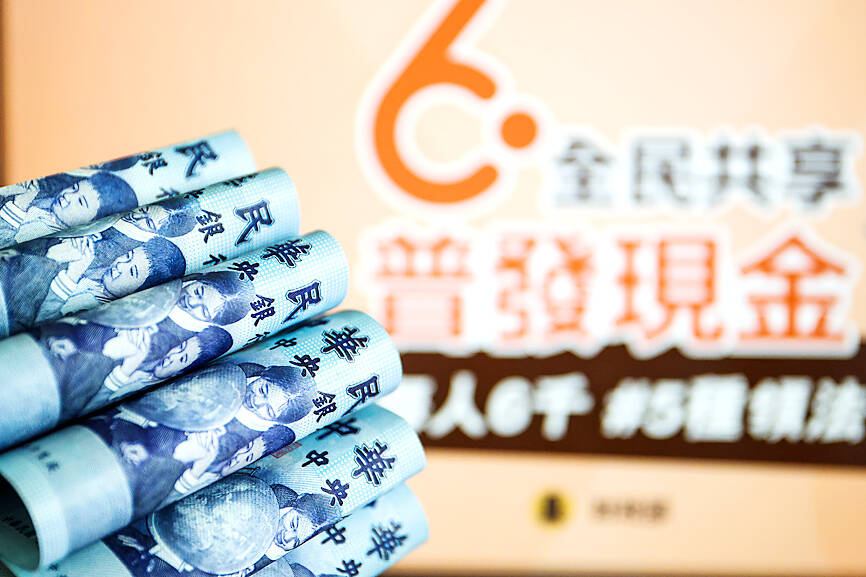 New Taiwan dollar notes are pictured in Taipei yesterday against a poster promoting ways to get the NT$6,000 cash payment from the government.
Photo: CNA
Beyond Sunday, online registration would be open to all eligible people regardless of their number for a minimum of six months, the Ministry of Digital Affairs said.
The ministry said that it expects to begin distributing the one-off NT$6,000 cash payments as early as April 7.
"There are many ways for members of the public to receive the NT$6,000 one-off handouts, and there is no need to rush to register online," Deputy Minister of Finance Frank Juan (阮清華) said following the official launch of the 6000.gov.tw Web site and 1988 registration hotline.
People who do not wish to register online would be able to get the money from select ATMs using their bank card and by entering their ID and National Health Insurance card number.
Additionally, they could collect the money directly by taking their ID and National Health Insurance card to a post office.
Parents of children too young to have such cards would also be able to pick up their child's cash payment from a post office using their child's birth certificate.
Taiwanese nationals, foreign nationals with permanent residency, resident spouses of Taiwanese nationals, as well as government agency personnel stationed overseas and their dependents with Taiwanese citizenship are eligible for the NT$6,000 handout.
In rural areas without access to an ATM or post office — Pingtung County's Shihtzu Township (獅子), Hualien County's Wanrong Township (萬榮) and Taitung County's Jinfeng Township (金峰) — eligible residents can register in person at their nearest police station until Saturday by taking their national ID and National Health Insurance card, Juan said.
Registration for babies born in the fourth quarter of this year would be open until at least January next year, he said.
Legislators have agreed to hold on Friday a third reading of the special bill for spending the NT$380 billion of surplus tax revenue collected last year, including the NT$140 billion funding for the NT$6,000 handouts.
Comments will be moderated. Keep comments relevant to the article. Remarks containing abusive and obscene language, personal attacks of any kind or promotion will be removed and the user banned. Final decision will be at the discretion of the Taipei Times.