Grand justice appointment overhaul urged
A judicial reform group has called for constitutional amendments regarding the appointment of grand justices, citing concerns that the current system has enabled presidents to appoint all 15 members of the Constitutional Court.
The call came after the Presidential Office on March 7 established a committee to select candidates to replace four grand justices who are to retire on Sept. 30, after serving terms started on Oct. 1, 2015.
This means the Constitutional Court would be comprised entirely of justices picked by President Tsai Ing-wen (蔡英文), pending their approval by the legislature, Taiwan Jury Association founder Jerry Cheng (鄭文龍) told a news conference on March 9.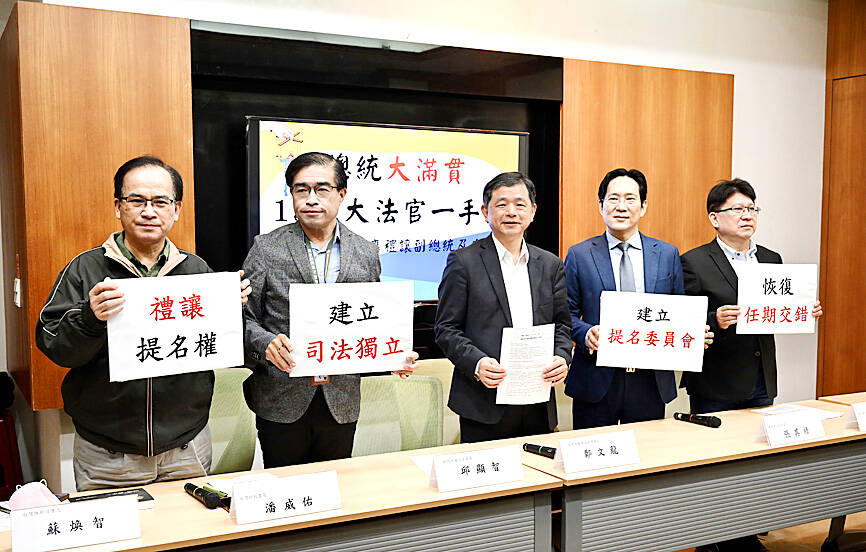 From left, former Tainan county commissioner Su Huan-chih, Taiwan Society secretary-general Pan Wei-yiu, Taiwan Jury Association founder Jerry Cheng, Taiwan People's Party Legislator Jang Chyi-lu and Chinese Nationalist Party (KMT) Legislator Lin Szu-ming pose for a photograph at a news conference in Taipei on March 9.
Photo: Lo Pei-de, Taipei Times
The grand justices are tasked with protecting the constitutional democratic order by issuing constitutional interpretations, preside over cases with great political implications and, if necessary, impeach the president, he said.
Constitutional amendments adopted in 2008 stipulate that the grand justices serve a single eight-year term, Cheng said, adding that they are appointed in two cohorts four years apart, a design intended to prevent the president from wielding too much influence over the court.
However, the system has been in disarray since former president Ma Ying-jeou (馬英九) disregarded the cohort mechanism and filled seven vacancies, he said.
Articles of the Constitution governing the terms of grand justices should be rewritten to explicitly protect the cohort mechanism and create an alternative system in which not only the president is allowed to nominate candidates, Cheng said.
The mechanism should involve a committee comprised of lawmakers, judges, other officials and representatives of political parties, Cheng said, adding that it could also be governed by an independent agency.
Tsai should allow the vice president, the Legislative Yuan speaker, opposition parties and an independent body to select one candidate each, Cheng said, adding that this would ensure that diverse opinions are represented in the court.
Taiwan People's Party Legislator Jang Chyi-lu (張其祿) said that by disrupting the terms of grand justices, the Constitutional Court might itself breach the Constitution, urging Tsai to address the issue.
Tsai has a historic opportunity to solve the issue, Jang said, backing Cheng's proposal.
In related news, Vice President William Lai (賴清德), who has been tapped by Tsai to convene the selection committee, has resigned from it, effective immediately, the Presidential Office said on Friday.
Presidential Office spokeswoman Lin Yu-chan (林聿禪) said Lai's resignation was a result of his decision to enter the Democratic Progressive Party's presidential primaries.
As his bid to run for the party in next year's presidential election is considered an internal political activity, Lai resigned to prevent any political disruptions from corrupting an impartial judicial selection process, Lin said.
Additional reporting by CNA
Comments will be moderated. Keep comments relevant to the article. Remarks containing abusive and obscene language, personal attacks of any kind or promotion will be removed and the user banned. Final decision will be at the discretion of the Taipei Times.