Tsai lauds 'significant' visit by Balkan delegation
President Tsai Ing-wen (蔡英文) yesterday met with lawmakers from three states in the Balkan Peninsula — Kosovo, North Macedonia and Romania — who are visiting Taiwan to participate in a forum on parliamentary openness.
The lawmakers are part of the first parliamentarian delegation from the Balkans to visit Taiwan since Kosovo gained independence from Serbia in 2008.
They arrived in Taiwan on Saturday night and leave on Thursday, the Ministry of Foreign Affairs said, adding that they would be participating in the Parliamentary Openness and Monitoring Forum being held today and tomorrow.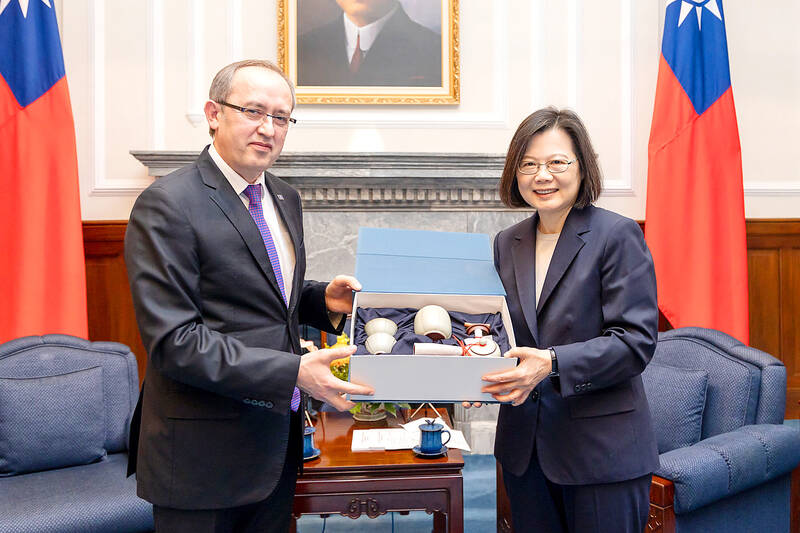 President Tsai Ing-wen, right, presents a gift to former Kosovar prime minister Avdullah Hoti at the Presidential Office in Taipei yesterday.
Photo courtesy of the Presidential Office via CNA
At the meeting yesterday, Tsai described the delegation's visit as significant because it showed the growing cooperation between democratic states, and marked the start of Taiwan's exchanges with the Balkan region, the Office of the President said in a statement.
Tsai said she hoped the parliamentary forum would serve as a platform on which to build partnerships between Taiwan and Kosovo, Romania and North Macedonia in the areas of trade, information technology and green energy development.
The Kosovo-Taiwan Parliamentary Friendship Group that was formed on Dec. 20, 2021, is part of the delegation.
One of the group's members, former Kosovar prime minister Avdullah Hoti, said during the meeting with Tsai that there are difficulties that both countries have to overcome when attempting to find areas of cooperation.
However, they still need to find ways to work together, especially on economic issues, Hoti said.
He added that this was his second visit to Taiwan, and that he was happy to see that the nation had such a vibrant democracy.
In other news, Saint Lucian Minister of External Affairs, International Trade and Civil Aviation Alva Baptiste, who is part of a delegation visiting Taiwan, yesterday said that the purpose of this trip is to strengthen his country's commitment to bilateral relations with Taiwan.
"We do not auction foreign policy in Saint Lucia. We don't go for the highest bidder. We have principles in what we do, so we are developing a genuine partnership with the people of Taiwan and the government as the instrument of their wishes," Baptiste said at Saint Lucia's embassy in Taipei.
Baptiste praised Taiwan for its efforts in assisting its allies during the COVID-19 pandemic and its involvement in his country's infrastructure development projects.
"We are here to develop a true friendship, and to of course strengthen our bilateral ties and to cooperate with Taiwan," Baptiste said. "This is why we opened the embassy in Taiwan, as a mark of respect and as an indication that we are not just engaged in 'touch-and-go.'"
Comments will be moderated. Keep comments relevant to the article. Remarks containing abusive and obscene language, personal attacks of any kind or promotion will be removed and the user banned. Final decision will be at the discretion of the Taipei Times.