Ferret-badgers confirmed to have had rabies virus
Three Formosan ferret-badgers have been confirmed as having had rabies, the first time the virus has been detected in Miaoli County, the local Animal Care and Health Office said on Thursday.
As part of a program being carried out by the Bureau of Animal and Plant Health Inspection and Quarantine to assess the prevalence of rabies among wild animal across Taiwan, two Formosan ferret-badgers were captured in Jhuolan Township (卓蘭) on Jan. 1 and Jan. 7, and a third was caught in Taian Township (泰安) on Jan. 18, the office said.
The three animals died in captivity and were later confirmed by the Animal Health Research Institute as having been infected with the rabies virus, the office said.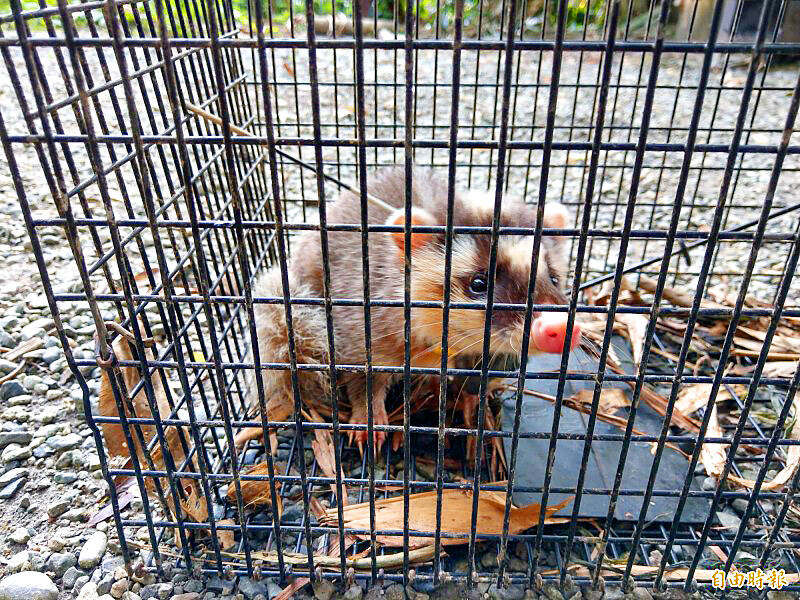 A Formosan ferret-badger is pictured in an undated photograph.
Photo: Yang Yuan-ting, Taipei Times
The three ferret-badgers are the first rabies cases discovered north of the Daan River (大安溪) — which partly defines the Miaoli County-Taichung border — since 2013, which indicates that the virus is spreading across the river, office Director Chang Chun-yi (張俊義) said.
To prevent rabies from spreading among cats and dogs in the area, the office would go door-to-door to administer free vaccinations for pets, Chang said, adding that residents should have their animals neutered and microchipped.
Animal patrols would be stepped up in the county and the office would capture stray dogs in high-risk areas to be placed in secure facilities and vaccinated against rabies if necessary, he said.
People should report animal carcasses they find to the office, not dispose of them on their own, he added.
Anyone bitten or scratched by a stray animal should clean the wound with soap and water for at least 15 minutes and disinfect the area with 70 percent alcohol before seeking urgent medical treatment and reporting the case to their local township office or animal care facility, the office said.
Miaoli County Commissioner Chung Tung-chin (鍾東錦) called on the public not to abandon pets and not to touch or catch wild animals.
It is imperative that people take their pets to receive shots every year to help prevent the spread of rabies among animals and thereby ensure it does not jump from animals to humans, Chung said.
Comments will be moderated. Keep comments relevant to the article. Remarks containing abusive and obscene language, personal attacks of any kind or promotion will be removed and the user banned. Final decision will be at the discretion of the Taipei Times.