Number of pets nears that of children
POPULAR FELINES: A surge in cat ownership balanced a drop in registered dogs, COA data showed, as the number of pets is expected to surpass that of children before 2027
Taiwan's pets industry has grown to more than NT$60 billion (US$1.96 billion) annually, and the number of pets is nearing the number of children under 14, Council of Agriculture (COA) data show.
In 2021, 2.1 million cats and dogs were registered, while there were 2.89 million children, making it likely that the number of pets would surpass the number of children before 2027, the council said.
"Actually, the number of pet dogs has been declining, but the number of pet cats has soared," Kennel Club of Taiwan executive director Chuang Tsan-chien (莊璨謙) said.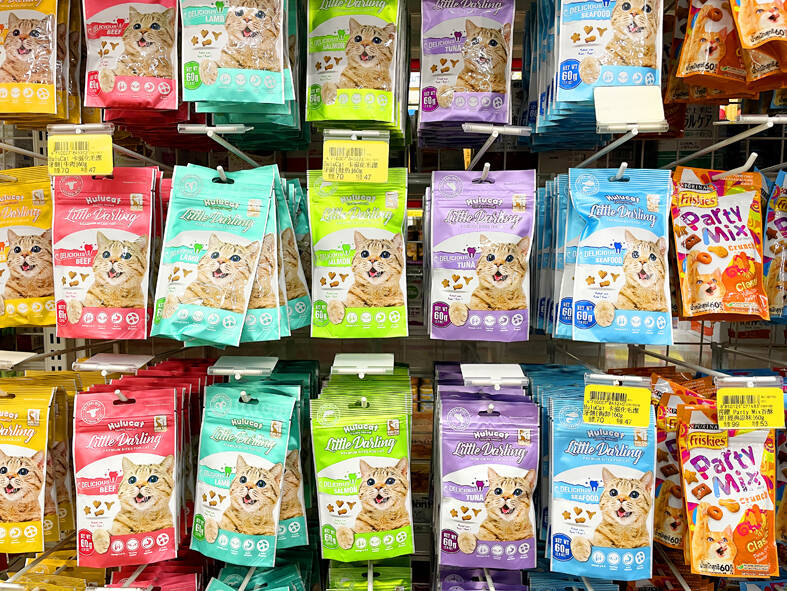 Pet food is displayed on shelves at a pet store in Taipei in an undated photograph.
Photo: Yang Ya-min, Taipei Times
Publicly available data from the government's pet registration Web site, www.pet.gov.tw, show that the number of pet cats has been growing steadily over the past two years, Chuang said.
"Last year, the number of registered domestic cats reached 135,059, surpassing the 106,916 registered dogs," he said.
The growing number of cats is fueling a boom in pet-related industries such as grooming, pet hotels and pet funeral service providers, he said.
"Funeral services for pets are quite customizable now, and people have paper models of their pet's favorite snacks, clothes, toys and other items burned together with their pet during cremation," he said.
The average pet funeral costs NT$20,000 to NT$30,000, but the fee can be as much as NT$300,000, he said.
"The market is worth NT$60 billion annually now, and NT$40 billion of that is pet consumables, accounting for 70 percent of the total," said Charles Han (韓家宇), chairman of animal food manufacturer DaChan Great Wall. "The remaining 30 percent is supplies and toys, and 70 percent of that is imported products."
Eyeing the growing market, Taiwanese companies, such as DaChan, Uni-President Group and Fwusow Industry, are developing new pet-related products and seeking new sales channels.
A survey by the Market Intelligence and Consulting Institute showed that 43.9 Taiwanese percent of pet owners shop only at brick-and-mortar stores selling pet products, while 39.4 percent shop online and at physical stores and 16.7 percent use only online shopping.
Pet stores made up the bulk of the physical stores respondents said they shop at, but a growing number of pet owners buy the products at chain supermarkets, the institute said, adding that the supermarkets it spoke with reported a 10 percent increase in pet product sales over the past few years.
Growth in the industry has also prompted several universities to offer pet grooming or veterinary medicine courses, Chuang said.
"About 1,000 people get pet grooming licenses every year, but pet stores are still short of workers," he said. "Pet grooming junior assistants can complete training in four to six months, but bathing dogs and cats is laborious work, so people often move on from that after a short time."
Comments will be moderated. Keep comments relevant to the article. Remarks containing abusive and obscene language, personal attacks of any kind or promotion will be removed and the user banned. Final decision will be at the discretion of the Taipei Times.